---
Jessica Cejnar / Monday, Jan. 11, 2021 @ 2:13 p.m. / Ocean
Fishermen To Drop Crab Pots Thursday; Settle On $2.75 With Processors, Though They Hope For A Price Increase
---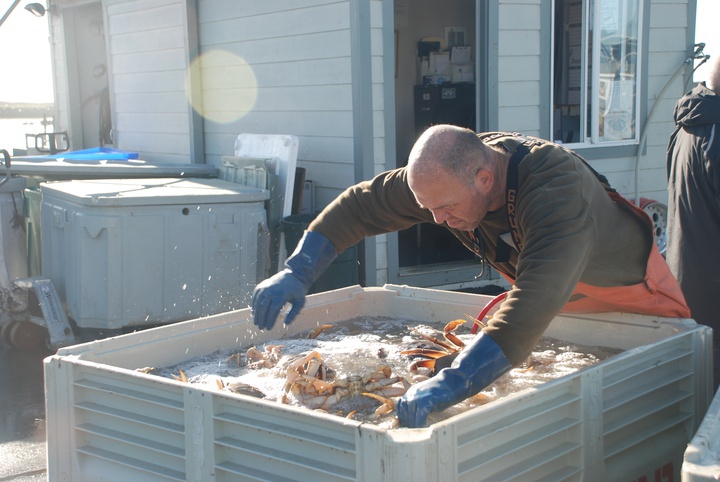 After they and others in Oregon and California settled on a price with seafood processors, Del Norte County commercial fishermen will drop their pots Thursday.
The first Dungeness crab of the season is expected to hit Citizens Dock on Saturday, Rick Shepherd, president of the Crescent City Commercial Fisherman's Marketing Association, told the Wild Rivers Outpost on Monday.
Following a meeting Monday morning, fishermen in Oregon and California and wholesalers agreed on $2.75 per pound of Dungeness crab, Shepherd told the Outpost. Though it's less than fishermen's initial asking price of $3.25 and their subsequent request for $3.10 per pound, Shepherd said he and many of his colleagues are hoping that price will increase.
Seafood processors, including Pacific Choice Seafood, Bornsteins Seafoods and Hallmark Fisheries had offered $2.50 per pound, according to Shepherd.
"The preliminary indication is there isn't much (crab) in Oregon, or they haven't been catching a lot," he said. "So maybe the price will go up, but we had to get going."
The discussion Monday involved fishermen in Brookings, Crescent City, Trinidad, Eureka and Fort Bragg, Shepherd said. Fishermen agreed to set their pots starting at 8 a.m. Thursday for a 48-hour soak and bring their catch in on Saturday, he said.
Bay Area fishermen began setting their pots Monday, Shepherd said. North Coast and Brookings, Oregon fishermen delayed their soak period due to bad weather on Tuesday and Wednesday, he said.
Heavy rain and windy conditions are expected for Tuesday through Tuesday evening, according to the National Weather Service. South winds of 28-34 mph and gusts as high as 50 mph is expected for Crescent City, according to the NWS. Showers are predicted Wednesday.
The California Department of Fish and Wildlife opened the commercial Dungeness crab season on Dec. 23, 2020. Typically starting Dec. 1, the season in Crescent City and the northern management area was delayed due to poor quality crab. In Central California, the season was delayed due to the potential risk of whales becoming entangled in crab gear.
Since then, fishermen and seafood processors have been at odds over price with seafood processors initially offering $2.25 per pound and fishermen pushing for $3.25.
Though they wanted the season to start just as much as fishermen, seafood processors were still trying to sell crab from the previous year, according Lori L. Steele, West Coast Seafood Processor executive director. Processors not only lost 70 percent of their market with restaurant closures due to the COVID-19 pandemic, Steele told the Outpost last week, they also had to implement numerous safety measures in their plants because of the pandemic.
The fishing industry is an essential workforce during the pandemic and processors had to pay fishermen to keep fishing, pay their employees and find somewhere to sell the product, Steele said.
This resulted in repackaging fresh crab destined for restaurants into bags to sell frozen at grocery stores or Costco, she said.
---
SHARE →