---
Jessica Cejnar / Monday, Jan. 11, 2021 @ 5:06 p.m. / Fire
Lawsuit Blames PacifiCorp For Slater Fire, Accuses Utility Of Negligence, Wrongful Death
---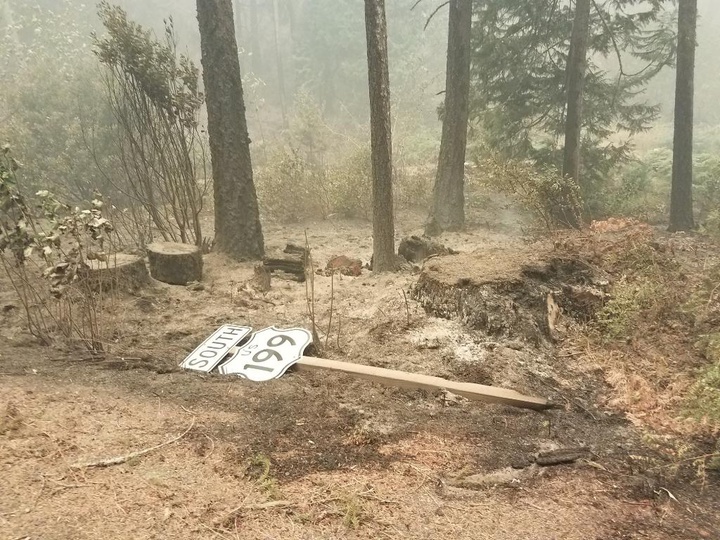 A San Diego law firm is suing PacifiCorp, charging the utility with wrongful death and negligence connected with the Slater Fire, even though a cause has yet to be determined.
Singleton Schreiber McKenzie & Scott is representing more than 30 people, homeowners, renters and business owners, in the Happy Camp area, whose properties were damaged or destroyed by the fire.
The lawsuit, filed in Sacramento about two weeks ago, blames the Slater Fire on electrical equipment PacifiCorp owns and allegedly failed to maintain or repair. However investigation into the fire's cause continues, Klamath National Forest acting public information officer Duane Lyon told the Wild Rivers Outpost. No findings were available to share yet, he said.
"We're looking at 5-6 months and I've never seen an investigation report of a fire of this magnitude come out quicker. We wish we could deliver the answer in a week, but it's not feasible," Lyon said Monday. "So that law firm, to my knowledge, they've made their own conclusion. It's not based on investigative findings to my knowledge."
The Slater Fire started in the Happy Camp area on Sept. 8, grew to 157,229 acres and spread into Del Norte County and Josephine County in Oregon. It sparked evacuation orders in Gasquet and shut down U.S. 199 at Pioneer Road.
Local emergency officials, inspecting the area two days after the road was shut down, said fires were burning on both sides of the highway to Collier Tunnel and the agricultural inspection station near the state line.
In its complaint, Singleton Schreiber McKenzie & Scott states PacifiCorp "negligently, recklessly, and willfully failed to properly, safely and prudently inspect, repair, maintain and operate the electrical equipment in its utility infrastructure." The complaint also states that the utility failed to maintain an appropriate clearance area between the electrical equipment and surrounding vegetation.
On Monday, however, Gerald Singleton, Singleton Schreiber McKenzie & Scott's founding partner, acknowledged that there's been no official determination on how the Slater Fire began.
Singleton said his law firm, which has filed lawsuits on behalf of fire victims across the West Coast, doesn't wait for official determinations before moving forward.
"Once there's an indication based on available evidence that a particular utility was at fault we go ahead and go forward," he said. "Here, there was tree line contact between a tree and a line owned and operated by PacifiCorp, so that's why we named them."
According to Singleton, one of his clients is the family of a man who died in the Slater Fire. The damages each plaintiff is seeking varies depending on their case, Singleton said.
"What you do is you file suit on behalf of anyone who was affected and who retains you," he said. "As you go forward, if the case goes to trial, you put in proof. There you'll go to mediation and an attorney or a retired judge will sit in and help the two parties reach an agreement."
According to the lawsuit, the National Weather Service issued a red flag warning on Sept. 6, 2020 in the area surrounding the Slater Butte Fire Lookout. Though strong gusty winds and low humidity was predicted and despite a NWS warning of high fire danger, PacifiCorp did not de-energize its power lines near the Slater Butte Fire Lookout, the complaint states.
"The wildfire was not the result of an "act of God" or other force majeure. This wildfire was started by sparks from high-voltage transmission lines, distribution lines, appurtenances and other electrical equipment within PacifiCorp's utility infrastructure that ignited surrounding vegetation," the lawsuit states.
Though his firm is representing more than 30 clients whose lives were impacted by the Slater Fire, Singleton said each is being represented on an individual basis though the cases are coordinated for the purposes of "pre-trial discovery." It's not a class action lawsuit, he said, but it's up to the judge to decide if he or she wants to try one at a time or at once.
In the complaint, Singleton Schreiber McKenzie & Scott state that since PacifiCorp is a "foreign corporation, organized and existing under the laws of the State of Oregon," any county in California is the proper venue for the lawsuit.
According to Singleton, PacificCorp has received notice of the lawsuit against them and have 30 days to give an answer.
PacifiCorp spokesman Drew Hanson said the company does not comment on pending litigation.
Documents
---
SHARE →