---
Jessica Cejnar / Wednesday, Feb. 3 @ 3:32 p.m.
Crescent City Gets Help Prioritizing Amenities For $22 Million Park, Breaks Down Cost
---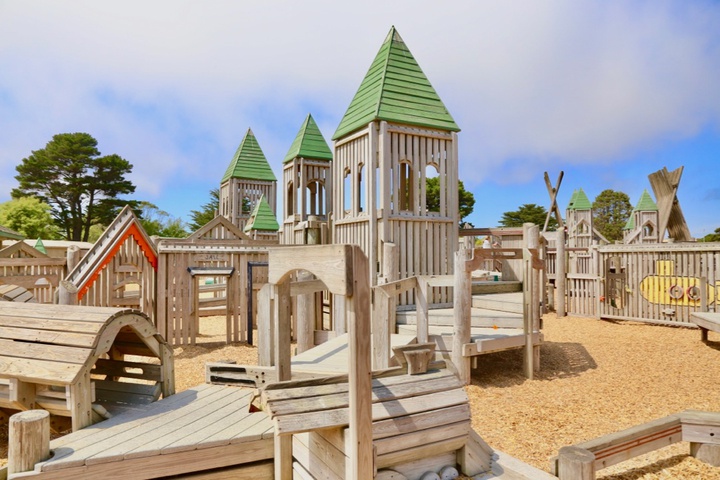 After nearly two years of meetings, surveys and focus groups, Del Norte County residents now have a price tag for a revamped Beachfront Park — $22 million.
That $22 million reflects the complete buildout of Crescent City's most recent master plan for the 35 acre park, City Manager Eric Wier said. That document includes 38 different components, each with its own cost estimate. Speaking at a final public meeting Tuesday, Wier and Recreation Director Holly Wendt asked residents to help prioritize which ones the city should focus on first.
"What we have right now is a huge opportunity to pick off multiple pieces of this (master plan)," Wier said. "Eight-and-a-half million dollars is on the table."
Crescent City can apply for up to $8.5 million in 2018 Parks and Water Bond Act, or Proposition 68, dollars to improve Beachfront Park. This money is part of a $395.3 million statewide park program, but to receive the grant, the city must demonstrate that it has fully vetted the community, Wendt said.
In addition to holding multiple town hall meetings — in person pre-pandemic and online during COVID-19 — city representatives have gone to farmers markets and other community events, reached out to senior citizens, high school students as well as members of the Hispanic and Latino communities. Staff also spoke to parents via the Del Norte Child Care Council, local soccer leagues and those who work with special needs children and adults through New Dawn Supportive Services.
Once it received initial information from the public, the city hired PGADesign using California Coastal Conservancy grant dollars, which put together the final master plan and presented it to the City Council in December.
On Tuesday, city staff asked the public to weigh in on how they would prioritize the proposed amenities in a Google survey. They will present results of that survey, along with the Proposition 68 grant application, to the Crescent City Council for approval Feb. 16.
The city must submit the grant application to the state by March 12, Wendt said. They will find out if the city has been awarded the grant by November or December. The project must be completed and "usable by the community" by June 2025, Wendt said.
One important component of the grant is for the city to show that it can maintain the project once it's built, Wendt said.
"None of the grant covers overhead cost and maintenance," she said.
Wier noted that the city will be searching for additional resources to "keep amenities looking as good as they should look."
"If the (park) is funded in November 2021, 2022 will be all about design," he said. "We'll put it out to bid in the winter time and the hope would be as soon as the rains break in 2023, we would be under construction."
Warning that folks may experience sticker shock, Wendt began a cost breakdown for about 30 items by talking about $125,000 to increase vegetation and accessibility to the dog park.
Wendt also discussed potential south-facing angled parking along Front Street — $1.1 million — a workout track that would be easy for seniors — $140,000 — and a handicapped-accessible ramp to the beach — $500,000.
Wier noted that the $500,000 price tag for an wheelchair-accessible ramp to the beach is due to the roughly 120 feet of ramp to traverse a 10-12 foot vertical drop from Howe Drive.
"You have to have a very slight decline to get down. You can only go 1 inch per foot," he said. "And it's built on sand and beach, you need rock slope protection to stabilize it all. (You) need retaining walls, rock slope protection there's increased cost there as well as permitting for that particular amenity is substantial because you're building on the beach."
As for paths that accommodates those with mobility issues, a proposed one-mile loop around the park's perimeter costs an estimated $400,000, according to Wendt.
A lookout hill, which includes a ramp so people can get up and down it and provides views of the city, harbor, B Street Pier and Battery Point Lighthouse, would cost $900,000, Wendt said.
Paths inside the park, would cost about $850,000, Wendt said.
"Meandering paths are great, but sometimes for ADA accessibility, straight paths are helpful," he said. "They're good for emergency reasons. Those paths must be accessible in case of emergency to help get to major amenities."
Wier said the city is looking to build about 25,000 square feet of pathway that are 10-feet across, which can get expensive.
During the meeting, when asked what features attendees were excited the most about, an amphitheater topped the list. The $2.2 million design staff unveiled included removable awnings, tiered grassy seating with capacity for about 1,000 people and outlets for vendors and food trucks.
Wendt said she presented the idea, along with other proposed Beachfront Park amenities to Crescent Elk Middle School 6th-graders. One student was especially excited to learn that the amphitheater could be a potential venue for him and his classmates.
"He said, 'I have to have this for my birthday,'" Wendt said. "'That's what I want to do for my birthday.' I think this will be a great opportunity for kids and they were excited about it."
At the first town hall meeting held in 2019, Joe Gillespie, founder of the Del Norte Trail Alliance, advocated for a bike pump track. On Tuesday, Gillespie's organization, working with the Wild Rivers Community Foundation, found a company that builds bike parks and submitted a design similar to a park in Weaverville, Wendt said.
The design would include a beginner and "toddler-appropriate" bike area, estimated to cost about $450,000, as well as intermediate and advanced pump track designs that has an estimated price tag of about $2 million, Wendt said.
Also included in the master plan's design was a slope style track with dirt jumps that had a cost estimate of about $2.7 million. Wendt said the upkeep for the slope track and dirt jumps would be higher than the paved area.
Another desire Crescent City residents had for their park was space for community events. They listed attending Sea Cruise and 4th of July events at Beachfront Park as among their favorite memories.
The proposed Waterfront Plaza staff presented to the public was a $1.2 million design to be located at Stamps Way and Howe Drive near the beach. It would include a concrete area, lighting and vendor hookups as well as seating.
"We hope as it's developed and built it will be increasing opportunity for some local entrepreneurs to be able to set up food trucks and provide food to the community," Wendt said.
For youngsters, the new Beachfront Park included an expanded and updated Kidstown. A new $1.2 million soft-turf adventure play area that's accessible to those with special needs was included. A bouldering area incorporating climbing features and nooks is estimated to cost $700,000, while expanding Kidstown itself is approximately $900,000.
A botanical garden incorporating native plants and Tolowa culture would be across the street from Kidstown. According to Wendt, this feature, brought up with input from Elk Valley Rancheria and the Tolowa Dee-ni' Nation, would cost about $950,000.
It would include a traditional slab house and possibly a dance platform, Wendt said. The design also calls for stamping basket weaving designs into the pathways. The price also takes into consideration removing a current parking area near the Fred Endert Municipal Pool, she said.
To take part in the Google survey on how Crescent City should spend the $8.5 million grant for Beachfront Park, click here.
Documents:
---
SHARE →