---
Jessica Cejnar / Monday, Feb. 22 @ 9:57 a.m.
U.S. 101 To Reopen At 10 a.m., Caltrans Says; No Bus Service To Klamath For Students
---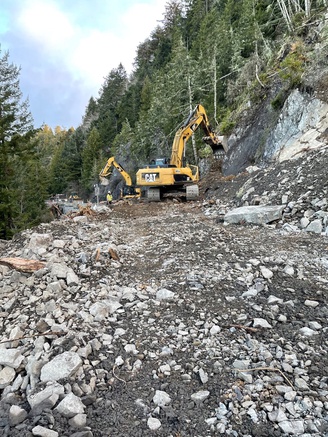 Caltrans has reopened U.S. 101 at Last Chance Grade at 10 a.m. though motorists should expect delays of at least one hour.
One-way traffic will move through the slide area south of town during the daylight hours today, Caltrans spokesman Myles Cochrane told the Wild Rivers Outpost. The road will close again at about 6 p.m. to allow crews to do preventative work, he said.
"The plan is to get some netting over there and get to teh top of that thing and really stop the slide from coming down," Cochrane said.
Though it is safe for traffic to move through the area, Cochrane said, Caltrans anticipates more slide activity to occur in the area. The department is monitoring the area "24-7," he said.
Meanwhile, bus service will be unavailable for students living south of Last Chance Grade, Del Norte Unified School District spokesman Michael Hawkins said in an email. Students attending Del Norte and Sunset high schools, Crescent Elk Middle School and Margaret Keating Elementary will engage in distance learning on Monday, he said.
For those who need meal services, Margaret Keating will provide meals at the school.
---
SHARE →