---
Jessica Cejnar / Monday, Feb. 22 @ 5:03 p.m.
Caltrans Continues To Clear Rocks, Soil, Debris From U.S. 101 Near Last Chance Grade, Hopes To Bring In Special Equipment To Stabilize Slope
---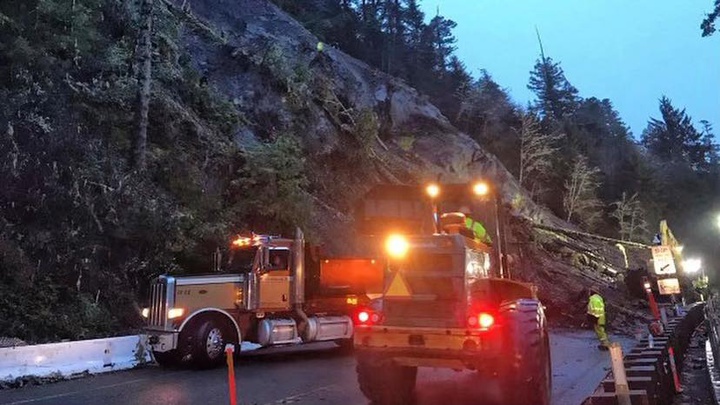 Though the road reopened at about 10 a.m. Monday, Caltrans crews continue to work to get debris off the hillside above Last Chance Grade.
The department closed the road at about 6 p.m. so they could bring in special equipment to stabilize the area and reopen the road. Yet despite the amount of debris falling onto the highway, including quarter-ton rocks, U.S. 101 itself is undamaged, said Caltrans project manager Sebastian Cohen.
"When we talk about Last Chance Grade it's almost entirely been a slope failure from below," he said. "Landslides on the ocean face of the slope give way and fall and project up into the roadway and the roadway settles because the landslide is below the roadway. This is the first time other than in a couple smaller locations where it's been a failure from above that's caused the issues."
The highway is expected to reopen at 10 a.m. Tuesday.
The landslide continues to bisect Del Norte County, keeping students in the Klamath area from going attending in-person classes at Del Norte and Sunset high schools, Crescent Elk Middle School and Margaret Keating Elementary School.
Due to safety and slide frequency, students living south of Last Chance Grade will participate in distance learning until the area is stable, Del Norte Unified School District announced Monday.
Emergency services coming from Crescent City are having to call upon mutual aid partners in Humboldt County to reach Klamath area residents.
"Del Norte Ambulance and Cal Ore Life Flight have talked to Arcata Ambulance," Del Norte Emergency Services Manager Kymmie Scott told the Wild Rivers Outpost. "Cal-Ore can fly people out if it's a life threatening emergency and Arcata Ambulance is on call for less urgent needs."
Dr. Warren Rehwaldt, Del Norte County's public health officer, even hitched a ride on an air ambulance to deliver the last of the community's Pfizer COVID-19 vaccine doses.
"I left about 8 and got back about 10," he told the Outpost. "Travel time, it shaved an hour. If we had gone by vehicle it would have been at least three hours, closer to four."
Though the road has reopened, with delays of at least one hour, the Del Norte Office of Emergency Services is asking residents to restrict travel through the Last Chance Grade area unless it's absolutely necessary. Motorists are urged to check Caltrans' Quick Map tool before their trip.
Last Chance Grade comprises a three-mile stretch of U.S. 101 about 10 miles south of Crescent City and consists of about four major slides, according to Cohen. The area typically moves about two inches per year, he said.
In addition to ongoing emergency repairs in the area, Caltrans has been conducting geotechnical and environmental studies to determine a feasible route around the landslide. This project has identified six possible options for a bypass.
On Feb. 13, the landslide came down on top of the road instead of taking out the slope underneath it, according to Cohen. Rocks hit and damaged contractors equipment and the temporary light signal in the area because debris was coming down too fast for crews to remove them, he said.
The landslide is comprised of rock, soil, trees and logs from above the highway, Cohen said. Triggered by precipitation, soil landslides typically stop when the rain stops, allowing crews to remove the debris. In this case, Caltrans would clear the material and reopen the road only to have a rockfall shut everything back down, he said.
According to Cohen, cracks in the rock expanding and contracting with temperature have been contributing to slide activity in the area. This has caused the rockfall to become active at night, he said.
Added soil, trees and logs from above also puts pressure on the rocky outcropping, creating a more dynamic landslide, Cohen said.
"If we don't have rain, we're hoping we make a lot of progress this week and get everything removed," he said. "Then we can come in with our proactive mitigation measures. Right now we're really just trying to get the material down off the hillside so we can be there and work underneath it."
When Caltrans closes the road again at night, crews may bring spider excavators that can go on slopes that are nearly vertical to bring down more of the landslide.
Once the road is clean, Cohen said, Caltrans may deploy rock netting as well as a 20-foot tall rock barrier to stabilize the area.
These measures are similar to the ones Caltrans used to stabilize the Horseshoe Slide in Mendocino County in 2017. But first, he said, the road must be safe to the traveling public and to crews in the area.
"Every two minutes we had quarter-ton rocks coming down on us," Cohen said, referring to the on going slide activity. "We can't be underneath there. We can't keep traffic going through there, and CHP wouldn't allow us anyway. Even when we had the roadway open they were quite concerned."
Other measures Caltrans may take include using heavy equipment to make loosened rocks on the hillside come away, Cohen said. But because of the current hazards, geotechnical engineers are hiking to the top of the slide above the highway to inspect the area, he said.
According to Cohen, it'll typically takes a helicopter to install the rock netting.
As for right now, Caltrans hopes to bring a U.S. Coast Guard helicopter into the area to help its engineers take a look at the area.
"Our goal is to make sure everyone's safe and adapt to what the landslide lets us do," Cohen said. "We'll maximize our efficiency based on what the landslide lets us do."
For more information on road conditions, visit Caltrans' Quick Maps tool.
---
SHARE →