---
Jessica Cejnar / Thursday, Feb. 18 @ 5:40 p.m. / Community
Contour Airlines Will Continue to Fly to Oakland; Airport Authority Rejects Change to Sacramento
---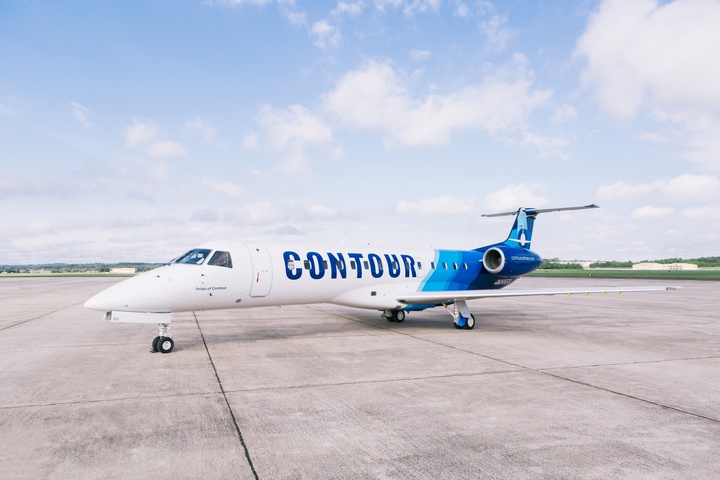 Deciding there were more pros than cons about staying with Oakland versus moving to Sacramento, the Border Coast Regional Airport Authority voted Thursday to keep Contour Airlines flights out of Del Norte County status quo.
The joint powers authority reached its decision after hearing from Contour Airlines CEO Matt Chaifetz, who said the Smyrna, Tennessee-based carrier isn't pushing for a change. According to Chaifetz, the conversation surrounding Sacramento began with a text message to him from Del Norte County Supervisor and BCRAA representative Chris Howard.
According to Chaifetz, Howard asked about how the BCRAA could take advantage of a new interline agreement between Contour and American Airlines, which offers single-ticket connection options to travelers from both carriers.
"This all started with a text message from Chris about how to take advantage of the American Airlines agreement, which doesn't really do anything if we're flying into an airport that AA doesn't serve," Chaifetz said.
The BCRAA also heard a presentation from Adam Goldstein, founder of the now-defunct travel website Hipmunk, who offered price comparisons between Oakland International Airport and Sacramento International Airport, insight into American Airlines and his opinion that flights from the Bay Area to Del Norte County are more attractive for tech companies.
Goldstein also touted virtual interline services such as Kiwi, which offers single-ticket itineraries from Crescent City to elsewhere in the U.S. and Mexico via Oakland International Airport.
"We used to partner with Kiwi, so I know that business quite well," Goldstein said. "They allow you to book tickets that cross multiple airlines that don't work together. Say you get rerouted to somewhere else, Kiwi provides their own guarantee-protection so that if that first flight gets delayed or canceled, Kiwi will take care of that."
Contour Airlines has offered flights between Crescent City and Oakland through a subsidy from the U.S. Department of Transportation's Alternate Essential Air Service program since April 2018. In a Dec. 10 email to Del Norte County Regional Airport Director Randy Hooper, Chaifetz informed him of the new partnership between Contour and American Airlines.
On Thursday, Goldstein said that while changing the destination from Del Norte County to Sacramento to facilitate easy connections to American Airline flights, the carrier recently announced a flight from the Arcata-Eureka Airport on a plan that's more than twice as large as the one out of Crescent City. This offers an advantage to American Airlines loyalists of upgrades to first class, the ability to use airline miles as well as the use of airport lounges.
Goldstein also argued that carriers in the United States, American Airlines especially, are notorious for aggressively defending their turf.
"I'm not saying that AA would dislike having a flight from Crescent City," he said. "What I am saying is if American Airlines got the sense that a flight from Crescent City was making their own flight from Arcata unprofitable, there is a potential they would react quite aggressively."
Goldstein, citing data from the U.S. Department of Transportation, also argued that airfare out of Oakland is $28 to $51 cheaper than Sacramento. Sacramento is the only airport that serves its region unlike Oakland, which competes with San Francisco International Airport, San Jose International Airpot and, to a lesser extent, the Charles M. Schulz Sonoma County Airport, he said.
"Oakland has the cheapest average airfare of any airport with more than a million passengers a year in, not just California, but on the entire West Coast," Goldstein said. "If we were to switch to Sacramento, on average tickets will cost more for passengers by an average of $40."
Chaifetz, who said Contour was "hub agnostic," said one advantage of switching Del Norte County destinations from Oakland to Sacramento was assurances from Sacramento that the carrier would share a terminal with American Airlines.
Virtual interline services also don't allow for checked baggage to transfer between airlines, Chaifetz said. And, despite what Goldstein said about Kiwi taking responsibilities in case of delayed or canceled flights, Chaifetz said Kiwi does not offer a guarantee if those delays or cancellations were due to weather.
"I'm proud of the fact that Contour's consistently ranked as the country's most functional airline," Chaifetz said. "You don't have to worry about us being late for a circumstance within control of Contour. What I can't control and most of the reasons for delay in Crescent City is visibility and ceilings, from which Kiwi would have no financial responsibility to protect the customer for an onward connection."
Chaifetz also agreed with Goldstein about flights between the Bay Area and Del Norte County being more attractive for tech companies because the market is bigger than Sacramento. But, he said, someone wanting to book a flight through Expedia or AA.com between New York and Crescent City wouldn't find any options.
"But I do think for connections, there are advantages to Sacramento," Chaifetz said. "And I think really the choice that commissioners have to make is whether your preference is to focus on the local market where we're known and where we've done a great job or if you really want access to the national air transportation system."
Del Norte County's second representative on the BCRAA, District 4 Supervisor Gerry Hemmingsen, asked about checking bags and whether someone was working on a virtual option that would allow luggage to be transferred between airlines.
Both Goldstein and Chaifetz noted that the infrastructure for transferring bags between carriers is complicated. According to Goldstein, connecting luggage between carriers would require a baggage agreement and could be more expensive than average.
During public comment, John Albrecht, Oakland International Airport's head of marketing and air service development, echoed Goldstein in saying there's a value for Bay Area residents to be able to get to Crescent City conveniently, adding that Oakland's "immediate catchment area" is second in size only to Los Angeles.
Albrecht also mentioned the Azorean and Portuguese community in both Del Norte County and the East Bay.
"We have a nonstop flight to the Azores every summer," he said. "We're the only West Coast gateway to the Azores."
Albrecht also mentioned Southwest, which serves Oakland International Airport and doesn't charge for checked luggage.
"To check bags on AA costs $70," he said. "I would rather walk myself down to baggage claim and (re)check my bag than pay $70 and higher airfare."
Before asking for people to chime in via Zoom, Hemmingsen had BCRAA Administrative Assistant Patty Stanley to state what those who participated via email said. According to Stanley, 12 people wanted Contour to continue flying to Oakland from Del Norte County while three said they wanted Sacramento.
Blake Alexandre, whose family owns Alexandre Family Farms, and Brookings resident Mike Gaines also voted for Oakland over Sacramento.
"Many Bay Area visitors mentioned specifically that the accessibility provided by that flight made this area a much more attractive prospect as a place to live or have a vacation home," Gaines said. "the 10 hour drive tempts nobody."
---
SHARE →