---
Jessica Cejnar / Monday, Feb. 15, 2021 @ 1:06 p.m. / Roads, Traffic
(Updated) U.S. 101 Still Closed At Last Chance Grade; Search & Rescue Kept Busy Rescuing Motorists Trying To Find A Way Around Slide
---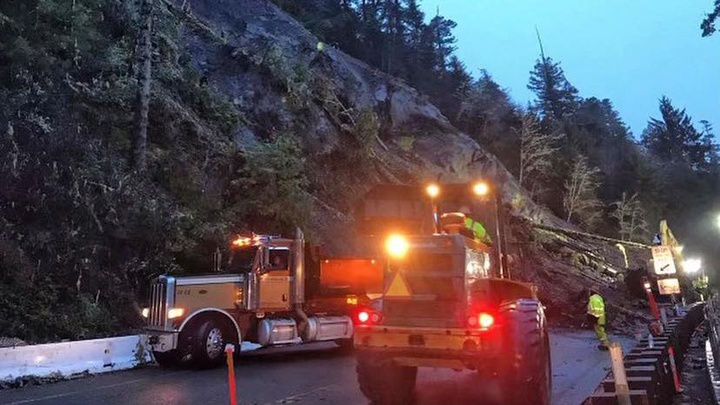 (Updated at 3:10 p.m.: Caltrans expects to open U.S. 101 to one-way controlled traffic by 6 p.m. Monday.)
Caltrans officials say U.S. 101 may be open to one-way controlled traffic by 6 p.m. Monday.
That expectation is still subject to change, however, and motorists should prepare for 30 minute delays, according to a Caltrans Facebook post at about 2 p.m.
"There was pretty significant slide activity based on what they were able to clear yesterday before they opened at 6 p.m," agency spokeswoman Cori Reed told the Wild Rivers Outpost. "(U.S. 101) was open for about four hours last night and we were able to clear all the traffic queue that was waiting at 9:30 when we had to close again."
A landslide shuttered the highway between milepost markers 13.3 and 23.85 at about 2:30 p.m. Saturday, Reed said. Caltrans personnel were able to clear the debris enough to reopen the road at about 6 p.m. Sunday. But they shut it back down due to a rock fall at about 9:30 p.m. Sunday, Reed said.
When asked about the nature of the slide, Reed said Caltrans geotechnical personnel have said "it's not a surface slide."
"We're calling in our (geotechnical) crews to evaluate the ground and determine stability," she said. "We're not letting cars through if it's not safe."
The landslide has essentially bisected Del Norte County, keeping emergency responders in Crescent City from accessing Klamath, said Del Norte County Emergency Services Manager Kymmie Scott. As a result, mutual aid partners in Humboldt County are providing backup to Yurok Tribal Police and the Klamath Fire Protection District, she said.
Del Norte County Sheriff Erik Apperson said he has reached out to Yurok Tribal Police Chief Greg O'Rourke and Humboldt County Sheriff William Honsal for mutual aid.
"(Sheriff Honsal) answered the phone and already knew why I was calling and said 'Any resources we need at all, just to have our dispatch call his dispatch,'" Apperson said. "It's tough, but it's unfortunately it's become a common practice, and this is something that Sheriff Honsal and I have talked about before it's happened."
Meanwhile, though people may be tempted to find other alternative routes around the landslide, Scott said their best bet is to take U.S. 199 to Interstate 5 to State Route 299 and reconnect with U.S. 101 near Arcata.
"We've had some issues with a couple of mapping products trying to route people in a different direction (such as) the South Fork over the GO Road," she said. "Those are not viable alternatives. There's snow up there, there's locked gates. Search and Rescue were kept busy for a good chunk of the time."

Two Del Norte County Search and Rescue personnel abandoned their vehicle on Red Mountain Road and hiked about a half mile further in the snow to reach a motorist who had been stranded in his car overnight, according to a Del Norte County Sheriff's Office Facebook post.
The motorist kept warm using the heated seats in his vehicle and was in good condition, but the car was completely disabled. SAR escorted him to safety.
On their way to that rescue, SAR encountered other motorists stranded on the Gasquet-Orleans Road who said GPS devices on their phone listed that route as a viable alternative to U.S. 101. SAR helped the California Highway Patrol get those motorists to safety.
"GPS is not always helpful," the DNSO stated. "Please do not choose alternate routes unless you are familiar with the terrain or have confirmed it is passable through other reliable sources."
According to Scott, if the road closure becomes a long-term problem that hinders commodities movement, trash disposal and other transportation-related needs, she may activate the Del Norte County Emergency Operations Center. That doesn't appear to be a necessity yet, however, she said.
"They said right now it's looking like probably late afternoon or early evening," Scott said referring to Caltrans crews reopening the road. "That's contingent on whether or not there's additional slide activity."
Apperson, who said he also has a strong working relationship with Curry County Sheriff John Ward, said he's concerned about anyone in his jurisdiction being cut off from resources. To help address those issues, he said, his office has even broached the idea of purchasing vehicles that could handle winter weather conditions.
For now, though, residents should listen to KPOD and KCRE for more information about road and weather conditions, Scott said. Information will also be available via social media.
"When (U.S. 101) does open back up, if people could restrict their activity to just what's essential," she said. "If people need to get home or to a doctor's appointment, outside of that, it's probably best to wait a couple days."
---
SHARE →