---
Jessica Cejnar / Monday, Feb. 15, 2021 @ 1:15 p.m. / Education
DNUSD: Margaret Keating Elementary May Be Closed If Slide Activity At Last Chance Grade Continues
---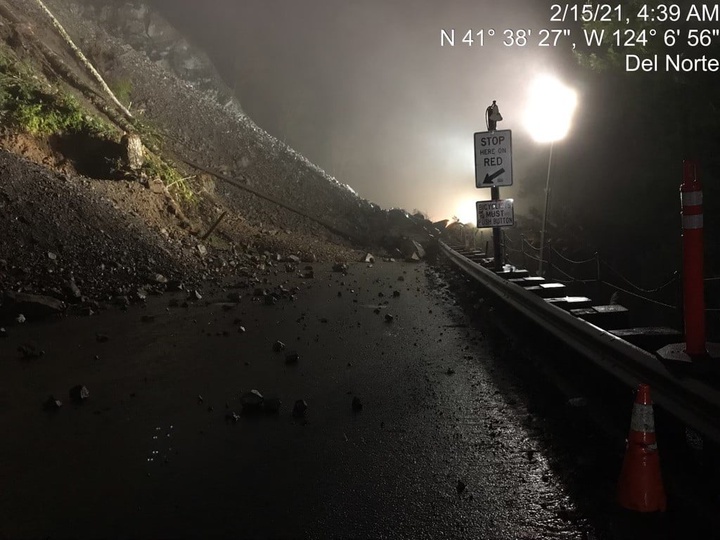 Though Caltrans personnel think U.S. 101 may reopen as soon as Monday afternoon, Del Norte Unified School District is considering contingencies due to slides at Last Chance Grade.
One of those contingencies include canceling in-person school for Margaret Keating Elementary Students, according to a DNUSD news release Monday afternoon:
As of this posting, HWY 101 remains fully closed due to multiple landslides at Last Chance Grade. Caltrans estimates that one-way traffic may begin this afternoon assuming no additional slide activity occurs. While our goal is to have all students attend in-person as fully as possible, due to safety, staffing, transportation, and food service considerations, we are currently working with two scenarios for students south of Last Chance Grade at this time:

Scenario 1: If traffic at Last Chance Grade remains closed until 10:00 PM or closes again after 10:00 PM tonight, in-person school will be canceled for Margaret Keating students. All Keating classes will move to distance learning. Students who would otherwise be attending Crescent Elk, Del Norte High, or other schools in Crescent City in-person will instead participate through distance learning. This model will be in place until Hwy 101 reopens for transportation and nutrition service.

Scenario 2: If traffic at Last Chance Grade opens prior to 10 PM and remains open through the night, schools will continue operations as normal. Keating students who ride the bus will be picked up at their normal time and should return home at normal times. Students riding the bus to in-town schools will be picked up as close as possible to their normal time but will most likely be dropped off 30 to 60 minutes late when returning home. If your child rides a bus from Klamath to Crescent City for school, we strongly encourage you to make alternative care plans, in the event that a slide occurs while your child is attending school in Crescent City and is unable to return home.

Parents and guardians south of the slide may keep your child home and participate in distance learning if you do not want to send their child over Last Chance Grade, as Caltrans continues to work the slide.

We will post another update at 10 PM tonight to let you know with which scenario we will be moving forward. Please continue to monitor dnusd.org for the latest information.
---
SHARE →