---
Jessica Cejnar / Thursday, Feb. 11 @ 2:39 p.m.
Six Months After Filing Grievance, Local SEIU 1000 Reps Say Pelican Bay State Prison Is Plagued By Nursing Shortages, Lack of Communication With Management
---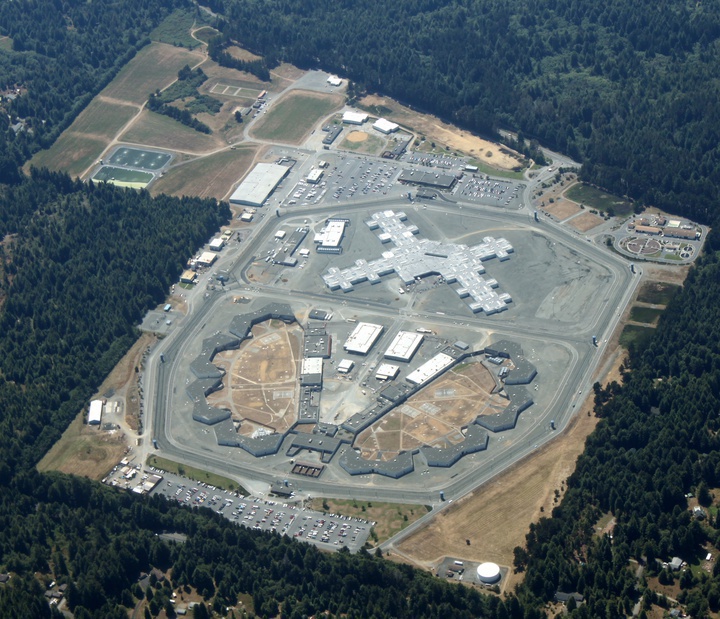 Previously:
• 'We Are Essential'; Union Representing 400 Pelican Bay Staff File Grievance Protesting Lack of COVID-19 Safeguards At California Prisons
###
Six months after it filed a grievance demanding better safeguards against COVID-19 for its members, local SEIU 1000 representatives say there's still a lack of communication between upper management and medical and administrative staff at Pelican Bay State Prison.
There's also a nursing shortage and a high turnover rate that puts the health and safety of its members constantly at risk, said Laura Slavec, a registered dental assistant at Pelican Bay and a district bargaining representative for the union.
"COVID is another layer to this because we've had these issues prior to COVID," Slavec told the Wild Rivers Outpost. "COVID intensified it even more."
SEIU 1000 is California's largest public sector union, representing staff at the California Highway Patrol, the Department of Motor Vehicles, Caltrans and other state agencies. At Pelican Bay State Prison, the union represents roughly 400 nurses, laboratory and x-ray technicians, dental employees as well as office and administrative staff.
In July, SEIU 1000 filed a statewide grievance due to a lack of safeguards at California Department of Corrections and Rehabilitation facilities in response to COVID-19. The grievance was filed in response to COVID-19 outbreaks at San Quentin State Prison and other CDCR facilities last summer.
Locally, union members delivered a staff-signed poster declaring "We Are Essential" to the prison's warden — a morale booster for all prison employees, including correction officers, Slavec said.
But there continues to be a 25 percent vacancy among Pelican Bay nursing staff — both registered nurses and licensed vocational nurses — according to Slavec. Those that are there are covering three to four vacant positions in an eight hour shift, she said. Many have also been written up for things that are "out of their control," Slavec said.
Upper management promises to fix the situation haven't come to fruition, Slavec said.
"We cannot keep staff at Pelican Bay," she said. "Recruiting them hasn't been an issue, but retaining them has been an issue. And the reason, a lot of it, has to do with the way they're being treated either by their immediate supervisor or when they raise concerns to upper management. (Their concerns) pretty much fall by the wayside."
There is also only one medical assistant at Pelican Bay, down from about four, according to Slavec.
Since SEIU 1000 filed its grievance, which has been denied by CDCR and California Correctional Health Care Services and is now pending arbitration, union representatives have been taking part in monthly joint labor management committee meetings
At these meetings, Slavec said, union members asked management what they're doing to recruit new employees. She said management's response to that question is a lack of housing in Del Norte County makes recruiting a challenge.
The union also issued a vote of no confidence against CEO Bill Woods, who manages Pelican Bay's medical staff. According to an article published in SEIU 1000's newsletter by Michael Malloy,
Woods began his career at Pelican Bay as a nurse and has worked there for about 20 years. Multiple lawsuits have been filed against Woods, according to Malloy.
In his article, Malloy also accuses upper medical management at Pelican Bay State Prison of ignoring CDC guidelines related to COVID-19, such as wearing a mask.
According to Slavec, an organizing committee of eight to 10 nurses, herself and other SEIU 1000 representatives have been struggling for a long time to get their concerns addressed.
"I currently have 21 grievances filed, and that's just from 2020 till today, because we have had a discussion with them and they say no," she said. "We file a grievance and it gets denied and we have to send it to CalHR."
Though they didn't comment on the vote of no confidence against Woods, a CCHCS representative said the department has created a "hybrid recruitment effort" using both digital and print recourses to recruit nurses.
"Recruitment efforts focus on professional organizations' website job postings, email campaigns through nurse.com, social media posts and local print advertisement extending into Oregon," a CCHCS representative told the Outpost via email. "CCHCS is also expanding its educational outreach to various community colleges and professional schools in the Northern California/Oregon border area to reach alumni and current student populations."
As for the SEIU 1000 grievance, the CCHCS representative said there are "no issues" with personal protective equipment inventory. The agency has processes in place to make sure each institution has the supplies they need.
CCHCS and CDCR provided a joint response to SEIU 1000 denying the grievance. That response was supported by the California Department of Human Resources, according to CCHCS.
According to Slavec, CCHCS is offering more money to new recruits, who are coming from as far away as Louisiana, New York and Chicago. This is a "step in the right direction," she said.
CCHCS is also bringing in extra staff to focus on COVID-19 issues, Slavec said.
"Starting in December we were getting (staff) from Folsom and San Quentin to help us for six weeks at a time and then they'll go back to their institution," she said. "Those folks (said) you guys don't have a COVID problem, you guys have a management-staffing problem. You have a nursing shortage problem. And it's true — it's 100 percent true."
Slavec compared working at Pelican Bay State Prison to being in an abusive relationship for the prison's medical staff.
"We just want management to treat our people with respect and dignity," she said. "If that happened and we were to work as a team, our institution would be the one to work at. We just need management to get on board."
---
SHARE →