---
Jessica Cejnar Andrews / Thursday, Dec. 9, 2021 @ 11:27 a.m. / Community
Proposed Sister City Monument Receives Enthusiastic Support From Councilors
---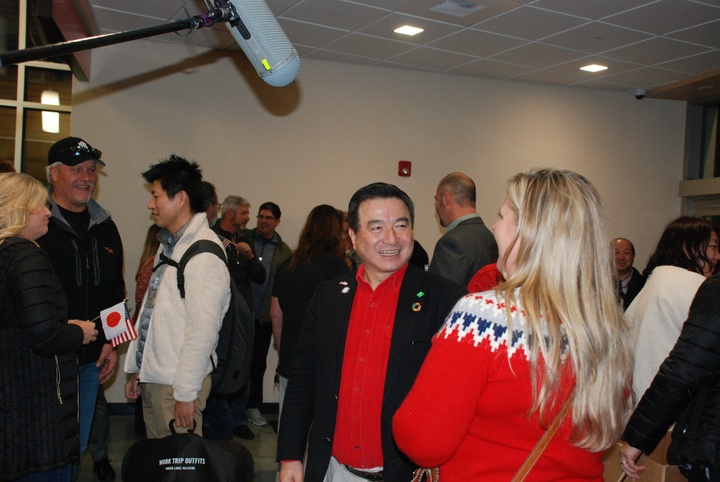 Previously:
• Crescent City Nets $5 million Prop 68 Grant for Beachfront Park Expansion
• Crescent City to Discuss Sister City Monument at Beachfront Park
###
Using a ceramic mosaic mural to celebrate the friendship between Rikuzentakata, Crescent City and Del Norte is in its infancy, but Jill and Harley Munger already have a vision for what it will look like.
The Mungers, founders of the nonprofit Piece by Piece Pottery, are poised to enter into a $10,000 agreement with Crescent City to spearhead the design and creation of the monument using student artists from both Del Norte High School and, hopefully, Takata High School.
Jill Munger, who is Piece by Piece Pottery's grant writer, said there may also be an opportunity to collaborate with other community organizations, such as the local Rotary and Soroptimist chapters as well as Elk Valley Artisans for other funding for the endeavor.
"We're looking forward to a lot of history in the mural," Jill Munger said. "We'll have our lighthouse, we'll have their lighthouse. We'll have our redwoods, we'll have the lone pine — the history of the lone pine that survived. We'll have children holding up the boat on the globe with a red bridge. It's going to be good, Crescent City. We're very excited about it."
The Crescent City Council on Monday directed staff to draw up an agreement with Piece by Piece Pottery and PGAdesign, who will prepare a "site-specific concept design" for the monument's eventual home at Beachfront Park.
PGAdesign, a Bay Area-based landscape architectural firm that assisted the city its Beachfront Park Master Plan, quoted the city approximately $8,200 to prepare a home for the Sister City monument, according to City Manager Eric Wier.
On Monday, two days before the state announced Crescent City had received a $5 million Statewide Park Program Grant, Wier said the city could use a $170,000 per capita Proposition 68 grant it received to pay for the monument. He said the monument would be included in the park's new interpretive cultural walk that tells the story of how Crescent City was settled.
"This has been part of the Council's vision as they adopted this master plan," Wier said. "We also have a component that's coming up in about a year and a half and that is the 10 year anniversary of when Kamome washed ashore. That's April 2023. That's going to be here before we know it."
The development of a monument to honor Crescent City and Del Norte County's friendship with Rikuzentakata comes after roughly 30-40 million people saw a documentary on the two communities and their relationship on NBC during the Tokyo Olympics this summer.
People now know about Crescent City based on that documentary, Wier said. People are visiting because they saw Crescent City on TV and they want to learn more about its relationship with Rikuzentakata, but now "there really isn't much of a place like this that they can go to."
"They can go to the visitor center and get some literature on it, but we don't have a destination spot," Wier said.
The NBC Sports documentary, Kamome, has fueled interest in Crescent City and Del Norte County, according to Cindy Vosburg, executive director of the Crescent City-Del Norte County Chamber of Commerce.
This was particularly the case each time the documentary aired over the summer — at roughly 10:30 p.m. July 21, the evening of Aug. 5 and around midday on Aug. 8.
According to Vosburg, Explore Crescent City had 1,458 page views on July 21. On Aug. 5, Explore Crescent City had 4,626 page views. And on Aug. 8, the website received 7,019 page views, according to Vosburg.
Since Nov. 17, Explore Crescent City has had a total of 74,054 page views and 1.7 million impressions, according to Vosburg. The web page telling the story of Kamome saw 18,151 page views and 119,000 impressions, she said.
"We wanted to make sure that when viewers saw the story they had some place to go to find out more information on Crescent City and Del Norte County — that would showcase our beautiful region to the world," Vosburg told the Outpost in an email Wednesday. "They came to the website to read the story, but then they stayed to explore our communities through viewing the travel guides."
It was Vosburg who came up with the idea of asking the Mungers to contribute a puzzle mosaic mural to celebrate the community's friendship with Rikuzentakata, Mayor Pro Tem Blake Inscore said.
Inscore, a board member for the Kamome Foundation, said he felt there needed to be a tangible component to the Sister City story. Since a boat is at the heart of the story, Inscore said he was fixated on getting another vessel from Japan to serve as the monument, but felt that having a puzzle mosaic mural instead would be perfect.
"It's an important mural and it's an important story for our community to tell," he said, urging the Mungers to tell Councilors about why puzzle mosaic murals are so important to Crescent City.
Many communities sport painted murals on their public buildings, but ceramic puzzle mosaic murals are few and far between, according to Harley Munger. They're difficult to do and expensive, he said.
Del Norte County has more than 200 ceramic puzzle mosaic murals, many in local schools created by youth participating in Piece by Piece Pottery, according to Harley Munger.
"We're looking very much forward to having Japanese kids and students from the Japanese Club at the high school as well as maybe other students from Del Norte schools, which traditionally is our pool of student resources," Jill Munger said. "It's going to be really good. We're just honored that you would consider us for this project."
Meanwhile the Kamome Foundation, named for the 20-foot fishing vessel that washed ashore on South Beach two years after the March 2011 tsunami, recently achieved nonprofit status and has a new website, according to Inscore.
The foundation is the brainchild of former Del Norte County Sheriff's Cmdr. Bill Steven, who said its goal is to further ongoing cultural exchanges between Del Norte County and Rikuzentakata youth without using government dollars.
---
SHARE →