---
Jessica Cejnar Andrews / Friday, Dec. 3, 2021 @ 5 p.m. / Community
Crescent City Council to Discuss Sister City Monument at Beachfront Park
---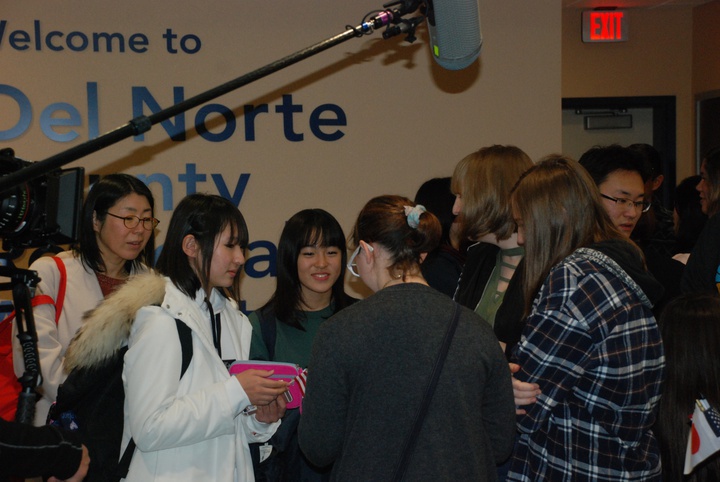 Nearly nine years after Kamome washed ashore in Crescent City, Councilors on Monday will weigh in on a proposal to create a monument to their sister city relationship with Rikuzentakata, Japan.
Mentioned in the city's Beachfront Park Master Plan, the monument will be included in a section of the park dedicated to telling Crescent City's story, City Manager Eric Wier told the Wild Rivers Outpost on Friday.
While the Council isn't asked to take official action on Monday, Wier proposes working with Piece by Piece Pottery, a local community art program for youth founded by Harley and Jill Munger that specializes in ceramic tile puzzle mosaic murals.
Wier said he envisions youth from both sides of the Pacific Ocean working together to create the monument.
"They're the ones that come up with the final design and they form the clay pieces to make the tiles," Wier said. "The hope is we'll be in a point with the pandemic that we'll bring over some exchange students from Rikuzentakata and actually have them form the tiles too, so you have this continued story of both communities coming together and making this mural."
Wier's proposal corresponds to the origin story of how the friendship between Crescent City, Del Norte County and Rikuzentakata began.
Kamome, a 20-foot long fishing vessel belonging to Rikuzentakata's high school, washed ashore at South Beach nearly two years after the March 2011 Tohoku earthquake and tsunami swept it to sea.
Shortly after sheriff's deputies recovered the boat, Del Norte High School students cleaned it up and brought it home to Rikuzentakata.
That gesture began a series of exchanges between Del Norte and Takata High Schools leading to their Sister School relationship. Roughly three years later, dignitaries from Rikuzentakata, Crescent City and Del Norte County signed an official Sister City pact in 2018.
According to Wier, the idea to work with the Mungers came from Cindy Vosburg, executive director of the Crescent City-Del Norte County Chamber of Commerce. Wier said he's hoping the monument will tell Kamome's story, including the tsunami's impact both in Rikuzentakata and at Crescent City's own harbor.
Wier will also urge the Council to enter into a contract with PGA Design, who helped create the Beachfront Park Master Plan, to design a "site-specific area" for the monument including installing pathways leading up to it, giving the viewer a sense of setting and place.
"The other component is how do we make sure this tile mural also has a sense of space; a sense of context as it revolves around Beachfront Park," Wier said. "When a visitor comes to Beachfront Park, the experience we want them to have is looking out over the ocean, seeing the mural and reading about the sister city relationship and experiencing it in a way that reflects the story."
The story of Kamome was made into a children's book, "The Extraordinary Voyage of Kamome," penned by Humboldt State University geology professor Lori Dengler and Amya Miller, Rikuzentakata's former principal consultant.
Del Norte and Crescent City's relationship with Rikuzentakata was also part of an NBC Sports feature aired during the Tokyo Olympics in July.
The Crescent City Council will meet at 6 p.m. Monday in the Flynn Center, 981 H Street. The public is also able to participate via Zoom. Meetings are also streamed live on YouTube.
---
SHARE →