---
Jessica Cejnar Andrews / Monday, Dec. 27, 2021 @ 3:47 p.m. / Community, Emergencies
Fire Causes Heavy Damage to Historic Port Orford Home; Go Fund Me Account Set Up for Home's Occupants
---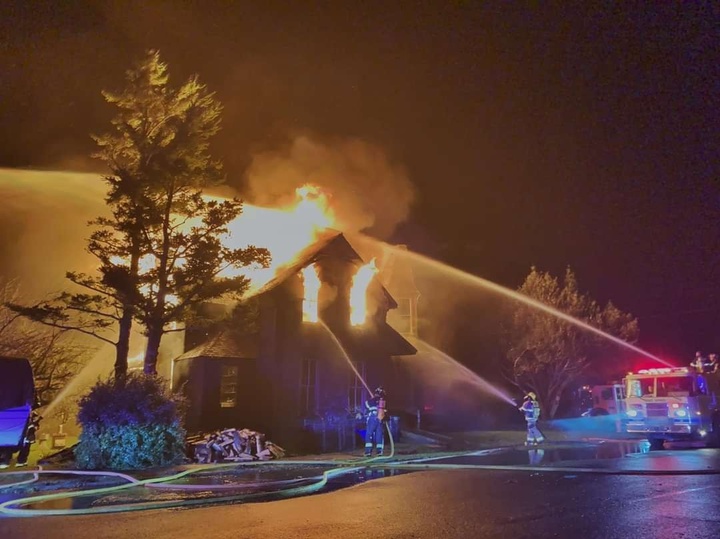 (Updated at 12:16 a.m. to correct Sixes River Fire District Chief Wayne Moore's name)
Volunteer firefighters from three agencies tackled a blaze that caused heavy damage to the 125-year-old Lindberg House in Port Orford on Sunday.
Personnel from Port Orford Rural Fire District, Sixes River Fire District and Langlois Rural Fire District worked late into the night to keep the fire from spreading to nearby structures, including an RV as well as the Port Orford Christian Center, Sixes River Fire Chief Wayne Moore told the Wild Rivers Outpost.
The Lindberg House was "seriously involved" when Sixes River firefighters arrived on scene at 906 Washington St. after being called out at about 7:45 p.m., Moore said. There was also a tremendous amount of electrical arcing, Moore said. Though the Oregon State Fire Marshall is investigating the cause of the fire, Moore said he believes it was an "electrical issue."
"It started in the northeast corner (of the house) which I was informed is the kitchen area," he told the Outpost on Monday. "It also is where the main breaker panels are for the house."
The home's occupants were able to exit the house and call 911, according to Moore.
A Go Fund Me account has been set up for Donna Lindberg, Jennifer Johnson and Jeff Johnson, who lived at the Lindberg House.
According to the Lindberg House Facebook page, the home was constructed by John Peter Lindberg. Most of Lindberg's descendants live in the Port Orford area and have been part of the Lindberg House Preservation Society, working to restore the home.
According to a Lindberg House Facebook post Monday, the house may be a total loss.
According to Moore, it didn't take long for the home to become fully engulfed. The home still had its original wood and was a balloon-framed house whose studs extend from the structure's foundation to its roof, he said.
Still, Moore said, the firefighters kept the structure from completely burning to the ground — the walls are still standing.
Ten firefighters and two engines responded to the Lindberg House fire from the Sixes River Fire District, according to Moore. Four volunteer firemen and fire apparatus from the Langlois Volunteer Fire Department responded as well, Moore said.
Along with firefighters from the Port Orford Rural Fire District, a total of about 18 people responded to the Lindberg House fire, according to Port Orford Fire Chief David Duncan.
The Port Orford Rural Fire District were dispatched to the fire at about 7:32 p.m., Duncan told the Outpost.
Sixes River Fire was on scene until about midnight, Moore said.
"I think that all the firefighters involved did an extremely good job of saving and protecting structures and the exposures that were there, being short-handed," he said, citing people out of town due to the holiday.
---
SHARE →