---
Jessica Cejnar Andrews / Monday, Dec. 27, 2021 @ 11:46 a.m.
Cold Storm System Brings Snow to Crescent City, Creates Hazardous Driving Conditions Up U.S. 199
---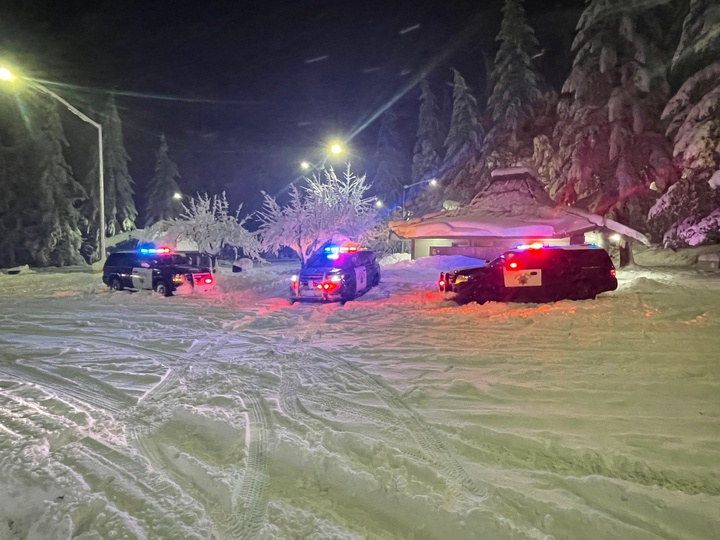 A cold system originating in Southwestern Canada brought snow showers to sea level in Crescent City on Monday.
Accumulation has been minor, National Weather Service meteorologist Jonathan Garner told the Wild Rivers Outpost. Inland areas, especially around Collier Tunnel on U.S. 199, saw a foot or more of snow, he said.
"We're dealing with snow showers moving south across the area this morning," Garner told the Outpost. "They'll start to die off this afternoon, but the airmass is very cold above the surface and snow's forming in the clouds."
A weaker storm system is expected to bring light snow, up to an inch, to the Crescent City area between 10 p.m. Monday and 10 a.m. Tuesday, Garner said. Light snow is also expected for the Del Norte County interior, he said.
According to Garner, the storm system that brought snow levels down to the Crescent City area originated in southwestern Canada. In Humboldt County, the system lowered snow levels down to 500 feet and produced small hail at sea level, he said.
Meanwhile, motorists headed up U.S. 199 should check road conditions before they venture forth. A requirement for motorists to put chains on their tires was just lifted for an area 8.4 miles south of the Oregon state line to the border, according to Caltrans spokeswoman Rhiannon Montgomery.
"Things are changing quickly and the guys out there are working hard to get areas cleaned up for smoother travel," she said.
For more information about Caltrans road conditions, click here.
A winter weather advisory is also in effect for Jackson and Josephine counties in Oregon, including Medford, Grants Pass and Cave Junction, according to the National Weather Service. Motorists are advised to carry tire chains and be prepared for snow-covered roads and limited visibility, according to the Oregon Department of Transportation.
For more information about Oregon road conditions, click here.
---
SHARE →