---
Jessica Cejnar / Thursday, April 1 @ 8:57 a.m. / COVID-19
Del Norte to Expand COVID-19 Vaccine Delivery To Ages 16 and Up
---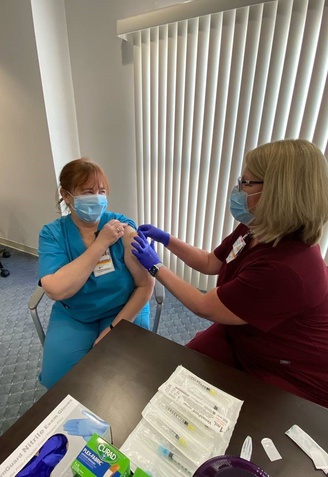 COVID-19 vaccines will be available for Del Norters ages 16 and above, Public Health Officer Dr. Warren Rehwaldt announced Thursday.
From a Thursday news release:
We have a very brief update today, but we wanted to get the word out as soon as possible.

We have seen a bit of a drop off in demand at our own clinics, and we have heard some similar reports from other vaccination sites in the county. This has taken place, despite the opening of new tiers, and of last week, anyone 50 and above in our county. With that trend in mind we are announcing today that Del Norte County is accelerating the eligibility process.

Statewide, 16 and above will be eligible for vaccination on April 15th, but we want to begin now. So, as of today April 1, we are making it possible for any local vaccinator to offer a vaccine for those 16 and above (for the Pfizer vaccine), and 18 and above (for Johnson and Johnson, and Moderna). Please check out appointments for the Moderna vaccine with us at Public Health (and we will be offering Johnson and Johnson at clinics when more widely available) and with medical offices and pharmacies that have vaccines.

As a reminder, all these vaccines work very well, and the basic rule is to get the vaccine that is easiest for you to get access too. At this point, there should be no reason for anyone to not get a vaccine of some sort, if so desired.

You can register for a vaccine at Public Health, and other local vaccination sites on the county COVID website here: www.covid19.dnco.org, or you may register onsite with Public Health at their Tuesday and Wednesday clinics held at the fairgrounds.
---
SHARE →