---
Jessica Cejnar / Tuesday, Sept. 15, 2020 @ 5:05 p.m. / Emergencies, Fire, Health
Local Wildfires Prompt County Emergency Declarations
---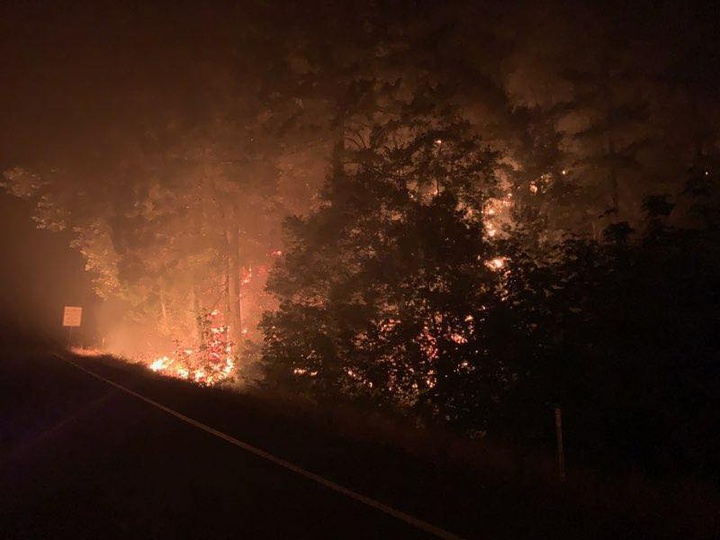 With U.S. 199 still closed north of Gasquet due to the Slater Fire, the Del Norte County Board of Supervisors unanimously declared a local emergency.
At a special meeting Tuesday, supervisors also issued a proclamation declaring a local health emergency due to the Slater and Red Salmon Complex fires at the request of Public Health Officer Dr. Warren Rehwaldt.
"We included the Red Salmon Complex on the theory that it might continue to migrate into and across our borders and affect the Klamath watershed and homes and roadways, whatever might be in its path," Rehwaldt told supervisors on Tuesday. "By making it part of the proclamation, we hope to access funding for remediation should the fire reach us and cause more damage."
Before they unanimously approving both the local emergency and local health emergency declarations, County Administrative Officer Jay Sarina told supervisors that the primary issue with regard to the Slater Fire is damage to road infrastructure on Oregon Mountain Road.
County staff submitted an initial damage assessment to the State of California, Sarina said, but a more thorough analysis would need to be conducted. The Board's resolution would be sent to state officials to be included in any declarations they would make, Sarina said.
"We would then become eligible if there is a federal declaration," he said. "Funding could be made available through the federal government and the State of California."
The Slater Fire started near Happy Camp on Sept. 8 , has grown to an estimated 131,601 acres and is 10 percent contained. The Devil Fire was detected on Sept. 9 in the Seiad Valley area and has since grown to an estimated 4,429 acres and is 0 percent contained.
The Devil Fire was mentioned in Rehwaldt's local health emergency proclamation, but he said he decided to remove it since it may merge with the Slater Fire.
As a result of the Slater Fire, which has entered Del Norte County and is burning an area near Oregon Mountain Road and Knopki Creek, Gasquet residents evacuated their homes on Sept. 9. They were able to return on Sept. 10.
Gasquet residents, along with the community of Big Flat, are currently at a Level 1 "Be Ready" evacuation order.
Residents between Pioneer Road and the Oregon state line are under Level 2 "Be Set" evacuation orders.
Hiouchi is no longer under an evacuation warning, according to the Del Norte Office of Emergency Services.
U.S. 199 remains closed between Pioneer Road and the Oregon state line.
The Red Salmon Complex started in the Trinity Alps Wilderness area on July 27, has an estimated size of 95,137 acres and is 18 percent contained, according to a Tuesday update on InciWeb. The communities currently impacted include the Hoopa Valley, Willow Creek, Salyer, Trinity Village and Orleans areas.
National Forests in California are closed through Monday, according to InciWeb.
For more information on the Slater Fires, click here or visit Prepare Del Norte.
Documents
• Health Emergency Proclamation
---
SHARE →