---
Jessica Cejnar / Tuesday, Sept. 15, 2020 @ 12:03 p.m. / Emergencies, Fire
Crews Working to Clear Hazards on U.S. 199 From Slater Fire; Fire Is 10 Percent Contained, According to InciWeb
---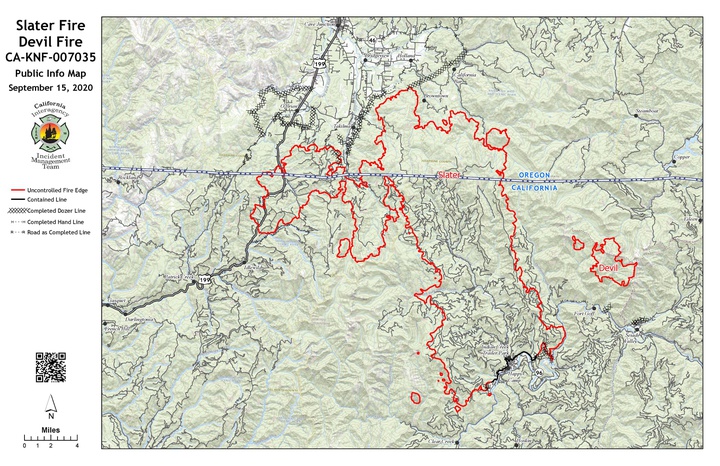 Though there is still no estimated time for reopening U.S. 199 yet, shifting weather may allow crews into the area to begin clearing hazards, according to a morning Slater Fire report on Tuesday.
However active fire north of the Oregon border may impede the ability to reopen the road, according to an update from Del Norte Emergency Services Manager Kymmie Scott.
"We are not out of the woods just yet, and I encourage you to remain vigilant," Scott wrote. "Take advantage of the clearer air to improve the defensible space around your house. Help your neighbors that may be unable to do this on their own. Take pictures of your house and belongings. Be hopeful (there's plenty of reasons to be) but also be proactive."
U.S. 199 is closed at Pioneer Road due to the Slater Fire.
The Slater Fire is an estimated 131,601 acres and is 10 percent contained, according to an evening update from InciWeb. The nearby Devil Fire is at 4,429 acres and is 0 percent contained, according to InciWeb.
A rise in temperature and a decrease in humidity late Monday prompted an increase in fire activity in the Illinois Valley area east of U.S. 199, according to a morning update on InciWeb. This occurred near Takilma, but fire behavior decreased overnight, according to the update.
Closer to Gasquet, crews are working near Knopki Road and are working on control lines near Monkey Ridge and Oregon Mountain Road to prevent the fire from spreading to communities to the southwest, according to InciWeb.
The fire is threatening repeaters on Monkey Ridge, according to InciWeb.
California Incident Management Team 10 will transfer command of the northern and western sides of the Slater Fire on Wednesday to an incoming team from the Northern Rocky Mountains, according to InciWeb.
Due to extreme fire danger, all national forests in California are closed.
---
SHARE →