---
Jessica Cejnar / Sunday, Sept. 13, 2020 @ 5:06 p.m. / Emergencies, Fire
Fire Crews Hope For Containment of Slater Fire Near Happy Camp Today; Higher Humidity, Rain Expected Wednesday
---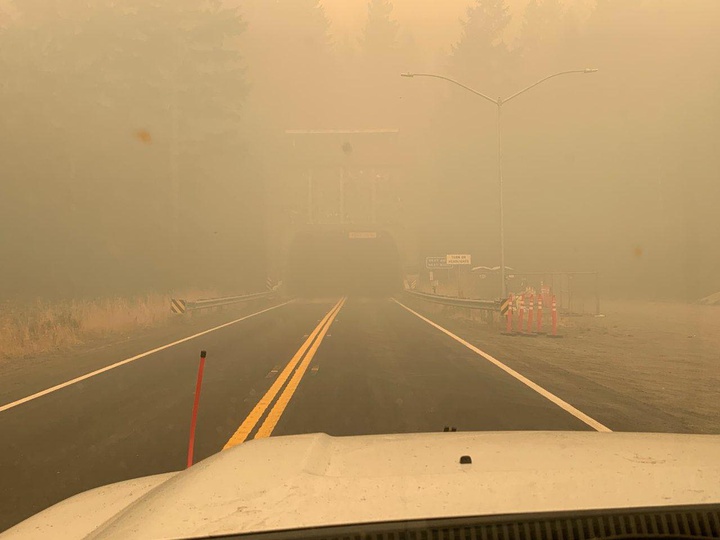 While crews from multiple agencies are in "full aggressive fire suppression" mode with the Slater Fire inching to within 7-8 miles of Cave Junction, in Del Norte County, the fire remains "hung up" at the Oregon Mountain Road area south of Collier Tunnel.
Firefighters are working on getting part of the fire contained near the Siskiyou County community of Happy Camp, said Dan George, operations section chief for California Interagency Management Team 10, which is managing the Slater and Devil fires.
George and other local, state and national officials spoke at an online meeting streamed on Facebook at about 4 p.m. Sunday
Crews are also working on opening access points on U.S. 199, said Adrienne Freeman, public information officer for California Incident Management Team 10. The highway remains closed at Pioneer Road north of Gasquet.
Meanwhile, falling trees along Highway 96 pose a threat to motorists, Freeman said. Removing the trees typically results in delays of up to an hour and a half, even for emergency vehicles, she said, asking motorists for their patience.
"We are starting to see resources coming into these incidents," she said. "We've had 530 (personnel) here as of this morning and we're starting to make some good progress."
The Slater Fire has grown to an estimated 126,333 acres and the Devil Fire in nearby Seiad Valley is at 4,149 acres, according to InciWeb. Though it's currently 0 percent contained, George said he hopes by the end of today's shift to have "black line," showing containment around the town of Happy Camp.
The goal, he said, was to bring Happy Camp residents back home.
About 150 structures in the Happy Camp area when the fire first started, Tom Browning, Operations Section Chief with California Interagency Management Team 10 said at an online earlier community meeting streamed from Cave Junction on Sunday.
The Siskiyou County Sheriff's Office is working on identifying two people who lost their lives due to the fire, according to Lt. Jeremiah LaRue.
Closer to O'Brien and Cave Junction, crews are building direct and indirect dozer lines from U.S. 199 to Highway 46, which leads to Oregon Caves National Monument and Preserve. The fire had been burning in the Dwight Creek area and near the Almost Heaven Resort, Browning said, but the structures in that area have been protected.
The Slater Fire is currently about two miles from the Oregon Caves National Monument boundaries and three miles from its historic district, Chief of Interpretation George Herring said. Sprinkler systems have been trained on the chateau and chalet to protect them, he said.
Access to the national monument is closed due to the fires and staff living on site were evacuated to Selma on Wednesday, according to a Thursday Facebook post.
Meanwhile, the smoke has created unhealthy air quality conditions in Northern California, making it difficult to breathe. Hazardous conditions over the next 24 hours are forecasted for Gasquet, Weitchpec and Orleans.
The North Coast Air Quality Management District recommends everyone in those communities avoid outdoor activity.
However, relief from the smokey conditions may come as soon as Wednesday from a low-pressure system that's expected to bring higher humidity and possibly rain into the area, said fire meteorologist Jeff Tonkin, of the National Weather Service's Eureka office.
The layer of smoke and cooler temperatures recently have dampened the fire in the middle to lower elevations, Tonkin said. Along ridge tops, 15 mph winds and sustained gusts of 20-25 mph winds on Sunday were making fire activity more rigorous in the higher elevations, according to Tonkin.
Temperatures on Wednesday, Thursday and Friday are expected to be in the 60s with cloud cover and 60 to 70 percent humidity during the day, Tonkin said.
"If we get a little bit of rain it'll be higher than that," he said. "Wednesday, Thursday and Friday are very favorable."
For more information about the Slater and Devil Fire, visit incident's Facebook page. For more information about fire activity, air quality and other emergencies, visit preparedelnorte.com.
In-person informational meetings for those living in Gasquet, Hiouchi and Big Flat and other parts of the Smith River corridor are being held at the Gasquet Ranger Station. The next meeting is to be determined, according to Del Norte OES Manager Kymmie Scott.
These meetings are for residents only, according to a DNOES Facebook post. The office will provide updated information on its Facebook page.
---
SHARE →