---
Jessica Cejnar / Thursday, Oct. 8, 2020 @ 4:02 p.m.
29th-Annual Sea Cruise Hits The Road Starting Friday; Car Show Sponsors Optimistic Despite COVID-19, Rain Forecast
---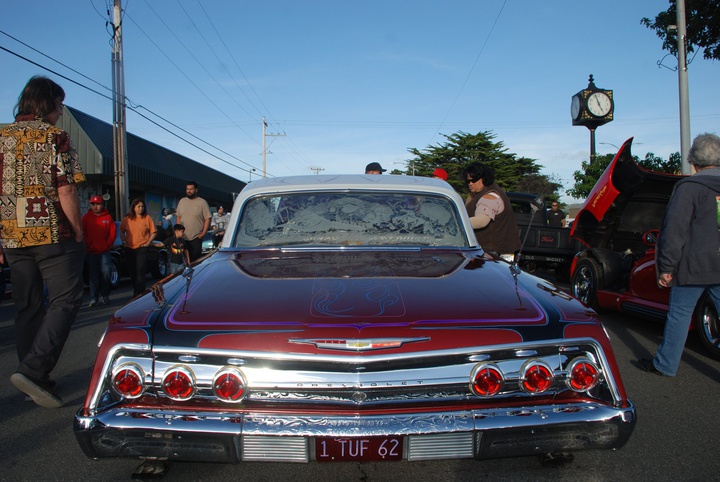 Previously:
• Chamber Planning Sea Cruise Despite COVID-19; Classic Car Show Will Be Held Oct. 9-10
###
Though there will be a handful of modifications due to COVID-19, Downtown Crescent City will transform into a museum of classic cars, hot rods, low riders and other vintage vehicles.
The 29th-annual Sea Cruise will begin with the Show and Shine in Downtown Crescent City on Friday and end with the judged car show in Beachfront Park on Saturday. But this year the Northern Knights Car Club and the Crescent City-Del Norte County Chamber of Commerce will take the show on the road incorporating Pebble Beach Drive into the festivities.
"We'll have three official closed sanctioned cruise laps and after that the lead car will go down K to 5th Street and all the way to Pebble Beach," said club president Jason Bartholomew. "There's a burnout competition at Frank's Heating and Air that somebody else is putting on, but is doing it in conjunction with Sea Cruise. It encompasses more of the town — it's a Del Norte-Crescent City event, it's not just a downtown event. We have Pebble Beach, why wouldn't we show that off?"
Sea Cruise is a fundraiser for the car club. According to Bartholomew, after splitting the profits with the chamber, the club donates the proceeds to local children's programs such as little league, Tsunami All Starz and scholarships for high school students.
The Northern Knights donated about $8,000 to Del Norte kids programs from last year's show, Bartholomew said.
This year, the Show and Shine will kick at 4 p.m. Friday in Downtown Crescent City and the sanctioned cruise will begin at 6 p.m., chamber Executive Director Cindy Vosburg told the Wild Rivers Outpost. At the Show and Shine, the cars will be lined up in twos on 3rd Street and people will be asked to move in a counter clockwise direction as they scrutinize the participants, she said.
At Beachfront Park on Saturday, people will be asked to wear facial coverings if they're not able to work with social distancing mandates of six feet apart, Vosburg said. Cars will be spaced out 20 feet apart, she said. Vendors will also be spaced further apart than previous years and will be asked to ensure people standing in line are spaced 6 feet apart, she said.
"We've had a lot of positive feedback on us being able to hold this and the reason why is because our local (public) health officer worked with us and helped us design an event that is outdoors and has social distancing," Vosburg said. "We've promised the proper signage. We brought in wash stations and we're going to clean (them) down a few times throughout the day. I'm the one that's going to be the bathroom monitor go-to and sanitize and disinfect the bathrooms and port-o-potties. We'e doing everything we can to adhere to COVID (restrictions)."
Del Norte County's Public Health Officer, Dr. Warren Rehwaldt, gave his approval to Sea Cruise, noting that it's similar to a museum.
Del Norte County is currently in the orange, or moderate tier, in California's four-tiered Blueprint for a Safer Economy, according to the Public Health Branch. Under this tier, indoor museums can open at 50 percent capacity, according to the county Public Health website.
Del Norte currently has 14 active COVID-19 cases in Del Norte with five new cases identified Wednesday.
Currently, 120 people have pre-registered for the car show, Bartholomew told the Outpost. It's a little bit less than last year, he said, but typically 150 or 200 people will register their cars at the last minute. If that's the way it works this year, it'll be "right on target" with an average hear, Bartholomew said.
There are 56 different classes of vehicle people can win prizes in including modified and stock classes as well as the survivor class. New this year are the low rider classes, one for vehicles and one for pickup trucks, Bartholomew said.
"A low rider's almost more of a mindset, but it has to have a modified suspension that sits lower than the average car," he said. "And they can go from mild to wild."
The addition of the low rider classes came at the request of several show participants last year, Bartholomew said. He said if a class has 10 participants in it, he'll make it a regular feature of the show since the fees pay for trophies and helps the club raise money for local children's programs and scholarships.
Meanwhile, Bartholomew said the survivor class was added because he has one, a 1959 Ford Fairlane that belonged to his grandfather.
"Other than oil, tires and gas it's all original as it came from the factory," he said. "You're finding a lot more of these cars lately. It's turned into a pretty big class around the United States and it's starting to pull in more and more. Last year I think we had five or six."
Traditionally Del Norte County's last big party before the winter rains set in, the Northern Knights and the chamber pulled this year's Sea Cruise off in about six weeks. Despite being hesitant to ask local businesses for help due to the pandemic, Vosburg said, 42 donated money towards this year's event.
Vosburg also pointed out that Sea Cruise provides an influx of visitors to local restaurants and hotels.
"What we found out is businesses wanted to be able to participate in this," Vosburg told the Outpost. "The ones that didn't have such a terrible year actually increased the amount they normally donate and it made up for those who couldn't do it."
Sea Cruise's highest sponsors include Lucky 7 Casino, Hemmingsen Contracting, Eco-Nutrients and Palm Industries, Vosburg said.
For a schedule of events, click here.

---
SHARE →