---
Jessica Cejnar / Monday, Aug. 24 @ 1:27 p.m. / COVID-19, Community
Chamber Planning Sea Cruise Despite COVID-19; Classic Car Show Will Be Held Oct. 9-10
---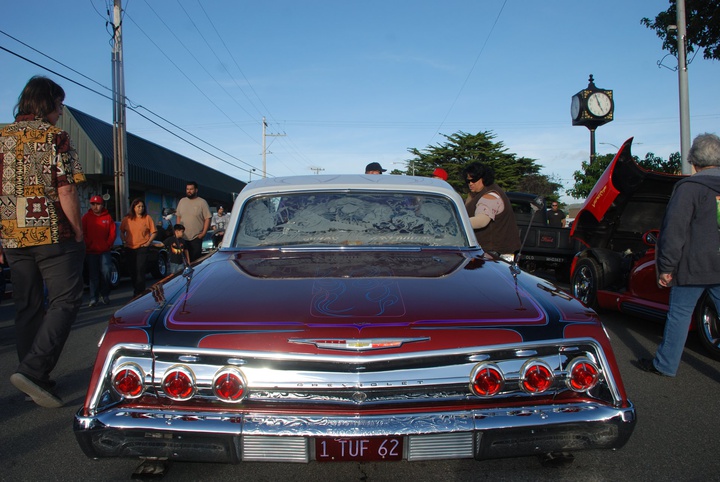 COVID-19 may have robbed Del Norte County of a fair and an Independence Day celebration, but the 29th-Annual Sea Cruise is still a go.
The Northern Knights Car Club and the Crescent City-Del Norte County Chamber of commerce plan to hold the classic car show Oct. 9 and 10, chamber board president Larry Timpe announced Thursday.
Though Del Norte County Public Health Officer Dr. Warren Rehwaldt gave the event his blessing, he said disease activity may force organizers to cancel it at the last minute.
"I'm encouraging this kind of thing because the way they've done it is pretty safe and pretty healthy," Rehwaldt told the Wild Rivers Outpost on Friday. "We've had to disappoint people over and over this summer, this is one thing we can do comfortably within the definition of the orders as we understand them. I think it's safe to proceed."
Crescent City's last hurrah before the rainy season sets in, Sea Cruise will start with the annual Show 'n' Shine and cruise through the downtown area on Oct. 9. It will continue with a judged show in Beachfront Park on Oct. 10, Timpe said.
"We're so excited to be able to do this," Timpe said during a chamber mixer held via Zoom. "There will be little changes to it. Cars will be spread out a little more than they were in the past, but it's a great activity for the entire community."
There are 14 active COVID-19 cases in Del Norte County as of Friday, according to the county's COVID-19 Information Hub. There have been a total of 116 confirmed cases in the county and one death, according to the Information Hub.
Rehwaldt said he approved the Chamber's plan for Sea Cruise because the organizers aren't planning any social gatherings in between the Show 'n' Shine and the main car show. Participants and spectators will be required to wear masks, he said. The vehicles will also be spaced further apart, according to Rehwaldt.
Statewide, there are 668,615 confirmed COVID-19 cases and 12,152 deaths as of Monday, according to the state's update.covid19.ca.gov.
California is currently Stage 2 of its four-stage Resilience Roadmap. This means the following businesses and activities can resume, including retail, manufacturing, offices and outdoor museums, according to the state's COVID-19 webpage.
Rehwaldt said he is treating Sea Cruise as a "mobile outdoor museum event."
"It's not any different than an outdoor museum would be — museum piece vehicles gathered together for review outside — it'll be similar to a lot of outdoor museum venues," he said. "This is far enough off that lots of things could change between now and then."
Before announcing on Thursday that the chamber was still planning to hold Sea Cruise despite the COVID-19 pandemic, Executive Director Cindy Vosburg mentioned the community's canceled Fourth of July celebration.
There was still a lot of unknowns about COVID-19 in April when the chamber decided to cancel the Independence Day parade, festival, fireworks display and other events, Vosburg said. State health orders also prohibited such gatherings, she said.
"Decisions were made and the reasons they were made were valid," she said. "We also felt Sea Cruise was a different creature."
Vosburg said she is meeting with Northern Knights Car Club representatives on Monday to begin working on Sea Cruise.
Timpe also pointed out that both organizations are going to need some manpower to ensure the event is going to be successful.
---
SHARE →