---
Jessica Cejnar / Wednesday, Oct. 7, 2020 @ 5:14 p.m. / Community, Local Government
Beach Fire Ordinance Update Delayed; Councilors Ask Staff To Survey Property Owners on Bluff Between 6th Street and Battery Point
---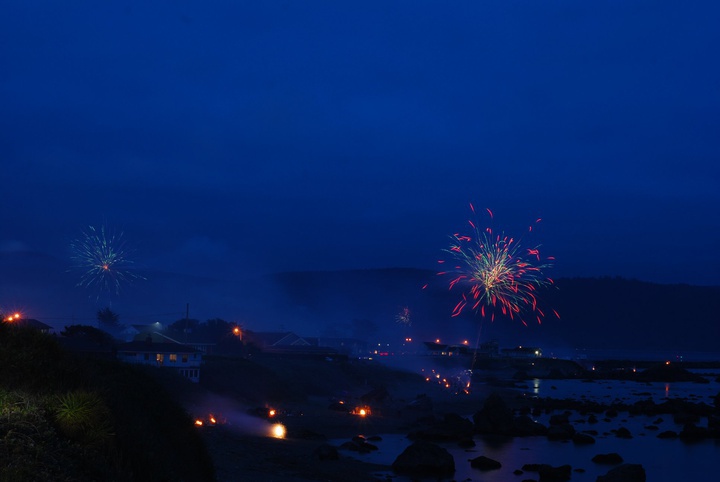 Previously
• 'We're Going to be Southern California Before We Know It'; Mayor Pro Tem Balks At Extending Beach Fire Ban Area
• Crescent City Council Gets Heated Over Beach Fires, Calls For Revamping 40-year-old Ordinance
###
Instead of agreeing to an updated beach fire law, City Councilors asked staff to gauge property owners' opinions on whether or not they should be banned out right.
The updated ordinance, brought to the Crescent City Council on Monday, extended an existing ban to include the area between 6th Street in the north and Battery Point in the south. It removed existing language referring to city-provided fire pits in that area since there are none. The ordinance sets limits on the fire's size, where they can be built and prohibits the burning of inorganic material, City Attorney Martha Rice told Councilors.
The ordinance update also makes it a municipal code violation to build and maintain a fire on private property, Rice said.
"(That's) so private property owners do not have to simply rely on trespass for legal requirements, but they can also have a sort of immediate enforcement tool if there's somebody trespassing and building a fire on private property," she said. "It also addresses the abandonment of fire. It's unlawful for anyone on private or public property to abandon a beach fire until it has been completely extinguished."
Though staff's goal was to introduce the ordinance Monday and bring it back for the Council to adopt on Oct. 19, Councilors had a different opinion after listening to several conflicting comments from residents living in the area.
"I'm wondering, given the fact that we've heard from homeowners and given the fact that we can clearly identify property owners within that stretch, if there would be a value to simply doing outreach to each one of those homeowners and getting input other than just in this public forum," Crescent City Mayor Blake Inscore said. "I want to get this right once. I don't want to do it and have four more people (speak) at the next meeting as we're getting ready to vote on it and have to start the process again. I'd rather put it off for two more weeks than introduce it tonight and upend the cart in two weeks."
Some residents, like Roger and Angela Gitlin, Tamera Leighton and Linda Perry supported the changes to the existing ordinance, which was established in 1980.
Leighton told Councilors she supported the changes as a "first step," but that she'd also favor a complete ban on fires built in the sand in the residential area between Lighthouse Way and 6th Street. She also advocated for clear prominent signs for the public informing them of the rules regarding beach fires.
Other residents, like Natalie Fahning, who cited cases where homeowners in Carmel, California and Newport complained about smoke from blazes that were up to 350 feet away from them.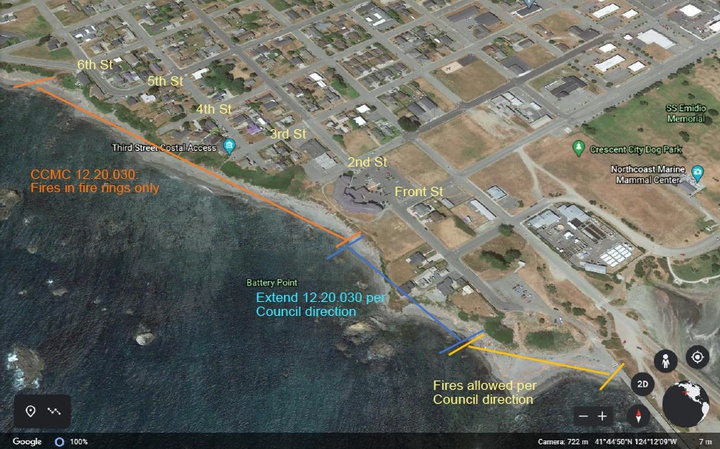 In Crescent City, most fires are set by people staying at nearby vacation rentals, Fahning said.
"A 4-by-4 fire is huge," she said. "And just 20 feet from vegetation or other combustibles? On an onshore windy day, imagine that blowing toward our houses. It's way too close to nearby homes."
Herman Rinkel, one of six candidates for Crescent City Council this election who lives on Wendell Street near the bluff, said he understands weighing private property owners' rights versus those of the general public. But he argued that fires shouldn't be allowed there because of the density of homes in the area and inability for residents to create a defensible space.
Rinkel also asked Councilors to create a definition that details exactly where fires can and can't be and how far away they should be from vegetation.
"I think it is still ambiguous as to where a private property owner can build a fire," he said.
According to Crescent City Fire Chief Bill Gillespie, the proposed 20-foot setback between a beach fire and vegetation is tied to wind conditions. He noted that people burning brush on their properties within the county have a clearance requirement of about 10 feet and said 20 feet was considered allowable on a "typical summer type evening with not a lot of wind."
Gillespie also pointed out that the North Coast Air Quality Management District sets burning days based on air quality as well as wind. Calfire also sets restrictions on when brush pile burning can take place, Gillespie said.
"Even if the ordinance says 20 feet is the distance, if local conditions don't make (a fire) safe, we would have the ability to say, 'We understand it's 20 feet, however you're blowing sparks into the brush and grass. We need to put the fire out,'" Gillespie told Councilors.
Inscore and his colleagues Jason Greenough and Alex Fallman said they felt the updated beach fire law was a good balance between regulating people's behavior and allowing for a bit of freedom for private property owners. The proposed new ordinance also gives law enforcement and firefighters the ability to enforce those regulations, Greenough said, though he also argued for better signs.
Mayor Pro Tem Heidi Kime, though she supported restricting the size of the fire as well as what people could burn, continued to be the lone hold-out among her colleagues on a ban between Battery Point and 6th Street.
Kime noted that for those with beachfront property, their boundaries are ambiguous depending on where the high tide line is.
"If I walk along the beach, I could suddenly find myself walking along private property at some point," she said. "Am I now no longer going to have that beach access? I wonder. That's where we start regulating our beaches up here and taking away the wonderful wholesome family fun, the hot dogs and marshmallows that all of us responsible individuals enjoy."
Kime said there should be repercussions against those who burn mattresses, trash and other "gross disgusting materials."
"They're ecoterrorists and they should be dealt with in such a way that if you are dumping garbage on the beach and burning garbage on the beach, there needs to be repercussions for that," she said. "The repercussion is not to ban bonfires for wholesome family fun. I can't get behind this."
Crescent City Manager Eric Wier told Councilors that staff could reach out to property owners along that stretch of bluff, including the owners of Oceanfront Lodge at 100 A Street.
Inscore noted that if the requested additional information means the beach fires ordinanced won't be formally introduced until the first meeting in November, a new City Council may vote on the final outcome.
Kime, who is not seeking re-election to the City Council in November, agreed to this.
"I don't want to be part of a Council that bans bonfires," she said.
---
SHARE →