---
Jessica Cejnar / Wednesday, Nov. 4 @ 5:29 p.m.
Brookings-Harbor School District Releases More Info On Bringing Students Back To Campus
---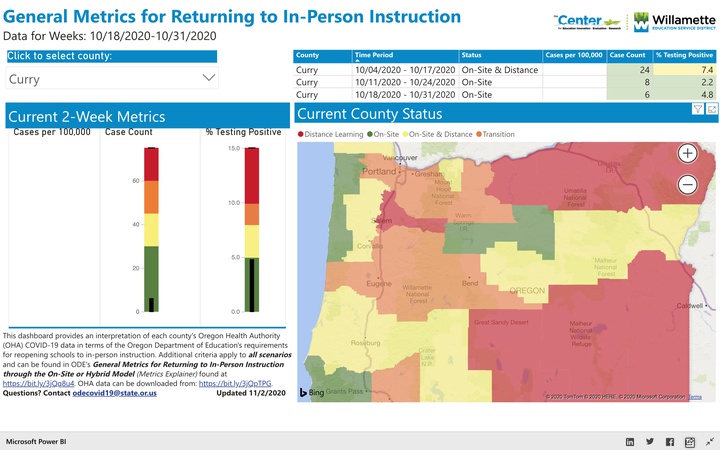 After the state issued new guidelines for reintroducing students to the classroom during the COVID-19 pandemic, Brookings-Harbor School District offered a timeline for how that will work locally.
Meanwhile, the Oregon Health Authority released its first official "Look Back" report Monday. These provide a look at a county's COVID-19 case count, along with its test positivity rate.
For the week ending Oct. 31, Curry County had six COVID-19 cases and a test positivity rate of 4.8 percent, according to the report.
From a Brookings-Harbor School District news release Wednesday:
Last week, the Oregon Department of Education (Oct. 30) announced new metrics that allow us to bring more students back for in-person instruction. After a review of the new guidance, we are excited to announce that we will start in-person instruction for new grades for students in our hybrid/comprehensive distance learning options. The changes will not affect Brookings-Harbor Online Academy students, and our online programs will continue as planned.

One of the essential goals with this plan is that we are able to bring students back on site safely. With this in mind, we are following the ODE recommendations of a gradual roll out of new grades over the next few weeks. This allows us time to make any needed adjustments in procedures as increased numbers of students come on campus for instruction. It is critical that we do not rush this transition and that we get it right. Doing this well will be part of what will enable us to keep our students in school for the remainder of the school year.

Grade Level Return on Site Timeline



Reminder: Wednesday, Nov. 11 is the Veterans Day Holiday observance and is no school day for students and staff.

Thursday, Nov. 12: We will welcome students in 4th Grade back to classrooms for morning or afternoon half day in-person instruction.

Friday, Nov. 13: We will welcome students in 5th Grade, 6th Grade and 9th Grade back to classrooms for morning or afternoon half day in-person instruction.

Thursday, December 3: We will welcome 7th Grade and 10th grade*

Thursday, December 10: We will welcome 8th Grade, 11th Grade and 12th Grade*

*Unless there is a substantial rise in county cases and positivity rate that cause a delay.

Weekly Schedules

In grades 4 and above students will be on-site for instruction on Mondays, Tuesdays, Thursdays, and Fridays. On Wednesdays for part of the day, students will receive distance learning instruction, engage in virtual class meetings, and receive small group and individual support based on the student's grade level and need. The other part of the day will be for staff essential planning, collaboration, and professional development. Each school will be sending out the Wednesday schedule to families in the near future.

Beginning on January 6, grades K-3 will follow the same weekly schedule with no in-person classes on Wednesdays.

New Metrics

Here are some of the key updates with the new metrics rules:

Previously: Metrics needed to be met for a 3-week look back.

New: Currently the requirement is now a two-week lookback for meeting the metrics in order to bring students on site.

Previously: In order to have students above 3rd-grade return on-site for regular classes, the metrics were:

State positivity of 5% or less in 3 consecutive weeks

County positivity of 5% or less in 3 consecutive weeks

County case rate of fewer than 10 cases per 100,000 people

New:

County positivity rate of 5% or less over the most recent two weeks

County case count of fewer than 30 cases over the most recent two weeks.

(counties of fewer than 30,000 people now use case count instead of a rate per 100,000)

The district still must follow all ODE Ready Schools, Safe Learners requirements for face coverings, social and physical distancing, and cohort sizes. For more details, follow the link to read the latest version of Ready Schools, Safe Learners (new metrics start on page 12). Follow this link to see the county's week-by-week COVID-19 case counts and metrics.

We appreciate the support we received from parents and public health officials in promoting schools reopening for in-person instruction. We will continue to be diligent with safety and health protocols in keeping schools safe for your students. The district will continue to monitor health metrics and will notify families if any changes need to be made to our school models. It is vital that we all do our part to stay healthy and prevent the spread of COVID-19.

Thank you for your flexibility, and ongoing support of your students and teachers.

Sincerely,

David Marshall, Superintendent
Documents:
---
SHARE →