---
Jessica Cejnar / Tuesday, Nov. 3 @ 10:22 p.m. / Elections
Early Election Results For Del Norte Show Starkey Leading Cowan in Supervisor Race While Voters Appear To Favor Tax Measures; Numbers In For City Council, DNUSD Races
---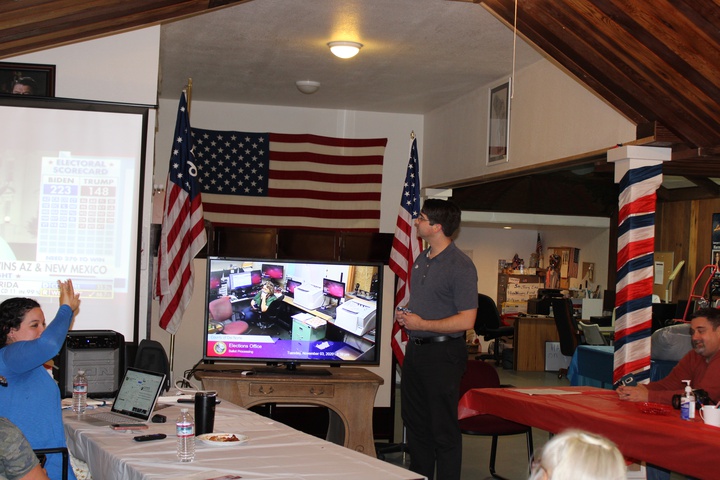 Candidates leading in Del Norte County's contested races tempered optimism with pragmatism as early election results came in Tuesday evening.
This included District 2 Supervisor candidate Valerie Starkey, who, though she had a lead of 798 votes to incumbent Lori Cowan's 565 at 8:42 p.m. Tuesday, said she wanted to be cautious.
"We're very hopeful and we're excited," Starkey told the Wild Rivers Outpost. "I've got a lot of things I want to help with and work on, but right now I just want to wait until all the results come in."
County Clerk Alissia Northrup began processing ballots about seven days ago. So far, nearly 50 percent of the ballots her office received had been counted, but that didn't include all the vote-by-mail ballots, she told the Outpost.
Northrup said she expected the bulk of Del Norte County ballots to be tallied by next week, though her office is required to take any ballot postmarked by Election Day through Nov. 20.
"We can't certify the election until then," she said.
Starkey had maintained her lead over Cowan in the Del Norte County District 2 Supervisor runoff election when the final results came in at about 9:46 p.m. Tuesday with 871 votes to her opponent's 635. The Del Norte County Elections Office had counted 58.39 percent of the vote in District 2 at that point.
Out of the six candidates seeking three seats on the Crescent City Council, incumbent Jason Greenough was in the lead with 483 votes; Alex Campbell had come in second with 445 votes and Ray Altman was third with 377 votes.
Beau Smith came in fourth with 361 votes; Herman Rinkel had 289 votes and Eric Gill Port came in last with 171 votes as of 9:46 p.m. Tuesday.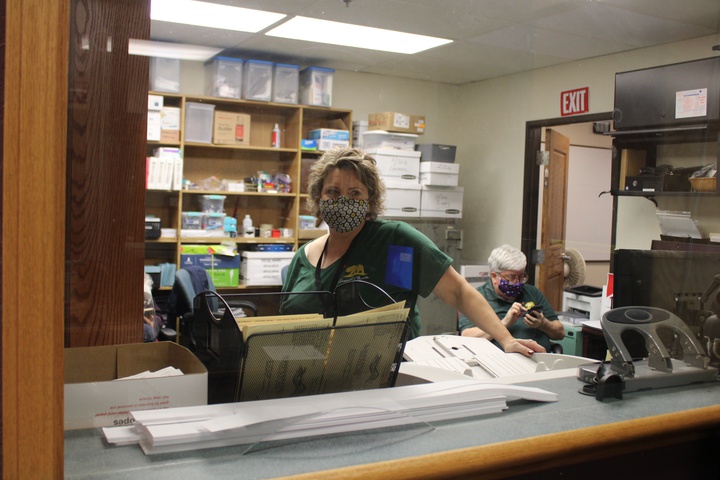 For Del Norte Unified School District's Trustee Area 3 race, challenger Sheryl Steinruck maintained her lead with 3,145 votes to incumbent Frank Magarino's 3,057 votes as of 9:46 p.m. Though he had dropped out of the race, Billy Hartwick received 2,421 votes, according to the Del Norte County Elections Office. A total of 54.89 percent of the vote had been counted at that point, according to the Elections Office.
Early election results showed that a narrow majority of the Del Norte County and Crescent City electorate were supportive of two 1 percent sales tax increases for public safety.
On the county side, "Yes on Measure R" led with 4,003 votes to "No on Measure S"'s 3,988 votes as of 9:46 p.m., according to the Elections Office. The measure needs a 50-percent-plus-one majority to pass and would generate approximately $1.2 million for Del Norte County. That revenue would be used for a plethora of services including repairing potholes and streets, maintaining emergency dispatch service, and mitigating blight and public nuisances, according to the county's FAQ sheet.
Within city limits, "Yes on Measure S" led with 722 votes to "No on Measure S"'s 369 votes. If approved, that measure would raise the sales tax within Crescent City limits by 1 percent. Like Measure R, Measure S needs a 50-percent-plus-one majority to pass and would generate about $1.3 million for the city.
Those dollars would be used to create a hybrid fire department with paid staff and volunteers; enable the Crescent City Police Department to maintain its staffing levels; repair roads and potholes; and help keep the Fred Endert Municipal Pool operational.
Watching national election results with others at Del Norte County Republican headquarters when the local results came in, Greenough said a big part of his career on the Crescent City Council recently has been to Measure S's success.
Like Starkey, Greenough was hopeful when he saw that he was in the lead, but, he noted, he's "not out of the woods yet."
"There are a lot of votes still out there," Greenough said, shaking hands with fellow City Council hopeful, Herman Rinkel. "I'm encouraged. I hope the trend continues. I would love to be a representative on the Council for another four years."
Greenough said he ran his 2016 campaign as a business friendly voice who wanted to balance the budget. If his lead holds, Greenough said he'd like to continue to focus on economic development.
"I don't like to see vacant lots and vacant buildings," he told the Outpost. "And housing is obviously a big deal."
Campbell, who came in second behind Greenough, said he was hopeful, but wasn't going to comment so early after the polls closed.
"I'd hate to wake up tomorrow morning and be disappointed, so I'm hopeful," he said. "If I lose it's been a great journey. If I win, I'll give it my all."
Altman couldn't be reached for comment Tuesday evening.
Though she still had her fingers crossed, Steinruck was excited to see that she was leading over Magarino, the incumbent on the DNUSD Board of Trustees. Even if she doesn't maintain that lead, Steinruck said, she "gave it a good shot."
Steinruck, who is a member of the Tolowa Dee-ni' Nation, said adequate representation for Del Norte's "culturally diverse communities" is important to her. She said she's also been doing research on collective bargaining and how DNUSD receives its money.
"I'm excited," Steinruck said. "I have some really cool ideas I think and I'm going to bring a breath of fresh air to the board."
Magarino told the Outpost that he was waiting to see what happens with the election.
For up to date election results, visit the Del Norte County Elections Office website. The Wild Rivers Outpost will also provide an update on Wednesday.
---
SHARE →