---
Jessica Cejnar / Thursday, Nov. 19, 2020 @ 6:32 p.m.
17 New COVID-19 Cases Reported To Public Health, Over100 People Quarantined In Last Two Days
---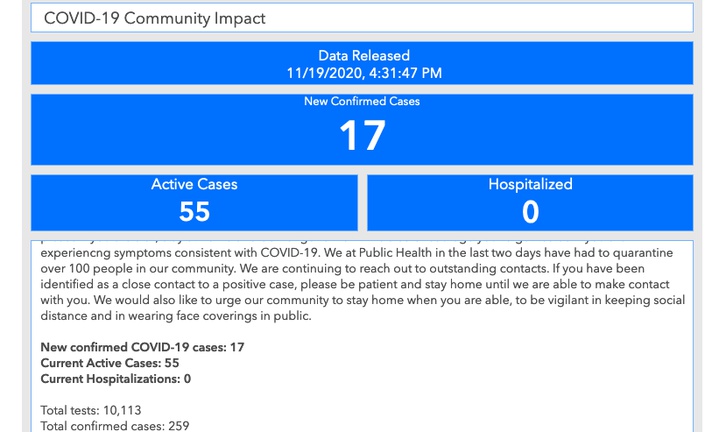 Seventeen new coronavirus cases were reported to the Del Norte Public Health Branch on Thursday and officials say they've had to quarantine more than 100 people in the last two days.
The new count brings Del Norte's total number of active cases to 55, according to the county's COVID-19 Information Hub.
From the COVID-19 Information Hub:
There were seventeen (17) confirmed positive cases of COVID-19 cases reported to Public Health over the last two days. Transmission of COVID-19 is substantial in Del Norte County and is quickly becoming widespread. Please, please if you are sick, stay at home and do not go to work. We also encourage you to get tested if you are experiencng symptoms consistent with COVID-19. We at Public Health in the last two days have had to quarantine over 100 people in our community. We are continuing to reach out to outstanding contacts. If you have been identified as a close contact to a positive case, please be patient and stay home until we are able to make contact with you. We would also like to urge our community to stay home when you are able, to be vigilant in keeping social distance and in wearing face coverings in public.
---
SHARE →