---
John Ross Ferrara / Wednesday, Nov. 18 @ 4:55 p.m. / Local Government
Brookings Harbor Board of Commissioners Votes to Relocate Bathroom, Laundry Facility at Brookings Beachfront RV Park
---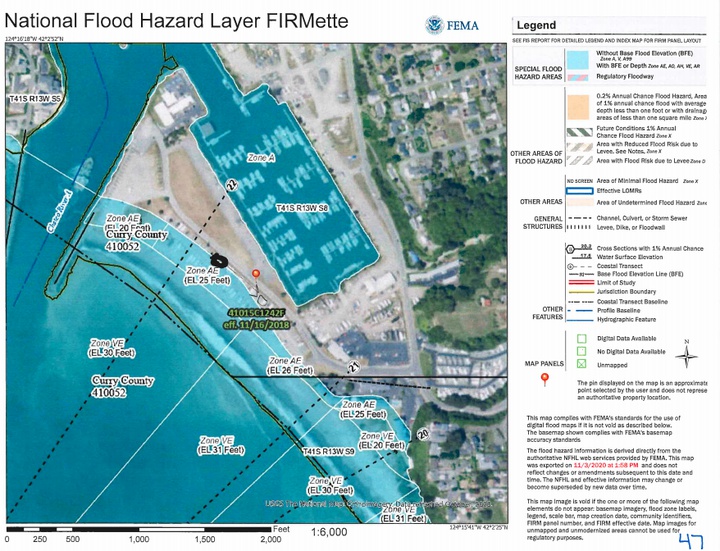 The Port of Brookings Harbor Board of Commissioners unanimously voted at last night's meeting to relocate the restroom and laundry facility at the Beachfront RV Park that's been out of service since 2018.
Port Manager Gary Dehlinger told the Outpost that the campground facility was initially shut down by the Harbor Sanitary District due to seawater and sand damaging active sewage pumps underneath the restroom.
"This issue has been going on for quite a few years," Dehlinger said. "That building is sitting on top of an existing sewer line. Occasionally we have big storm events and the ocean overtops the seawall and impacts the restroom. They didn't want the water and sand going into the sewer system, so they had the restroom shutdown."
Due to a 100-year floodplain zone existing along part of the campground, the Port of Brookings Harbor staff has determined that the safest, most affordable decision is to demolish the existing restroom and have a new, prefabricated facility placed outside of the flood zone.
The initial approval is estimated to cost the commission approximately $6,500 to reconfigure the electrical system in the area. Contractors won't begin bidding on the project until early next year, but Dehlinger said the new facility is estimated to cost between $650,000 and $750,000.
The Port of Brookings Harbor staff also hopes to add a new show facility onto the replacement restroom which would be available to permitted campers.
---
SHARE →