---
Jessica Cejnar / Friday, May 29 @ 5:21 p.m. / Community, Emergencies, Health
She Gave Birth At Sutter Coast Hospital. Now She, Her Husband and Their Newborn Son Have COVID-19
---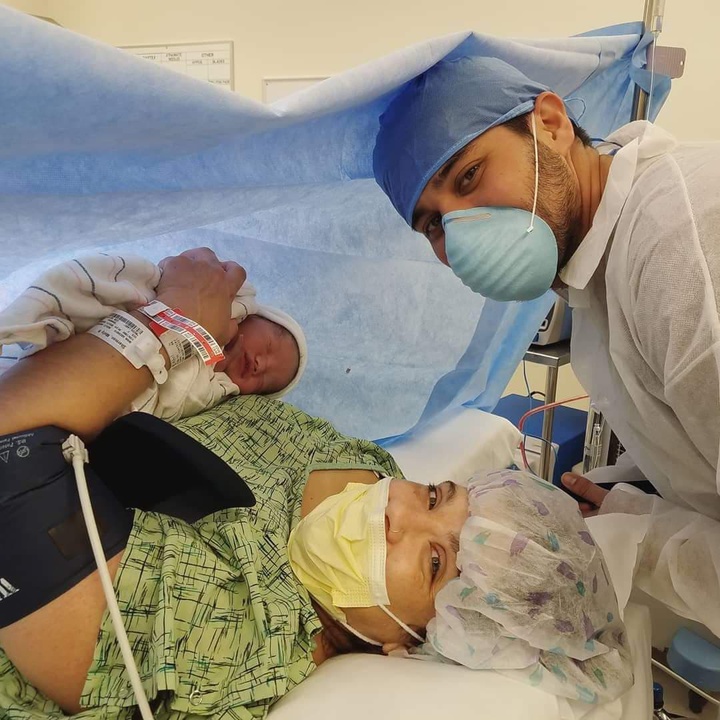 For those wanting to put a name to the 45 Del Norte County residents who have tested positive for COVID-19, here are three: Molly, Eric and Luke Sherman.
At 19 days old, Luke is probably the county's youngest COVID-19 patient. His mother, a math teacher at Crescent Elk Middle School, says they likely got sick when she delivered her little boy via cesarean section at Sutter Coast Hospital on May 11.
But, Molly Sherman told the Wild Rivers Outpost, her family didn't realize they were exposed to the virus until her husband, Eric, tested positive on Sunday. She said she and her little boy tested positive for the virus on Tuesday.
"We stayed two nights like they normally have us do for surgery and we just went home — they didn't contact us," Molly Sherman said of the hospital. "I don't know when they knew, but I can only assume they knew they had positives before the 16 days that they waited to call me. We already figured out we had something on Sunday. We were exposed on the 11th. That was a lot of time for them to not call us."
Sherman's primary care practitioner, Dr. Donna Sund, of Redwood Medical, said she knows there have been positive COVID-19 cases in the hospital's obstetric department, but she doesn't know of other newborns were effected.
"The hospital's not really sharing that information," Sund told the Outpost. "And, in fact, they did not contact the family at all to warn them of possible exposure."
Sutter Health spokeswoman Erin Shaw didn't speak to Sherman's statement that Sutter Coast Hospital didn't inform her family about being exposed to COVID-19. Instead, in an email to the Outpost on Friday, Shaw said "the privacy of our patients and staff remains a serious responsibility, one that we will continue to uphold."
"While pinpointing the exact source of an exposure can be challenging when there is community spread as we are seeing in Del Norte County, we have established protocols to report, investigate, trace and notify patients and healthcare workers when unexpected exposures occur," Shaw told the Outpost.
Of the 45 patients who have tested positive for COVID-19 in Del Norte County as of 4:42 p.m. Friday, 19 have recovered, according to the Public Health Branch. A total of 1,344 patients have been tested, 1,084 of whom are negative. Test results for 215 cases are pending, according to the Public Health Branch.
Many of the cases the Public Health Branch have reported since last week were identified via contact tracing and were asymptomatic. Molly Sherman said she, her husband and little boy have symptoms, however.
After living with asthma and struggling with breathing issues she attributes to her pregnancy, Molly Sherman said her lungs have taken the brunt of her illness. She doesn't have a fever, though, she said, she's been on ibuprofen due to her surgery.
Sherman said her husband went to the emergency room on Sunday with a fever over 100 degrees and tested positive for the coronavirus. She, her parents, her daughter and eldest son were tested Tuesday. Sherman said her little girl and their 20-year-old son were negative, though she the test may have been wrong in her daughter's case.
Though he doesn't have a fever, Sherman said, it's obvious her newborn "doesn't feel good."
"He just wants to nurse 24-7 and he's just grumpy," she said.
The Shermans were vigilant about social distancing and sanitizing before she gave birth. Her parents were the only two outsiders allowed in their bubble because she and her husband, who works for Redwood National and State Parks, needed child care. Eric would take off his shoes and go straight to the shower when he was working, though it's been weeks since he's been at his office, Molly Sherman said.
She said she even hired a personal grocery shopper.
"She delivers the food and then we disinfect it — literally wipe down every single package," Molly Sherman said. "We wash fruits and vegetables in hot water and mild soap. Every box, every package, everything that shows up gets wiped down with Clorox before it comes in."
Now their entire household, including their 5-year-old daughter and 20-year-old son, are in quarantine.
Sund said she ordered the test for Molly Sherman and her baby after Eric tested positive. She said she was planning an update for her staff at Redwood Medical, discussing the recent increase in positive cases and reminding them of the new drive-through testing site available at Del Norte High School.
Sund said she had seen a handful of patients at the office, but was offering her services through telemedicine primarily. After seeing Luke in the office for a checkup and then finding out his father was positive for COVID-19, Sund said, Redwood Medical is closed down entirely.
"Obviously our office has been exposed," she said, adding that though her staff and patients wear masks, they don't have access to full personal protective equipment. "We don't want to see anybody physically in the office for at least two weeks after that exposure of the two parents and the baby. We also notified a small handful of people we saw a couple of days in the office after they were in and before we knew he was positive. We notified those patients of the unlikely but positive exposure."
Redwood Medical staff have also been tested for COVID-19, Sund said. She said that Sherman and her baby are among only a handful of patients she sent for COVID-19 testing.
"Most of the time, people, if they're concerned, will go into urgent care and get tested," Sund said.
One important thing to understand from this virus, Sherman said, is that its symptoms are so varied. For her, it started with a headache that lasted for more than two days — and she doesn't usually get headaches. Now it's in her lungs and has caused stabbing digestive pains, she said.
In her husband, COVID-19 appeared more like a flu, Sherman said. It didn't affect his stomach or his lungs. Though her daughter tested positive, Sherman thinks she's showing mild symptoms. She says it's the same thing for her newborn.
"But that's the thing, you don't know how it's going to affect you," Sherman said. "You might have no symptoms. You might have all symptoms. You might go to the hospital and die. You don't know and that's exactly why it's so scary and has to be taken seriously."
For Sherman, living through COVID-19 is something of a relief, though she admits that's a strange feeling. Once she and her family has recovered, she said, they'll have some immunity, enabling her to go shopping with some degree of comfort.
Sherman will still wear a mask, though.
"If nothing else just to be a good example because that's what we need to be doing," she said.
---
SHARE →