---
Jessica Cejnar / Sunday, May 31 @ 1:52 p.m. / Community, Our Culture, Tribes
'Silence is Violence'; Del Norte Protestors Join Others Nationwide Calling for an End To Racial Injustice
---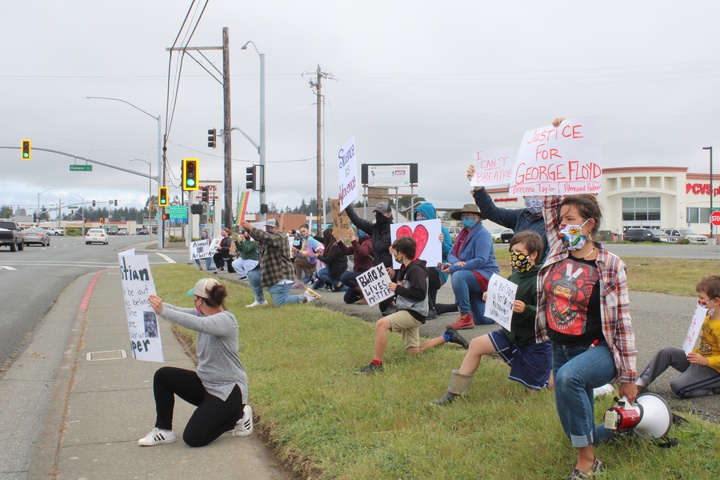 ###
Invoking the names of George Floyd, Ahmaud Arbery and Christian Cooper, Del Norters joined other demonstrators nationwide taking a stand against racial injustice.
Though Minneapolis, New York, Philadelphia and Los Angeles — places where protests have turned violent —seem far away, the demonstrators lining the sidewalk in front of the Del County Fairgrounds on Sunday said racism plays a factor in their own community.
"I think we have polarity in our community. It's obvious but it's not obvious," Hilda Yepes Contreras told the Wild Rivers Outpost. "We know it's there but we don't talk about it. It happens all the time but we just don't talk about it."
Yepes Contreras was one of about 60 demonstrators at the Del Norte County fairgrounds protesting police brutality following the death of George Floyd, who died while in police custody in Minneapolis.
They held signs proclaiming "Black Lives Matter," "End Racial Injustice" and "I Can't Breathe" — Floyd's alleged statement before former Minneapolis Police Officer Derek Chauvin detained him on May 25.
One person yelled "All Lives Matter" from the passenger seat of a pickup truck across the street. Other motorists honked their horns and cheered. At 10:55 a.m., the demonstrators took a knee.
When asked to give an example of the polarity in Del Norte County, Yepes Contreras used the current COVID-19 emergency and those working in the dairies and Easter lily fields — a predominantly Hispanic community — in Smith River.
Yepes Contreras wondered if anyone with the Public Health Branch or another organization reached out to that community in Spanish to let them know how important it is to social distance and wear masks.
"I don't think so. I go past the lily fields on my way to Brookings and I see clusters of them. It's business as usual," she told the Wild Rivers Outpost. "We talk about invisible people. I didn't realize who the invisible people were until now. I don't know if I'm being extreme or not, but that's how I feel."
Nicole Suetos, a fourth-grade teacher at Pine Grove Elementary School, organized Sunday's demonstration. She said she wanted to bring awareness to the injustices and racism black people face in America to challenge the implicit bias she sees in her own family and friends.
"If you're not aware of it, you're complicit in it," she said. "There are people who believe in this. I thought it was important — even if it was just two or three of us — to say, 'This isn't right.'"
Shawn Dean, a former college advisor at Del Norte High School and a member of the NAACP, addressed the violence that has erupted in other communities over the weekend following Floyd's death.
Though they started peaceful, protests that began in the Twin Cities and spread across the nation, has resulted in burned buildings and looted businesses. Government officials declared curfews and law enforcement has faced demonstrators in riot gear.
In Eureka, a demonstration outside the Humboldt County Courthouse on Saturday turned confrontational with protesters blocking Fifth Street and at least one motorist pushing people with a truck to try to get through, according to the Lost Coast Outpost's Ryan Burns.
At 5:50 p.m. Saturday, there was a confrontation between a red Jeep and protesters on Fourth Street in Eureka. The Lost Coast Outpost reported that the Jeep struck at least one person.
On Sunday at the Del Norte County Fairgrounds, Dean held a sign with the Martin Luther King quote "I don't condone violence, but a riot is the language of the unheard." He said he'd like for allies to listen to the organizations behind the demonstrations that are saying the violence isn't what they want to happen.
"I believe the spectrum of protestors (come from a) group of people consistently unheard to the point where their only outlet is through outright agitation," Dean said. "If we recognize their agitation, I believe there will be a space for understanding. Until people are willing to listen to those people who are unheard, I fear this may continue."
As a representative of the NAACP, Dean said he believes that when people discuss racial injustice in Del Norte County, African Americans often get left out of the conversation.
"Historically there's not been a space for all students of color within the county," he said. "There's been a gap in demographics. We need to close that gap."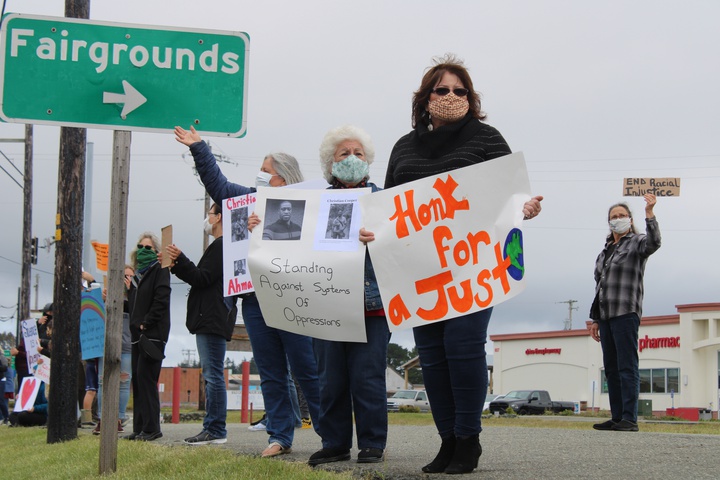 ###
Yurok tribal member, Susan Masten, whose family fought racism during the Klamath Fish Wars in the 1970s, demonstrated alongside her mother Lavina Mattz Bowers and her sister Diane Bowers. Masten pointed out that native Americans represent the highest percentage of people of color in Del Norte County.
In order to truly effect change, Masten said, laws and policies must change. To do that, everyone, including people of color, need to be at the table, she said.
"Del Norte County has been racist throughout our history," Masten said. "In recent years, we've had an influx of people and people of color. Everything is coming to the forefront."
Protests against police brutality drew comments from the Crescent City Police Chief, the Del Norte County Sheriff and the Yurok Tribe's police chief.
In a Facebook post just before Sunday's demonstration, Sheriff Erik Apperson refused to make excuses or justify the actions of peace officers that abuse their authority or act with negligence. But, he pointed out that the men and women working as deputies and police officers in Del Norte are part of the community.
###
"Your local law enforcement in Del Norte County, be it at a city, county or state level are fantastic examples of what community policing is. I regularly witness first hand the tireless and honorable dedication demonstrated by our local first responders," Apperson wrote on Facebook. "I know our hearts are in the right place because our hearts are with the people we serve."
In his Facebook post Saturday, Crescent City Police Chief Richard Griffin said he too disturbed at the "display of cruelty towards a human being, Mr. Floyd." He said he watched the video with his officers, who unanimously condemned the actions of the Minneapolis police officers.
"What happened in this video does not represent the way the Crescent City POlice Department teaches and trains our officers," Griffin said. "We are also part of this community, and we are here to help make it a safer place to live for everyone, regardless of race, gender or religion."
###
Yurok Tribal Police Chief Greg O'Rourke also expressed shock, anger and sadness at Floyd's death. He pledged to building a police department will guard the "public trust in us."
"It touched my heart and has greatly impacted me when someone has expressed the relief they felt when they recognize me as the officer that has responded," O'Rourke said. "It still reinforces why I entered this profession 20 years ago."
---
SHARE →