---
Jessica Cejnar / Friday, May 29 @ 1:40 p.m. / Community, Emergencies, Health
Del Norte's New COVID Testing Site Now Up and Running
---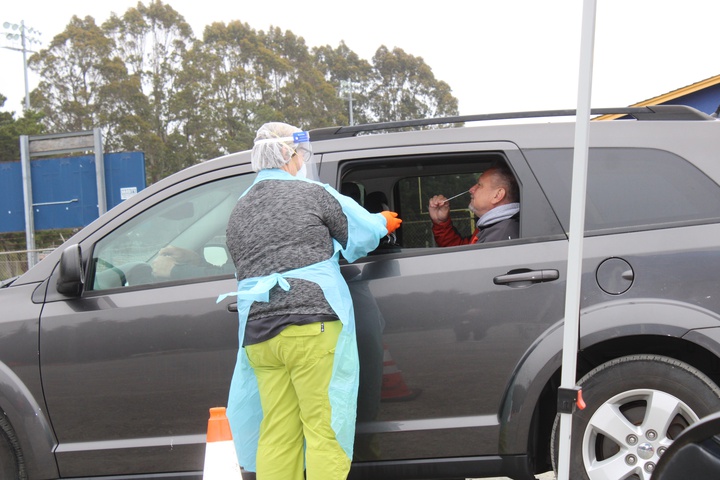 Mike O'Brien cracked jokes after sticking the swab up his nose during day one of drive-through COVID-19 testing in Del Norte County.
"I feel like I scraped my brain," the KPOD broadcaster said, adding — for the benefit of a Facebook live video — that he felt great. "It was easy! Piece of cake!"
O'Brien was one of 43 people who had taken the free test as of about 10:30 a.m. Friday. Roughly 147 people were expected at the community-based testing site set up at Del Norte High School and staffed with Crescent City employees, Sutter Coast Hospital nurses working with the Verily Life Sciences and volunteers with Team Rubicon Disaster Response.
The testing site was open until 2 p.m. Friday and will be open from 9 a.m.-2 p.m. Saturday, according to Shauna Finley, a member of the Team Rubicon incident management team. A normal schedule for the site will be from 9 a.m.-2 p.m. Monday, Tuesday and Wednesday, she said.
People need to register and make an appointment through the Baseline COVID-19 scheduling program at www.projectbaseline.com/COVID19.
They'll get the results back from the test in about two to five days, Finely said. She said the samples are sent to Quest labs.
"If it's negative they'll send the results via email," she said. "They'll do phone calls (for) positive results."
The new testing site opened the day after Del Norte County Public Health reported that 18 people have recovered from the novel coronavirus. There were 44 confirmed cases as of 12:28 p.m. Thursday. A total of 1,209 tests have been administered, 985 have returned negative and 180 are pending, according to the Public Health Branch.
However, according to the Public Health Branch, as testing capacity increases, tracking each one administered will be more difficult. The statistics posted on its website are approximate number of tests.
According to Finley, the testing site is expected to be at Del Norte High School for about 30 days, though since it's state-sponsored and California officials are working to expand testing availability, that's negotiable. County and state officials are also working to take the testing site to outlying communities in Del Norte County, she said.
Team Rubicon is an international disaster response organization with 110,000 volunteers that provides relief to communities following emergencies. According to Finley, this includes wildfires and hurricanes, though a pandemic is new.
Working with Verily Life Sciences, Finley said she and her colleagues began staffing a community-based testing site in Lake County before moving to the San Francisco area. Del Norte County was the third testing unit she helped set up.
"We have age restrictions. We've limited our responders to anybody under 65," said Finley, adding that she hails from the Napa Valley area. "For this specific (emergency) we keep people as close to home as possible."
Those wanting to get tested should be 18 years old or older, according to a press release from the Public Health Branch. Del Norte County and Brookings area residents can sign up, according to Del Norte Office of Emergency Services Public Information Officer Bill Steven.
People need to be willing to electronically sign a COVID-19 Public Health Authorization Form and Lab Consent at www.projectbaseline.com/COVID19.
Those without Internet access or who aren't English proficient should call the Department of Health and Human Services from 8 a.m.-5 p.m. Monday through Friday at (707) 464-3191 or visit 880 Northcrest Drive in Crescent City.
---
SHARE →