---
Jessica Cejnar / Wednesday, May 20, 2020 @ 6:23 p.m.
City Anticipates Extra CDBG Dollars For F Street Phase of Storm Drain Project; Seeks Funding For Business Assistance, Food Pantry, Rape Crisis Team
---
Crescent City is eligible for nearly $900,000 in additional Community Development Block Grant dollars, enabling it to expand a storm drain project that seeks to prevent flooding.
The additional funding is available through the 2017 CDBG contract between the city and the California Department of Housing and Community Development, Crescent City Finance Director Linda Leaver told Councilors on Monday.
In addition to authorizing staff to apply for those CDBG dollars, the Crescent City Council also approved the city's applications for the 2019-20 round of funding.
That money will be used to support the Community Food Council's Pacific Pantry and the North Coast Rape Crisis Team. The city is also seeking CDBG dollars for a microenterprise program and a business assistance program.
"The applications are due June 1," Leaver told the Council. "For economic development — which would include the microenterprise technical assistance (program) and potentially the business assistance program — applications are due June 1. But if the funding is not fully used up, they will take a second round of applications July 15."
The Community Development Block Grant program is federally funded through the Department of Housing and Urban Development and is administered through the state Department of Housing and Community Development.
The state announced in January that about $60 million in 2019-20 CDBG dollars were available, according to a previous staff report. Communities can apply for a total of $3.5 million for community development, and up to $6 million for economic development programs and projects.
Communities can submit up to six applications, Leaver said. Each program or project is its own application. For public service programs with an open grant, 50 percent must have been spent before the recipient applies for more grant dollars, Leaver said.

Storm drain project
For the expanded Front Street storm drain project, the city is seeking an amount not to exceed $900,000 in 2017 CDBG dollars.
According to Leaver, that's 20 percent of the roughly $4 million project. The first phase — which includes widening storm drain capacity on Front Street between B and G streets and on C Street — is currently under construction. In addition to widening the storm drain, the project also includes reconstructing Front Street itself.
The city will also seek 2019-20 CDBG dollars to fund the third phase of the storm drain project, which picks up where the second phase leaves off and extends the storm drain to F and 5th streets, Public Works Director Jon Olson said.
According to Leaver, the city has completed the design and permitting process for that third phase — two stipulations for receiving the grant — so it is "100 percent ready" to submit that project application to HCD.
A fourth phase of the Storm Drain project involves constructing a new outflow near B Street, Olson said. The city is in the process of obtaining a state water quality permit as well as a coastal development permit from the California Coastal Commission. A permit with the Army Corps of Engineers is also necessary, Olson said.
"Those permit applications should be finalized and submitted within the next couple weeks," Olson told the Council on Monday.
Olson said it shouldn't take more than six months for the city to receive those permits. Construction is expected to begin next spring.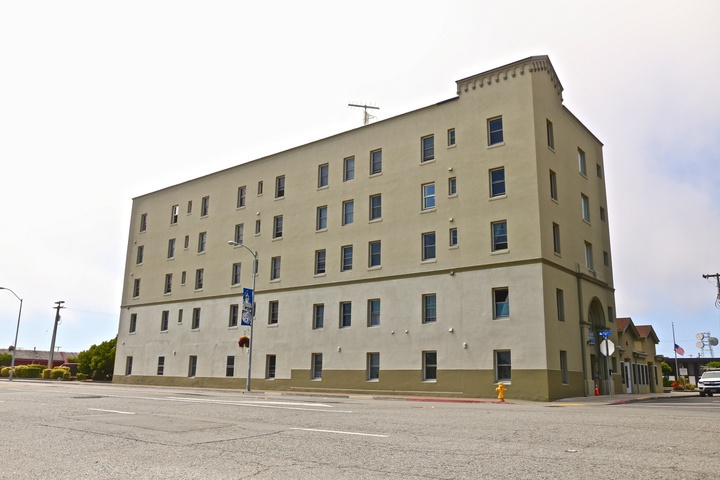 Food pantry & Rape Crisis Team
Crescent City is seeking $500,000 in 2019-20 CDBG dollars for the Community Food Council's Pacific Pantry, which is anticipated to serve 5,700 unduplicated individuals for 30 months. That funding request includes $35,000 in costs for the city to administrate the grant.
Operated through the Family Resource Center of the Redwoods, Pacific Pantry was established using 2016 CDBG dollars, according to the city's staff report.
The city will also submit an application for $150,000 in CDBG dollars for the North Coast Rape Crisis Team. The organization provides educational programs and outreach to local youth and businesses and operates a 24-hour hotline for survivors of domestic violence, sexual abuse and human trafficking.
The North Coast Rape Crisis team also provides emergency shelter, food, clothing, cell phone and transportation assistance and serves about 216 individuals over two years.
According to Leaver, the North Coast Rape Crisis Team requested a lesser amount than it had previously since they were unable to spend all their funds.

Microenterprise & business assistance programs
Working with Claggett Wolfe Associates, Crescent City plans to use $500,000 in CDBG dollars to fund a microenterprise program. Claggett Wolfe Associates will provide consulting to roughly 40 of those small business owners, according to Leaver.
About half are expected to complete the program and obtain a loan of up to $5,000 they can use to purchase goods and services related to their business, according to the staff report. Those loans can be forgiven if the microenterprise meets certain milestones, according to the report. About $35,000 of that total $500,000 grant request is for city administrative costs, Leaver said.
City staff also asked for the Council's direction on an application for a business assistance program. The program, expected to cost up to $750,000, would include a revolving loan fund that wouldn't be limited to small businesses, according to Leaver.
The California Department of Housing and Community Development is expected to update its notice of funding availability, Leaver said. Staff will bring a resolution before the City Council at that point to develop a grant application for the business assistance program.
Both the microenterprise and business assistance programs will be available to businesses inside and outside city limits, Leaver said.
---
SHARE →