---
Jessica Cejnar / Monday, March 30, 2020 @ 6:08 p.m.
While Awaiting Federal Assistance, Local Task Force Offers No-Interest Loans To Del Norte's Smallest Businesses
---
After establishing a branch of the Emergency Operations Center focusing on economic resiliency, local city, county and business leaders seek to gauge the level of injury the COVID-19 pandemic has dealt Del Norte County.
They also hope to provide immediate relief to local employers as the community waits for emergency relief funding to come from the state and federal governments.
"By the end fo the week we'll have a better idea on the CARES Act and all the funding coming down," said Holly Wendt, Crescent City's recreation director who is part of the Economic Resiliency Task Force. "It's something to keep businesses hopeful."
Wendt said she and other participants in the Economic Resiliency Task Force spent Monday learning what supports are available to small businesses from the federal government.
The group has also deployed a business injury survey through the Del Norte County Office of Emergency Services that asks employers how many staff they've had to lay off and how much revenue they've lost as a result of the pandemic, City Manager Eric Wier told the Crescent City Council at an emergency meeting Friday.
Wier said he and other Economic Resiliency Task Force representatives, including the Crescent City-Del Norte County Chamber of Commerce, have reached out to the roughly 900 businesses that are chamber members, urging them to take the survey.
At Wier's request Friday, the City Council approved contracts with two consultants — Rob Holmlund, owner of Eureka-based Malex Consulting, and Chuck Wolfe, president of Claggett Wolfe Associates.
The contract with Malex Consulting is not to exceed $15,000, while the contract with Claggett Wolfe is not to exceed $10,000.
The money for to hire Holmlund and Wolfe will come dollars generated through the city's Community Development Block Grant-funded programs, Wier said.
According to Wier, Holmlund is familiar with the Humboldt County Emergency Operations Center and was Eureka's economic development director. Wolfe, who prepared Crescent City's small business loan study, has also worked with the CDBG program.
Crescent City's decision to hire Holmlund and Wolfe came the day after the U.S. Senate approved a $2 trillion coronavirus response bill called the CARES Act. The multi-faceted bill offers relief to individuals, big corporations, hospitals and public health agencies, state and local governments, education and small businesses, National Public Radio reported Thursday.
This includes $10 billion in grants to small businesses to cover immediate operating costs; $350 billion for the Small Business Administration for loans of up to $10 million per business; and $17 billion to cover six months of payments for small businesses already using SBA loans.
According to Wendt, $140,000 through the Gill and Ann Hess Foundation and other local partners created the Small Business Stabilization Program. Working with the Arcata Economic Development Center's Small Business Lending Center, the goal is to offer up to $5,000 in no-interest loans to local businesses. The first payment would be deferred to Sept. 1, Wendt said in a video recording on Monday.
These loans are available to businesses with five employees or less, Wendt told the Outpost. That information will be available on Prepare Del Norte on Tuesday, she said.
The Economic Resiliency Group is also looking to help businesses get started on the process for applying for disaster loans through the North Coast Small Business Development Corporation and the Small Business Administration, she said.
"Money's coming down through different departments in different ways to communities trying to figure out how to translate that information to business owners," she said.
Announcing the no-interest loan program via a video recording Monday, Crescent City Mayor Blake Inscore said partners include the Baird and Jane Rumiano Foundation, the South Fork Big Flat Fund, the Caldwell Clan Fund and the Nick and Lisa Rail Fund.
This assistance comes shortly after Del Norte County's Public Health Officer, Dr. Warren Rehwaldt issued an order Friday banning short-term rentals in the county's hotels, motels, RV parks, vacation rentals and bed and breakfasts due to the pandemic.
Shortly after, the Crescent City Council approved a resolution supporting that order. Councilor Jason Greenough dissented, saying he was worried about the pandemic's impact on businesses.
South of Crescent City, instead of introducing families to Paul Bunyan and Babe the Blue Ox, Trees of Mystery is quiet. The Klamath attraction closed on March 20, office manager Brenda Lopez told the Outpost on Monday. Trees of Mystery also doesn't have any employees currently, Lopez said.
"We don't have a job for anybody to do," she said, adding that the attraction had to lay their staff off. "I know almost every hour different options are coming up and avenues as to what to do with our employees. Initially, that was the only option."

Trees of Mystery employed about 30 people, Lopez said. Its owner also docked his own pay, she said.
"It's spring break; we'd be pretty busy right now," she said. "It's not July, obviously, but spring break is a close second. It's a pretty big hit."
One dilemma, Lopez noted, is that Trees of Mystery and other businesses were already forced to lay off their employees before learning about any assistance available through the Small Business Administration. This assistance included offering businesses the means to pay a full salary to their employees, she said.
"We want to be there for our employees," she said. "To make sure they're taken care of, so we're looking into all those different options. But unfortunately, these things are coming out a good 10-11 days after the fact."
Kevin Hartwick, owner of Cholwell, Benz & Hartwick and a founder of the Wild Rivers Community Foundation, noted that WRCF was created to help Del Norte County weather crises, though a pandemic wasn't what was planned for.
The community has survived a traumatic event in the 1964 tsunami, said Hartwick, who is part of the Economic Resiliency Task Force. Though today's enemy is new and different, Del Norte is strong, he said.
"It is about survival and it's about pulling together and working together," he said. "That's why the tools are being assembled now. For ourselves, there is no other source for this kind of help."
The blossoming sister city relationship with Rikuzentakata, Japan — which is rebuilding following the March 2011 Tohoku earthquake and tsunami — helped local leaders realize how vulnerable to tsunamis and earthquakes Del Norte County is, Hartwick said. Though they hadn't anticipated the novel coronavirus, the effects aren't much different, he said.
"We have to have these very important recovery methods and communication methods and support methods in place always," Hartwick said. "This is real clear evidence that we are prepared. We need to continue to be even more diligent now and into the future because these things are devastating and we have to have the tools in place to help get through it and recover."
To learn more about the Small Business Revitalization Program and to fill out a loan application, visit Prepare Del Norte's COVID-19 Business Support page. For more information, call Wendt at (707) 51-3003 or email hwendt@crescentcity.org.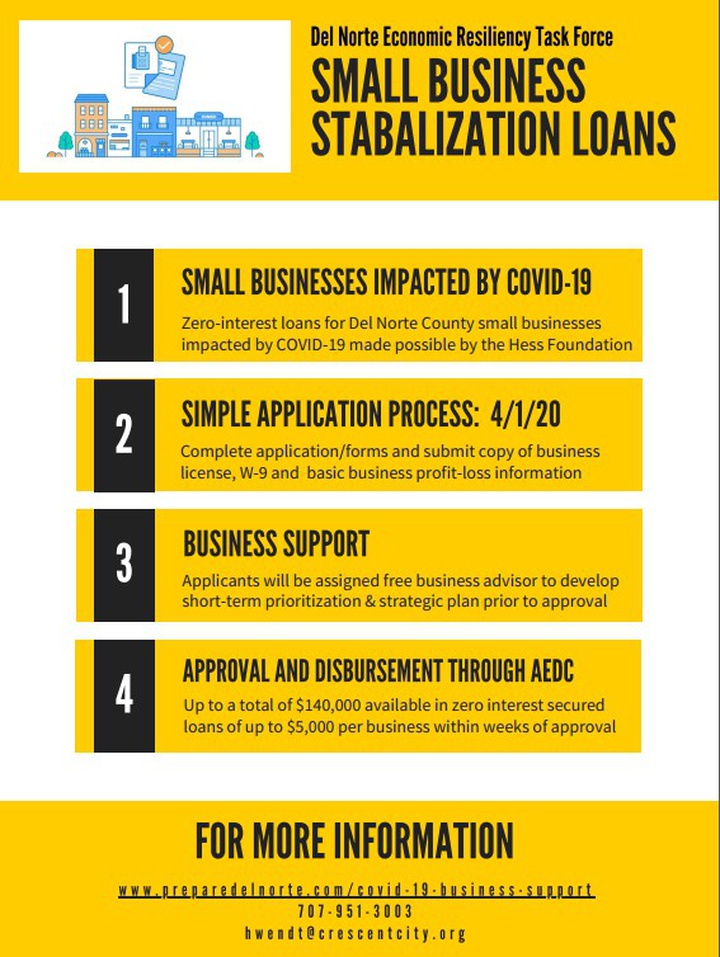 ---
SHARE →