---
Jessica Cejnar / Monday, June 29, 2020 @ 6:02 p.m. / Education
DNUSD Trustees Have Misgivings About Bond Measure After City, County Pursue Tax Initiatives
---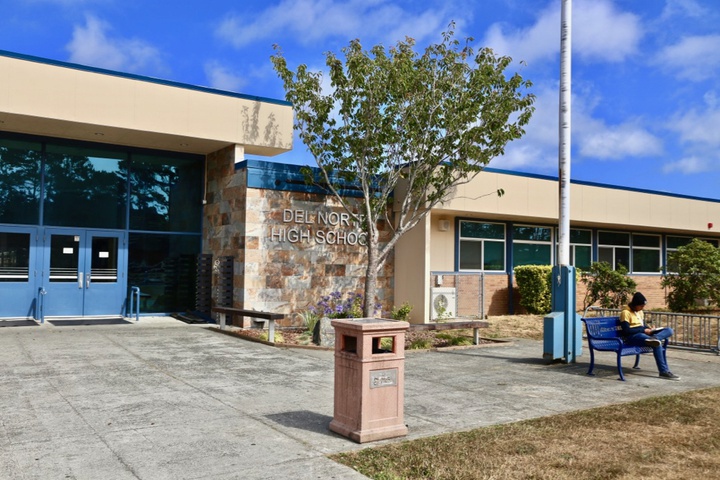 With the city and county pursuing separate sales tax measures and the Crescent Fire Protection District, a property tax assessment, Del Norte Unified School District trustees recognize getting voters to OK a bond measure in November may be a hard sell.
But, trustees said Thursday, they wanted to hear from their bond consultant before deciding if they should pull the plug.
"My first thought… is it's stupid not to do this," District 1 Trustee Don McArthur told his colleagues, noting that taking advantage of low interest rates would be prudent. "If you've got three other measures on the ballot at the same time with entities that are recalcitrant — they're not going to work with us and they see us as competition; they're going to bad mouth our measure — I just don't see (us) overcoming that gap."
The DNUSD Board of Trustees discussed the findings of a survey on whether voters would approve a $20 million-to-$25 million bond measure in March, according to Superintendent Jeff Harris. The most DNUSD could place on the ballot was $30 million, but the report concluded that voters would be more likely to approve a bond measure if it was for a lesser amount, Harris told trustees Thursday.
The school board's discussion came after Board President Frank Magarino and District 4 representative Charlaine Mazzei met with city and county representatives.
It also came after the Crescent City Council and the Del Norte County Board of Supervisors each approved separate 1 cent sales tax measures for public safety. The city's sales tax measure would apply within its jurisdiction, while the county's would in the unincorporated area of Del Norte. Both entities are looking to place their measures on the Nov. 3, 2020 general election ballot.
Voters living within the Crescent Fire Protection District will also likely see a separate ballot in September and October with a proposed property tax measure to raise funds for that agency.
On Thursday, Harris told trustees that if they wanted to place a bond measure on the November ballot, it will have to appoint members to a citizens oversight committee and vote on a resolution by July 9. An independent bond counsel as well as the district's own legal advisors will have to review the bond's language, Harris said, which would cost the district money.
The Board of Trustees decided it will meet at 10:30 a.m. Wednesday to hear from Isom and decide whether to move forward with the measure.
Mazzei noted that her colleague, District 5 representative Jamie Forkner, who was absent Thursday, would be able to provide her perspective too.
"I think we need to really talk about strategy," she said. "Because one of my concerns is they're asking for a 1 percent increase in sales tax, which is a very heavy lift in this town. I do think if we all go, there is a good chance we'll all fail. And, I think if we go and theirs fails, they will blame us."
When he reported his survey's findings to the Board of Trustees in March, Isom had advised trustees to determine if key stakeholders, including elected officials, would support a $36.5 million bond to address the roughly $280 million in repairs needed at local schools.
According to the results of his survey, about 50 percent said they would support a ballot measure if they were educated on what it was for. About 43 percent indicated they would vote against it even if it would benefit local schools, according to Isom.
At least 55 percent of those voting is needed to approve a general obligation bond measure, which would result in an additional property tax assessment, for it to pass, Isom told trustees in March.
"I wouldn't say go at this point," he said. "I would say take the next six months, let's see if you get support from those stakeholder groups to overcome what I would say is a marginal survey."
On Thursday, pulling up an email from Isom, Harris said the consultant indicated that city and county elected officials must support the bond measure for it to have any chance of passing.
According to Harris, Isom said "I don't want you guys to move forward if you don't really think this can happen."
McArthur brought up his experience as one of those who spearheaded the 2018 Measure C campaign that resulted in a 2 percent transient occupancy tax to benefit the Crescent City Harbor. Even though it was successful, he said, getting it to pass still required a vigorous sales pitch. That was also before the COVID-19 pandemic, McArthur said.
McArthur floated the idea of waiting two years before trying to put a bond measure before voters, conducting a robust campaign in the process. He also suggested that if there aren't competing tax initiatives, the city and county would be more supportive of the district's bond measure.
"That would put us past, hopefully, the development of a vaccine and therapeutics, so we're back to a normal economic environment, or a more normal economic environment," McArthur said. "Do you get a sense they would support us?"
Magarino, who advocated moving forward with the ballot despite competition from the city and county, noted that he didn't think their support would be assured if DNUSD waits two years.
"If they fail they might try again next time," he said. "That's what I would do."
Mazzei told trustees that during the meeting with city and county elected officials last week, they had told her they wanted to move forward with a tax initiative in 2008 when DNUSD had its last General Obligation bond on the ballot.
"I said, well that was 12 years ago," she said. "Their response was 'Well you guys chose not to spend the money, which the district didn't have, on maintenance and so it's your own fault that your schools are falling apart.' If the city wants to cast that stone, they're living in a pretty big glass house."
Del Norte County voters approved a $25 million GO Bond measure in 2008. That measure helped build the gym at Smith River School and has been used for a variety of other needed facility improvements, though school sites are still in need of repair.
---
SHARE →