---
Jessica Cejnar / Friday, June 12 @ 6:07 p.m. / Community, Emergencies, Health
RV Parks, Campgrounds, Vacation Rentals Welcome Visitors Back; Aquariums, Outdoor Recreation Resumes
---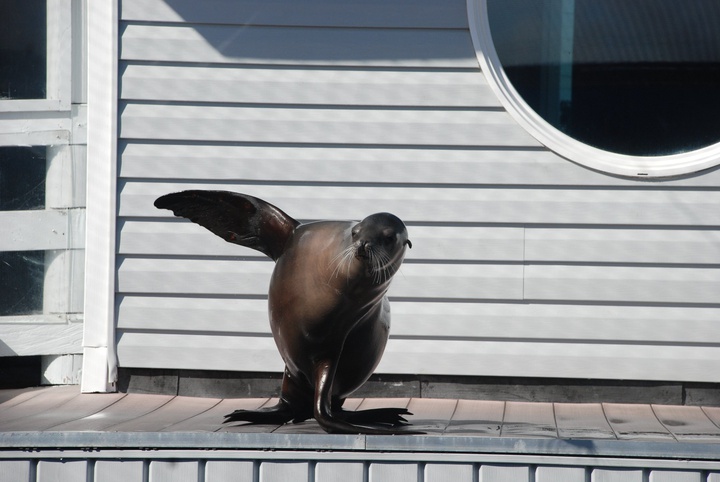 Because there wasn't much to do to prepare, Bayside RV Park reopened as soon as the order barring short-term rentals during the COVID-19 pandemic was relaxed Friday.
But after having to turn travelers away, manager Janice Kerttula said there wasn't much of a showing.
"A lot of people don't know we're reopened yet," she told the Wild Rivers Outpost.
Bayside and other RV parks, campgrounds and vacation rentals were able to welcome leisure travelers on Friday, Public Health Officer Dr. Warren Rehwaldt announced Thursday. Hotels were able to operate at half capacity. And aquariums and outdoor recreation concerns, including kayak tours and guided bicycle rides, were allowed to resume.
Hotels will be able to resume full capacity on June 26, while museums, galleries and family entertainment will be able to reopen, according to Rehwaldt's letter.
Fitness centers can reopen July 10. Bars can begin serving patrons on July 24, according to Rehwaldt's letter
"This will space the effect of the reintroduction of all these activities over at least the next six to eight weeks," he wrote. "We have stratified the various activities based on what we consider to be the risk involved of re-opening them and have grouped them accordingly."
Rehwaldt's order comes three months after the World Health Organization characterized COVID-19 as a pandemic. On March 19, California Governor Gavin Newsom issued a stay-at-home order to try to prevent the spread of COVID-19. On March 27, Rehwaldt issued a public health order banning stays of less than 30 days at RV parks, campgrounds, hotels, vacation rentals and other lodging facilities.
For the past roughly three days Del Norte County has had zero active COVID-19 cases, according to the Public Health Branch. The community has 47 inactive cases and a total of 1,828 people have been tested, according to the county's COVID-19 information page.
Appearing before the Board of Supervisors on Tuesday, Rehwaldt discussed what resuming activities associated with Stage 3 in California's reopening roadmap would look like. Public Health staff were still trying to determine the best strategy for reopening lodging facilities, galleries, museums, aquariums and other activities, he said Tuesday.
On Thursday, Rehwaldt issued a letter allowing for a staggered approach for moving into Stage 3, saying opening everything at once would be reckless.
"Travel for non-essential purposes is still not encouraged, but is no longer strictly forbidden by state order," he wrote in his letter. "We have already seen travelers shirking the order, but we will undoubtedly see more now that the order is modified."
Each business sector able to reopen have specific criteria they must meet in order to resume operating, according to Rehwaldt's letter. Business owners have to submit a plan to the Public Health Branch, showing specific safety protocols that prevent the spread of COVID-19.
At Bayside RV, one of two parks owned by the Crescent City Harbor District, individual RV spaces are already far apart, Kerttula said. The park will only allow one person at a time in its laundry and restroom facilities and people will be wearing masks in the office, she said.
Masks will be encouraged at Ocean World, owner Mary Wilson told the Outpost on Friday. The aquarium in the southern part of Crescent City will reopen to guided tours Saturday.
Complementary masks, including harbor seal and shark face masks, will be available to patrons when they begin a tour, Wilson said. Ocean World staff will use sea lion stickers and group numbers to encourage social distancing, she said. There will also be hand washing stations available, she said.
According to Wilson, however, Ocean World is taking extra measures to keep viral transmission at bay.
"We've retrofitted our business with a lot of copper," she said. "It's been used for many years in hospitals as an antiviral (agent) and so we have retrofitted our urinal handles, our paper towel handles, our door handles — different touch surfaces — with copper."
Wilson has also installed UV-C lighting, which, she said, is also used in medical settings to sterilize surfaces.
"We have picked up UVC lighting and installed it and then we can cycle and run it in all our different areas that get touched."
Though there will be hand washing stations available, Wilson said since patrons will be able to pet sharks during their visit she and staff want to discourage the use of hand sanitizer on the tour. Hand sanitizer will be available when guests enter and when they exit, but not during the tour, she said.
Staff will also disinfect railings following sea lion performances, Wilson said. She added that staff have begun logging the aquarium's cleaning procedures.
"Dr. Rehwaldt was happy with our plan and felt that we were very specific to our facility and that we will be a low risk to open up and welcome people back," Wilson said.
Though the aquarium itself was closed, Wilson said Ocean World's gift shop had been doing a lot of sales. People appear to want to spend money, she said, which is promising.
"I think people have been home and they were not able to go and spend any money, so they've saved up a bit and haven't had to pay for gas and other expenses," Wilson said. "It looks like they're getting out and they're ready to go."
Patti Hillier, who owns SCOPA at the Sea Bed and Breakfast and two other vacation rentals, with her husband Scott, said they received approval from the Public Health Branch on Friday to reopen. Like Wilson, the Hilliers have incorporated the Transform Sanitizing System into their cleaning protocols.
"They use it in automobiles," she said. "So we'll use it in our vacation rentals to allow another level of cleanliness. It's a unique system we have available and we're excited to be using it."
Though they're slowly welcoming guests back to their bed and breakfast, Hillier said she expects to lose the business she and her husband receive from people visiting from Europe and Australia. During the ban on short-term stays, the Hilliers had to furlough their staff and the their three rentals were empty.
"We're just excited to be able to slowly allow people, with as many precautionary things as we can, to enjoy our beautiful area and still abide by county restrictions," she said. "Staff is so excited to be working and to provide people the experience of Del Norte the way they always had in the past."
With the community moving into "uncharted territory," people should wear masks in public, stay home if they're sick, practice good hygiene and get tested for COVID-19, Rehwaldt wrote. Those who are at risk for serious illness due to age or underlying health issues, should continue to shelter-in-place, he said.
Documents
• Dr. Rehwaldt's June 11 letter
• Dr. Rehwaldt's revised order
---
SHARE →