---
Jessica Cejnar / Friday, June 12 @ 6:47 p.m.
DNHS Graduation — The Quarantine Edition: Class of 2020 Celebrates a Strange Senior Year
---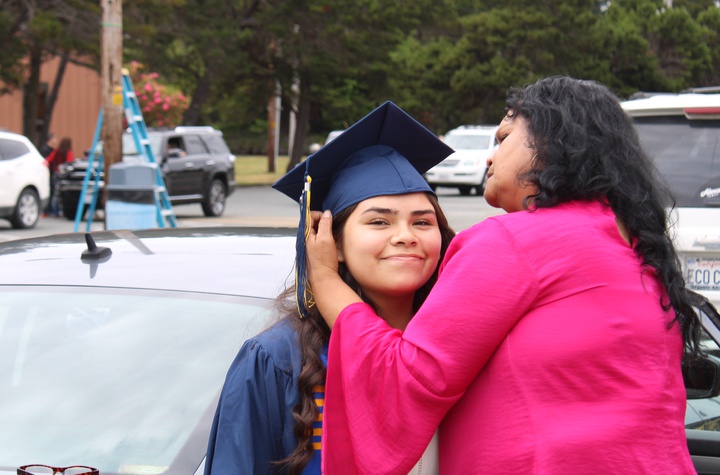 Scott Peters summed up his final year at Del Norte High School in two words — life happens.
"What a roller coaster ride it's been!" The senior class president, in royal blue cap and gown exclaimed Friday.
Ticking off the events of a school year disrupted by the COVID-19 pandemic, Peters noted that he and his peers weren't able to have a final track season, baseball season, Powder Puff game or senior ditch day.
"Life happens," he said. "You can't control it."
Instead of addressing his peers in Mike Whalen Field like his predecessors, Peters, senior vice president Anthony Slayton and about 180 other Del Norte High School seniors participated in a quarantine-style graduation.
This year's ceremony incorporated traditional elements such as valedictorian and salutatorian speeches, "Pomp and Circumstance" and a walk across the stage. But instead of sitting in chairs on the football field, graduates and their families waited for the pivotal moment in vehicles queued up throughout the school parking lot.
High school principal, Randy Fugate, and Dean of Students Bob
Hadfield devised the Disneyland-esque take on this year's ceremony, said Assistant Principal Alison Eckart. According to Eckart, planning the event took about two months and included several Zoom meetings with school district staff and students.
Del Norte Unified School District officials, high school staff and students initially to split the class and hold two ceremonies with clusters of families spaced far enough apart on the field, Eckart said. However, state guidelines didn't allow for that, she said.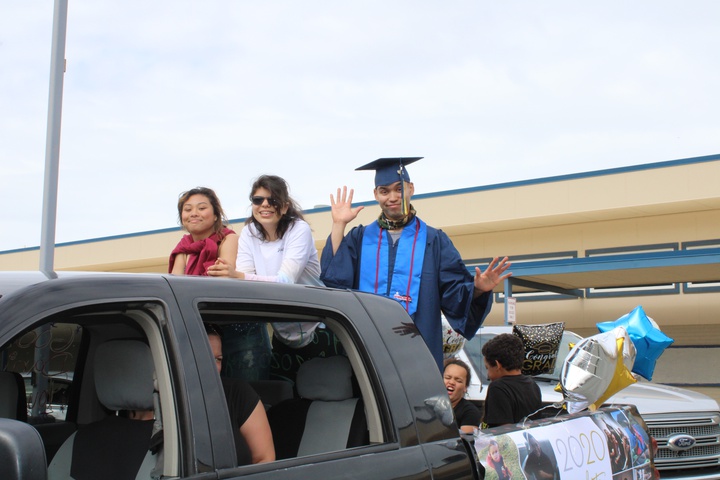 Eckart noted that though the class isn't able to sit together, Del Norte Unified made signs with each graduate's name and grouped them in front of the school.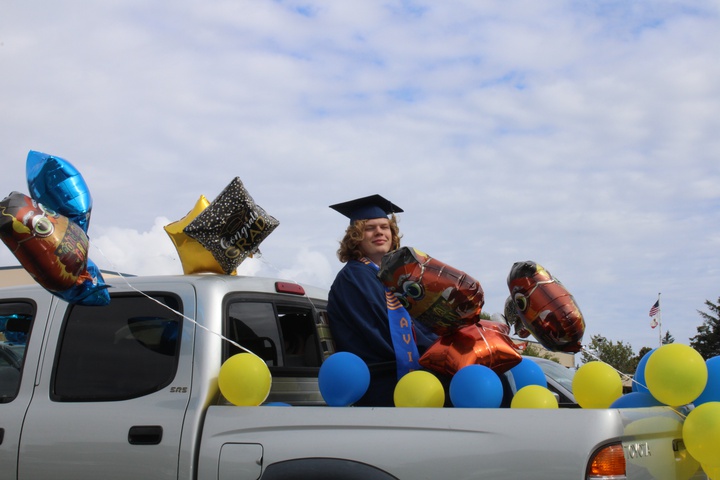 "We did as much as we could to celebrate the grads," she said. "COVID-19 hasn't ruined graduation, it's changed graduation."
---
SHARE →