---
Jessica Cejnar / Monday, June 15 @ 5:08 p.m. / Infrastructure, Local Government, Roads
Elk Valley Cross Road Plan Calls For Safety Improvements, But Funding For Those Projects is Needed
---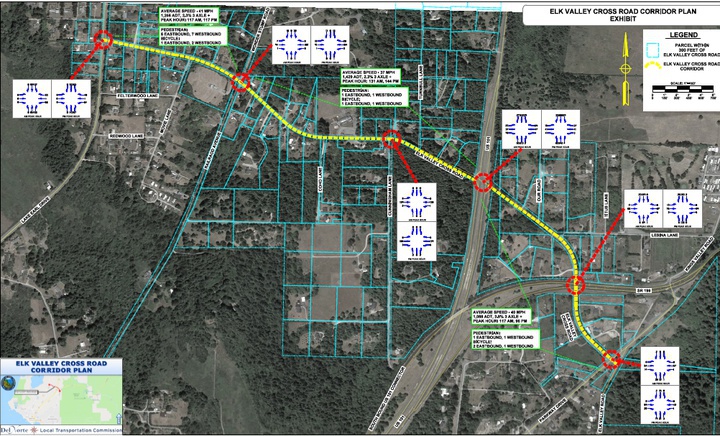 Though money's not available for major projects, county engineering staff released a report on Elk Valley Cross Road that discusses widening shoulders, installing left-turn lanes and roundabouts and taking other measures for making the area safer.
Caltrans has already made a few minor improvements to their portion of the corridor, Assistant Engineer Rosanna Bower told county supervisors last week. This includes mowing the grass near the intersection of Elk Valley Road and U.S. 199, she said.
"This seems pretty minor, but that improves the sight distance," Bower said. "We've got some improvements happening under maintenance that typically wouldn't result from a planning level document, but there definitely is room for improvement. Caltrans is communicating with the county and the (Del Norte) Local Transportation Commission, so we'll see where this goes beyond this document."
Caltrans also removed a "Do Not Enter" sign from U.S. 199 intersection with Elk Valley Cross Road, said Tamera Leighton, executive director with the Local Transportation Commission. Along with Caltrans, the Local Transportation Commission worked with county staff on the Elk Valley Cross Road Corridor Plan.
"It made more of a difference than I thought it would," Leighton said of the sign. "But I am concerned with the continual mowing and maintenance mowing that will need to be maintained in that area."
The Elk Valley Cross Road Corridor Plan spans a 1.5 mile stretch between Lake Earl Drive in the west and Parkway Drive in the east. It crosses U.S. 101 and 199, serves residential neighborhoods, Sunset High School, Kings Valley Golf Course and Florence Keller Regional Park.
According to the plan, traffic commuting to Pelican Bay State Prison on Lake Earl Drive also use Elk Valley Cross Road. The road is also used by bicyclists and pedestrians, though a continuous paved shoulder doesn't exist, according to the plan.
"Improvements along Elk Valley Cross Road are needed to address safety," the plan states. "The existing major intersections have a collision rate higher than the local, county and statewide averages for similar roadways. The existing corridor does not meet current design standards."
Eight collisions, including one fatality, have occurred on the Elk Valley Corridor over a 10-year period, according to the report.
The fatality occurred at the intersection with Elk Valley Road and U.S. 199 during the day and involved three vehicles. The weather was clear, alcohol wasn't a factor in the collision and there were no defects or maintenance issues that may have contributed to that collision, according to the report.
According to the report, 40 percent of the crashes at intersections resulted in injuries, while almost all occurring on the roadway did involve injuries. One crash involved a bicyclist, though none involved pedestrians.
According to the report, 67 percent of intersection crashes occurred at U.S. 101 and U.S. 199. Most of the crashes along the roadway occurred between Wonder Stump Road and U.S. 101. Two of the seven crashes involved alcohol. Most crashes took place during the day under clear or cloudy weather conditions.
"'Hit Object' was the primary collision type at most of the intersections and roadway segments (which is not surprising, given the lack of shoulders and close proximity of fencing, trees and mailboxes) except the two intersections with Highways 101 and 199, where 24 crashes (or 63 percent) were 'Broadside crashes," the plan states. "Most 'Broadside' collisionsw ere due to violation of automobile right-of-way. Finally, 'rear end' crashes represent 38 percent of the total roadway crashes."
According to Bower, some of the options for the county-owned segments of the corridor, namely the segments between Lake Earl Drive and U.S. 101 and from U.S. 199 to Parkway Drive, the report calls for widening paved shoulders to four-feet in width and installing two-way left-turn lanes or left-turn pockets.
As for within the state highway system, potential safety improvements could be re-striping at the U.S. 101 and 199 intersections. One alternative calls for installing U-turns and, while that's been done in other communities, Bower said installing U-turn lanes probably isn't best for Del Norte County.
On U.S. 101 instead of allowing two-lanes in either direction, the plan considers reducing that to a single lane as well as adding a roundabout.
On U.S. 199, in addition to adding signs and striping on the road itself, a potential measure that was considered was installing a traffic signal, Bower said.
According to the report, however, this would require installing traffic signals at all four branches of the U.S. 199 and Elk Valley Cross Road intersection. Re-striping of the roadway and addigng signs on the intersection's approach would also be required.
The report states adding a traffic signal to this intersection could increase collisions over a 10-hear period by 34, of which 32 would be injury or fatal crashes.
"The California statewide crash rate data indicates that conversion to a traffic signal would increase the expected total crash rate by 164 percent and increase the injury/fatal crash rate by 286 percent. Crash rates would therefore increase significantly if a traffic signal is installed at the intersection," the report states.
A roundabout, however, could decrease the number of collisions by 16 total crashes, of which 10 would be injury or fatal collisions, according to the report.
Moving the improvements in the Elk Valley Cross Road Corridor Plan depends on funding, Bower said. This document is necessary to pursue those dollars, she said.
In response to a question about timeline from District 1 Supervisor Roger Gitlin, Bower said there's no telling when that funding will be available or allocated to the community.
District 3 Supervisor Chris Howard, who acknowledged Leighton's involvement in developing the plan, said funding is critical to implement it
"Most likely as you recall with additional funding that has come down with SB 1 legislation is what's going to make plans like this viable and possible to get these improvements into the Elk Valley Corridor," Howard said, a gas tax bill that California legislators approved in 2017. "I wanted to make sure that was recognized as I know various members of our board have not approved that in the near past. However, to make these kinds of things go, we're reliant on that type of funding."
Though he didn't address Gitlin directly, Howard referred to the supervisor's support for Proposition 6, a 2018 measure to repeal the gas tax instituted by State Senate Bill 1.
During public comment, Leighton urged motorists to take note of the height of the grass on U.S. 199 at Elk Valley Cross Road.
"If you are riding in a big truck, you can see right over the grasses. If you're riding in a little Mini Cooper, you cannot," she said. "I would like for everybody to help me watch out for sight distance in that location. Snap a photo, send me an email if you have a concern about sight distance because the grasses are too tall again."
Documents
• Elk Valley Cross Road Corridor Plan
---
SHARE →