---
Jessica Cejnar / Wednesday, July 22, 2020 @ 5:13 p.m.
Bed Tax Projections In Crescent City Better Than Originally Projected, Though Still Down Due To COVID-19
---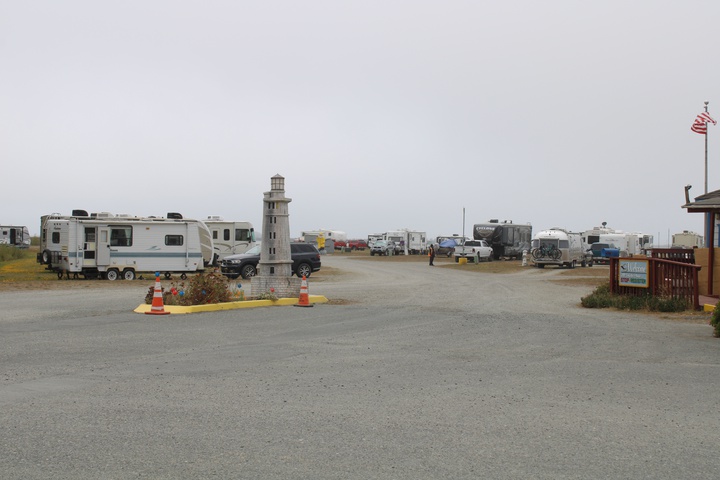 Though its hotel bed tax revenue for the April-through-June quarter is expected to be 70 percent less than the same timeframe last year due to COVID-19, the information Crescent City's finance director gave elected officials was better than she anticipated.
Based on her projections, Linda Leaver said, she expected the city to receive $40,000 in transiency occupancy tax revenue for the April-May-June quarter — roughy 10 percent of a "normal" $400,000 for the quarter.
Instead, if the 70 percent reduction in TOT holds true across the board, Crescent City will receive $120,000 in TOT, though Leaver said she won't have the exact number until after the July 31 deadline innkeepers have to remit the tax.
The financial landscape for the current quarter is also looking rosier, Leaver told City Councilors on Monday. Local hotels, motels, RV parks and vacation rentals are doing a good business since Del Norte County lifted a ban on short-term rentals last month, she said.
"Vacation rentals are really busy right now — as soon as they were allowed to open back up they've been pretty busy," Leaver told Councilors, adding that because most owners of vacation rentals are keeping a 24-hour vacancy between each booking, the city will likely not see 100 percent occupancy.
"We did get responses from two hotels. One mentioned they wer eat about 75 percent occupancy right now when they would normally be (at) probably 90-100%. Another one was saying they were at about 60-70 percent. We were thinking we would only see 25 percent of our normal revenues for this quarter."
Transient occupancy tax is a 10 percent tax the city imposes on visitors staying at lodging facilities within its boundaries. It makes up about 25 percent of the city's general fund, paying for public safety, recreation and other services.
For the April-May-June quarter, local lodging facilities had been largely empty due to a March 29 order from Del Norte County Public Health Officer Dr. Warren Rehwaldt prohibiting short-term stays due to the COVID-19 emergency.
There was also an overall reduction in travel due to California's March 19 stay-at-home order.
Rehwaldt relaxed his order on June 12, allowing vacation rentals, RV parks and campgrounds to welcome visitors and hotels and motels to operate at 50 percent capacity. Hotels could resume full capacity on June 26.
According to Leaver, Crescent City received bed tax revenue for the January-March quarter from most lodging facilities, though they're still waiting on 10 businesses to remit the TOT. Those businesses have until Aug. 31 to submit the tax revenue to the city, Leaver said.
During a normal January-February-March quarter, Crescent City would receive about $200,000, Leaver said. The city has received $122,000 so far and anticipates another $34,000 from the 10 businesses that have yet to submit their TOT, she said.
Based on projections from HdL Companies, which offers revenue management services to public agencies statewide, TOT in California was expected to be down by 75-90 percent through June and then show a gradual recovery, Leaver said.
"We went with 90 percent down since most of our businesses were closed for most of that time," she said, referring to projections for the April-June quarter.
Hotel occupancy statewide for May was about 15 percent, she said.
"Normally May is a pretty busy month for hotels," Leaver said.
Though she said the current quarter is harder to predict, based on the city's outreach to local lodging facilities, they're showing only a 25-40 percent decrease in capacity, Leaver said. She had originally projected a 75 percent decrease in capacity.
The city is expected to receive $150,000 in TOT revenue for the July-August-September quarter, Leaver said. Normally the city would receive about $600,000 in TOT for the current quarter, she said.
"A lot depends on what happens over the next two months with virus activity and if there are any further shutdowns," Leaver said. "We'll continue to outreaching to local business owners."
Tourists came back to Crescent City "with a bang," especially on the Fourth of July, Cindy Vosburg, executive director of the Crescent City-Del Norte County Chamber of Commerce, told the Wild Rivers Outpost. Most motels were nearly full, she said.
"The ones that I spoke with were really happy," Vosburg said. "And I know even now occupancy is up. This is the time of year for it to be up."
Vosburg said out-of-towners are also coming into the chamber's visitor center and are happy to find that the organization is taking precautions to prevent the spread of COVID-19.
"When they come into the visitor center, we require masks and we require them to log their name and phone number in case any tracing is needed," she said. "We close at noon to do a cleaning and they like that. They want to be kept safe. They want to know they are going to walk into a business and their safety is being looked after."
As for sales tax, Leaver said HdL Companies had projected a 9.5 percent decrease statewide for fiscal year 2019-20, but revised that in June to be a 6.1 percent decrease. Though Crescent City won't see final numbers for another month, Leaver said if HdL's statewide projections are true, Crescent City will see about $47,000 more than originally thought.
In April, California Governor Gavin Newsom announced that small businesses could defer paying sales taxes of up to $50,000 for up to 12 months. According to Leaver, this means Crescent City will receive that revenue later than normal.
HdL is projecting further sales tax decreases for fiscal year 2020-21 of 1.1 percent below the current year's 6.1 percent projection, Leaver said. HdL anticipates tax revenue to recover beginning in the the 2022-23 fiscal year, Leaver said.
At its June meeting, the City Council adopted a 2020-21 with a projected $800,000 deficit. As a result, the city decided to keep the Fred Endert Municipal Swimming Pool closed, saving about $370,000 a year. It also cut expenses related to travel and training, the Sister City relationship with Rikuzentakata, ordinance updates, equipment replacement and the implementation of the Crescent City Fire & Rescue master plan.
The city is also pursuing a 1 percent sales tax measure for the November ballot that, if approved, would help fund implementing the fire department master plan as well as make the swimming pool more sustainable, ensure the police department is adequately staffed and that potholes and roads are repaired.
---
SHARE →