---
Jessica Cejnar / Tuesday, July 21 @ 5:13 p.m.
City Offers Free Outdoor Dining Permits to Restaurants During COVID-19 Pandemic; CCPD To Give Backpacks To Joe Hamilton 3rd-Graders
---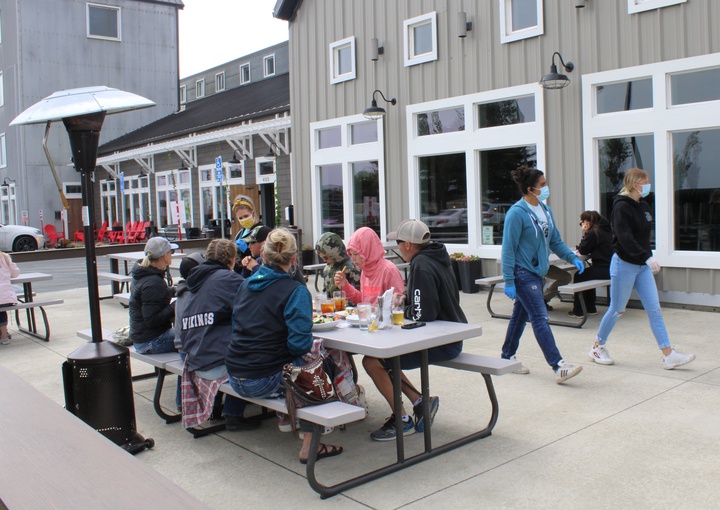 Local restaurants will be able to use outdoor public and private spaces near their business to serve customers and be compliant with state COVID-19 safety measures.
The Crescent City Council unanimously a resolution that would grant encroachment permits to restauranteurs wanting to use public property — a sidewalk or part of Tsunami Plaza — to offer outdoor dining options. The resolution also offers business permits to use their own parking lot or a portion of a private parking lot to offer outdoor dining.
There are no fees associated with these permits, according to the city's staff report. However, they require restaurants to comply with disability laws and local and statewide health regulations, City Attorney Martha Rice told the Council. The permit also indemnifies the city, she said.
"They are stating they understand this is a temporary and revokable grant of use," Rice told Councilors. "It's not a lease or some kind of semi-permanent right. This is temporary to address the situation we're currently under."
Staff's recommendation for outdoor dining permits comes roughly a week after California Governor Gavin Newsom issued orders in response to a surge in cases statewide requiring restaurants to shutter their dining rooms. The order also meant bars couldn't reopen on July 24, according to the county's COVID-19 Information Hub.
There are currently six active COVID-19 cases in Del Norte County with two new patients identified on Tuesday. One of the two new cases contracted the novel coronavirus while traveling and the other was exposed to the virus at a private gathering, according to the Public Health Branch. Both are self-isolating at home and their close contacts are under quarantine.
On Monday, Rice said businesses seeking an outdoor dining permit to use public property would be required to submit a site plan, which includes a layout of their tables. They'd also have to add the city to their liability insurance, she said.
Those seeking an outdoor dining permit for private property will also comply with the same disability laws and local and state health regulations and will agree to hold the city harmless, Rice said. They will also be required to submit a site plan, she said.
Though he and his colleagues thanked staff for introducing an outdoor dining permit enabling restaurants to continue to operate, Councilor Alex Fallman asked if the permits were required.
"I feel like businesses are trying to exempt themselves from some kind of COVID-specific things whether it's making sure their employees don't have to wear masks, or something along those lines," he said. "I just don't want businesses or restaurants to give us the figure and say, 'We're going to ignore this.' So, are there punishments if businesses do these activities and don't have this applied for and how is that enforced?"
Rice said if a restaurant was using a public right-of-way and wasn't following public health orders the city could enforce that through the police department since they'd be trespassing.
"As far as revoking the agreement, if they're refusing to follow public health orders, that's the other tool," she said. "If they're doing dining outside, but they're somehow blatantly not following the guidelines and we've repeatedly informed them and asked them to change, eventually the last step is, 'OK, we're revoking your permit to use our property,' and then it would be enforced."
Crescent City Mayor Blake Inscore noted the lack of a fee schedule associated with the proposed outdoor dining permits, saying he'd be opposed to charging a fee.
"It's hard enough doing business right now," he said. "There shouldn't be a fee for this in my opinion."
In other matters, the Crescent City Council gave their support to Police Chief Richard Griffin for a backpack giveaway benefitting Joe Hamilton Elementary School third-graders. The brainchild of new police officer Magnolia Valero, the goal is to distribute 30 backpacks with school supplies as well as antibacterial wipes, facial tissue, a bottle of sanitizer and sandwich baggies.
Griffin said he committed to donating the first five backpacks while City Manager Eric Wier will also donate five.
The backpacks will be sanitized at the police department before they're distributed to the students, Griffin said.
"One of the questions we had was how we distribute them," he said. "Initially we were about showing up at the school and having officers hand them out. That's definitely a no-go in this situation."
Inscore, Councilors Heidi Kime, Jason Greenough and Isaiah Wright each committed to purchasing five backpacks — helping the police department reach its goal this year.
Inscore also suggested the police department to reach out via Facebook and social media for the community's support.
"Right now, with all the uncertainty involving schools, I think that having children receive anything right now, that value alone is probably worth more than the backpack," Inscore said.
---
SHARE →