---
Jessica Cejnar / Monday, Jan. 27 @ 2:58 p.m.
Music Retailer With Del Norte Roots Donates 100 New Instruments To Local Schools
---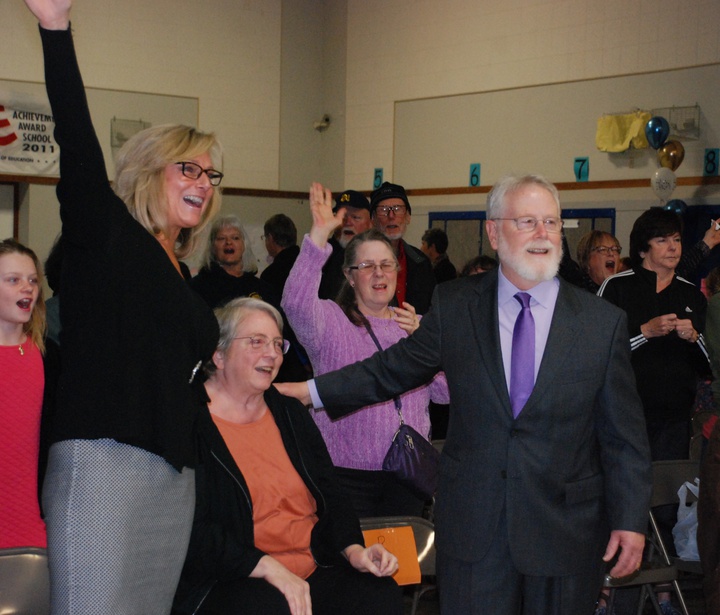 Nick Rail still doesn't know how his dad did it.
Rail attended Redwood Union School in Fort Dick and was eager to join the newly-established band, though he doubted his parents would let him. The 9-year-old couldn't believe his eyes when his father, who made $1.25 an hour, set a brand new cornet in his hands.
"He fed a family of four," Rail said of his father. "How do you buy a cornet when you're doing that?"
Rail said the school's 1959 decision to start a band and his family's gift of the small brass instrument opened doors that eventually led him to become one of the largest retailers of musical instruments in Southern California.
But he's never forgotten his roots and, on Friday, Nick and his wife, Lisa, gave back to the community by donating 100 shiny trumpets, flutes, clarinets, tympani, saxophones and more instruments to Del Norte County Unified School District. Rail also presented a check to Superintendent Jeff Harris for the value of the donated musical instruments — $70,349.54.
"It all started here," Rail said, adding that his decision and his parents' gift led him to pursuing music in high school and college and prompted him to excel in other subjects. "It all led to here."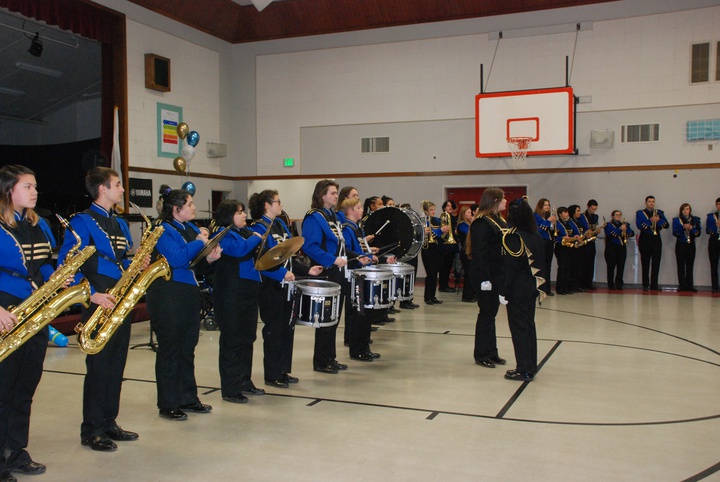 Rail reconnected with Del Norte County through Dan Sedgwick. Sedgwick, who grew up visiting Rail's Santa Barbara store for clarinet repairs, reeds and music, worked for him from about 1993 through college.
When he earned his Master's degree at the University of Oregon and got a job as the band director at Del Norte High School, Sedgwick said he was surprised when Rail knew exactly where that was.
Over the years, Rail has supplied Del Norte High with repairs, music folders and other supplies. But Rail's donation will do more for music than his booster club could do in 20 years, Sedgwick said.
"I don't know what to call this — if it's serendipity, fate or karma," Sedgwick told the DNUSD Board of Trustees on Thursday. "I'm lucky if I can buy one good instrument at the end of the year with my booster club."
According to Sedgwick, Rail spoke with each music teacher in the school district to narrow down a wish list. Sedgwick said he was an advocate for Crescent Elk Middle School receiving large percussion instruments, so one of their gifts will be a marimba — the second in the county.
The district will also receive "a real set of tympani" that can be moved to other sites, Sedgwick said.
Rail said he also met with former Del Norte High School music director, Christy Lynn Rust, to discuss what's needed in the community. Rail said his initial plan was to donate 88 instruments to DNUSD but, after speaking with a close friend, felt 100 was a "good round number."
Rust, citing a statistic that high school band directors in California leave the profession after about two years, noted that Del Norte High School has had three band directors in 62 years. She said she herself loved taking her students on tours.
"The common denominator is a love of making music and creating it in a family environment," Rust said. "The band room is a safe place. The friendships made through music is exactly what Rail inspired through his music business."
Rail has never forgotten his simple beginnings and, through his donation, has come full circle, Rust said.
"Providing one student an instrument and a book costs hundreds of dollars," she said. "Hundreds of new students each year will have the opportunity to be in band. What a wonderful gift for our community."
The emcee for the event, Rene Shanle-Hutzell said Del Norte Unified School District's goal of putting an instrument in the hands of every child who wanted to play began with the Smith River School's Let The Music Play music drive about seven years ago.
---
SHARE →
---