---
Jessica Cejnar / Monday, Jan. 27 @ 4:58 p.m. / Education
With Stalemate On Day 333, District, Teachers Union Will Resume Contract Negotiations This Week
---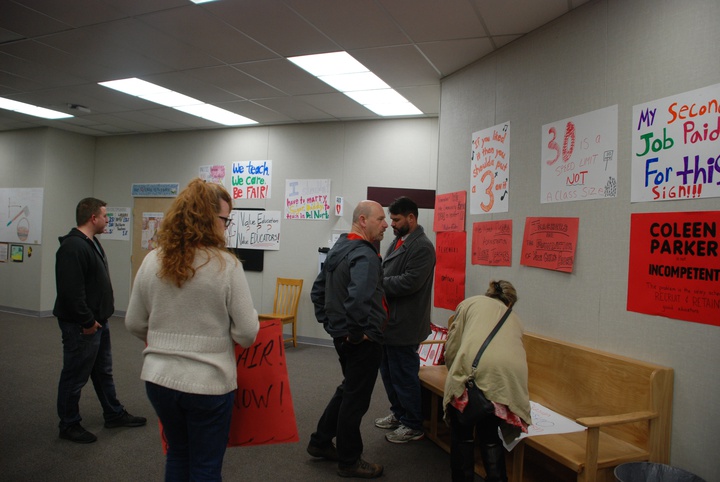 Though it's been nearly a year of negotiations, representatives on both sides of a conflict over teachers' salaries and health benefits will return to the bargaining table this week.
The Del Norte Teachers Association and Del Norte County Unified School District are on day 333 with no acceptable offer and will resume negotiations on Wednesday, said DNTA President Marshall Jones. Jones says he's optimistic, but if the district's offer hasn't changed, "it's not going to go very far."
"I'm optimistic they will see how important it is for us to have the state-mandated COLA and make that offer," Jones told the Wild Rivers Outpost on Monday. "Unfortunately job fairs are starting up this next month and, in addition to that, we still feel like the district hasn't been fair with their negotiating."
Though the public comment period didn't last as long as at its Jan. 9 meeting, teachers, parents and other community members urged the Board of Trustees on Thursday to bring the stalemate with DNUSD's teachers and certificated staff to a close.
Prior to Thursday's meeting, teachers tacked posters on the board room wall that read "We need less administration and more teachers and support staff," and "30 is a speed limit not a class size."
During the public comment period, Del Norte High School teacher Miriam Wilson brought up a report and recommendations a state-appointed arbitrator released on Jan. 14. Wilson specifically called the Board's attention to the arbitrator's opinion that an organization with a 13.5 percent employee turnover rate in one year would be adversely affected.
"You're the Board," she said. "You're allowing the organization to be adversely affected. I don't see how you can be proud of that."
Following the public comment period, Board President Frank Magarino announced that he and his colleagues discussed the fact finder's report and recommendations, released by mediator Reneé Mayne on Jan. 14.
Magarino said the Board of Trustees discussed Mayne's recommendations with Human Resources Director Coleen Parker during a closed session meeting on Jan. 9.
"The Board agreed then and continues to agree with the recommendations of the report," Magarino told the public Thursday. "It is the desire of the Board to have a signed tentative agreement as soon as possible. Tonight in closed session, the district bargaining team also informed us of a meeting between the district and DNTA's bargaining team has been scheduled for next week."
In her report, Mayne, who represents the California Public Employment Relations Board, recommended increasing certificated staff salaries by 2 percent effective July 1, 2019. Salaries would then increase by 2 percent annually through 2021-22, according to Mayne's report.
Mayne recommended additional salary increases based on the number of local control funding formula dollars DNUSD receives.
Mayne also recommended a 2 percent annual increase in flat-dollar stipends for teachers and certificated staff through 2021-22.
As for health insurance premium costs, Mayne recommended keeping things "status quo" for the 2019-2020 fiscal year. For 2020-21, Mayne recommended increasing the district's contribution to health premiums by $500. She recommended another $500 annual increase to the district's health and wellness contributions for certificated staff for the 2021-22 fiscal year and suggested that the district and DNTA form a committee to explore other insurance options.
Based on a Dec. 5 hearing, Mayne's report states that the district is offering to increase all certificated salaries by 1 percent. However, as of October, DNUSD added 1 percent contingent upon enrollment to its initial offer, making its total propose salary increase for certificated staff 2 percent.
DNTA meanwhile is pressing the district for a 3.54 percent salary increase, according to Mayne's report. DNTA is also asking for an increase in the district's contribution to health and welfare benefits by $795 per employee.
On Thursday, Jones told the Board that its certificated employees have been working without an updated contract for 329 days. Jones also pointed out that DNTA is preparing to negotiate its entire contract with the district soon.
During a public hearing on Thursday, DNTA lead negotiator Paige Thompson told the Board of Trustees that the professional agreement between the district and the union will expire on Aug. 31 and all articles for the contract will be up for negotiations.
"Every article will be open and may be modified or eliminated," Thompson said. "We are doing this in the interest of creating a professional agreement for all DNTA members, which will focus on hiring and retaining qualified educators… DNTA will do whatever it takes to settle a fair contract in the interest of hiring and retaining."
According to Thompson, all 27 articles and three appendices in the professional agreement will be up for negotiation.
Meanwhile, Sarah Mitchell, vice president of the local Classified School Employees Association chapter, said the executive board approved a resolution that supports DNTA. Attracting and retaining teachers also affects classified staff, Mitchell said.
"This negotiation hostage is creating problems with everybody," she said. "The amount of stress is through the roof. Kids are not getting the best services they can. We urge you guys to settle this dispute. You're disrupting the education of students, demoralizing staff, destroying school climate and beginning to tear the community apart."
Meanwhile, Jones said DNTA is hoping to put forward candidates to replace trustee Roger Daley, who represented District 4 and recently resigned.
On Thursday, the Board of Trustees discussed appointing a replacement for Daley. According to DNUSD Superintendent Jeff Harris, the district has begun seeking nominations for someone to fill the District 4 seat. Candidates will be asked to complete an information form and then Magarino will select another trustee to review the applicants for their eligibility, Harris said.
Once the candidates' eligibility has been verified, the district will hold a public meeting to allow the community to weigh in on the process, Harris said. He said the district hopes to have a District 4 representative appointed within 60 days.
---
SHARE →
---