---
Jessica Cejnar / Friday, Jan. 17, 2020 @ 6:22 p.m. / Community
Crescent City Women's March Joins Others Worldwide
---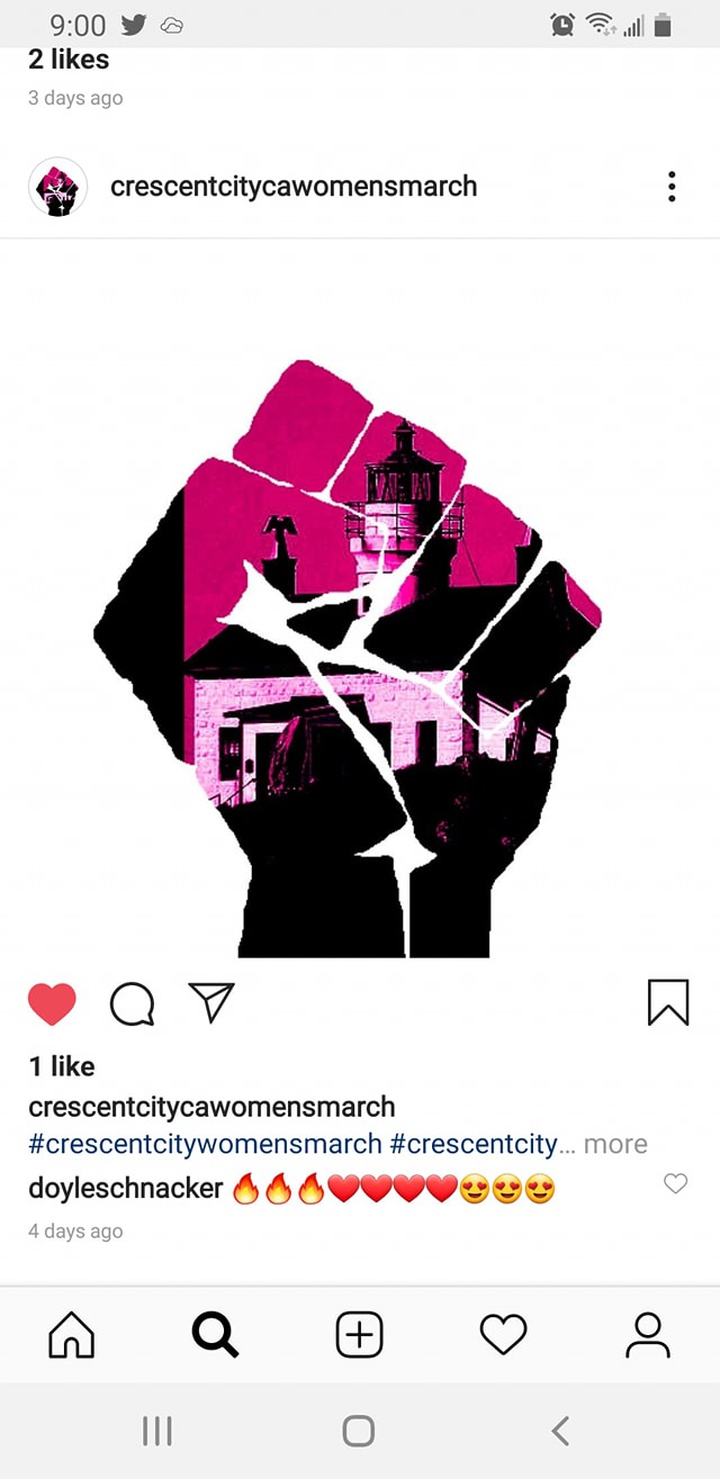 Del Norte women will join hundreds of thousands worldwide seeking an end to violence and equal rights for everyone regardless of gender, sexual orientation, disability, immigration status and race.
The Crescent City Women's March will begin with a series of speakers at the Crescent Elk Auditorium on Sunday and will include two marches — a shorter one for those who have mobility needs and a longer one. Both marches will have police protection, said Lynn Szabo, one of the local organizers.
The 2020 Women's March will focus on a series of unity principles that include fighting for reproductive freedom, LGBTQIA rights, workers' rights, disability rights, civil rights and immigrant rights.
It will also celebrate Virginia's decision Wednesday to ratify the Equal Rights Amendment, which would make a ban on discrimination due to a person's sex a permanent part of the U.S. Constitution. The Washington Post reported Friday that though Virginia is the 38th state to ratify the amendment, the minimum required to enact it, there are legal disputes over whether the time for ratification.
According to Szabo, part of the national march will focus on setting aside the deadlines established for ratification of the ERA.
"There are very specific issues that are part of a larger picture," she said. "I think people should just see this as a start."
For Szabo, one of the unity principles she will focus on is environmental justice. Before the march, speakers will talk about the historic figures that have inspired them and will discuss how they plan to address the specific issues they are concerned about.
Szabo said she was inspired by indigenous women who continue to fight climate injustice. She said she will minimize her air travel this year and cut down on the amount of meat she consumes. She said she'll also continue to follow the actions of Del Norte County's representative in the U.S. Congress, Jared Huffman, who continues to address the climate crisis.
Other speakers may focus on economic injustice and supporting LGBTQ individuals, Szabo said.
There will also be several groups tabling. The Tolowa Dee-ni' Nation, will offer information about their domestic violence program, Szabo said. Open Door will be there as well as teen advocates focusing on gender and queer issues, she said.
"There's definitely going to be voter registration going on there (for) anybody who wants to register," she said.
Doors for the Crescent City Women's March will open at noon Sunday at Crescent Elk Middle School, 994 G Street in Crescent City.
---
SHARE →