---
Jessica Cejnar / Friday, Jan. 10 @ 3:30 p.m. / Community
English Ivy Pull At Jed Planned For Sunday
---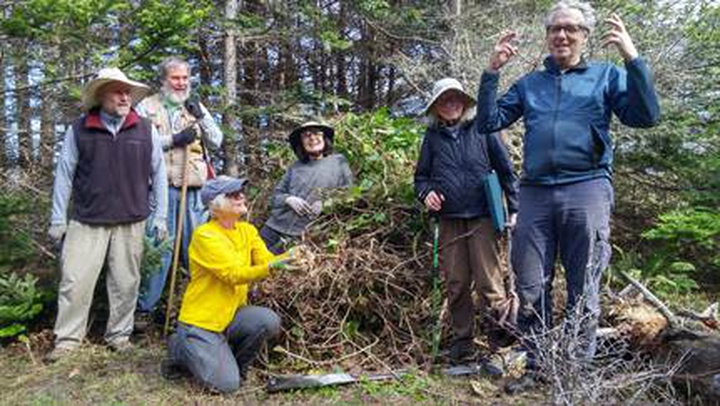 If the rains are minimal, the Tolowa Dunes Stewards and California State Parks are seeking volunteers to pull invasive English ivy Sunday at Jedediah Smith Redwoods State Park:
Join Tolowa Dunes Stewards and State Parks this Sunday Jan. 12th from noon-4 p.m. to remove English ivy threatening our beloved redwoods in Jed Smith State Park.

Please let me know if you plan to participate, and carefully read the list of needed items below, before you come out.

We are meeting at the west bound pullout on HWY 199 about ½ mile east of the Kings Valley/Elk Valley and HWY 199 junction; it is between mile marker 0.8 and 1.08. The east bound pull out that can be used for turning around or parking is at the east bound mile marker 1.08.

Heavy rain Cancels. Save future dates for ivy removal at Jed: Sundays March 29 and May 10.

Wear layers, sturdy boots, hats and bring drinking water. We will provide snacks.

Please wear/bring the following if you have them.
Wear long, thick pants and long sleeve, thick cover up shirt. (Protect from prickly berry vines)

Hiking boots or something with maximum ankle support. (uneven ground, berry vines)

Your favorite loppers and hand saws for removing limbs and cutting vines off trees (we have some)

Your favorite hand held clippers (we have some)

Safety glasses or goggles (or sun glasses) to protect eyes from pokey branches (we have some)

Heavy gloves (we have light gloves)

A kerchief to wear over your nose and mouth, if you get dusted by churning up duff
---
SHARE →