---
Jessica Cejnar / Friday, Jan. 10 @ 3:12 p.m. / Arts, Community, Our Culture
Elks Lodge Hosts Del Norte's First Pin Up Contest
---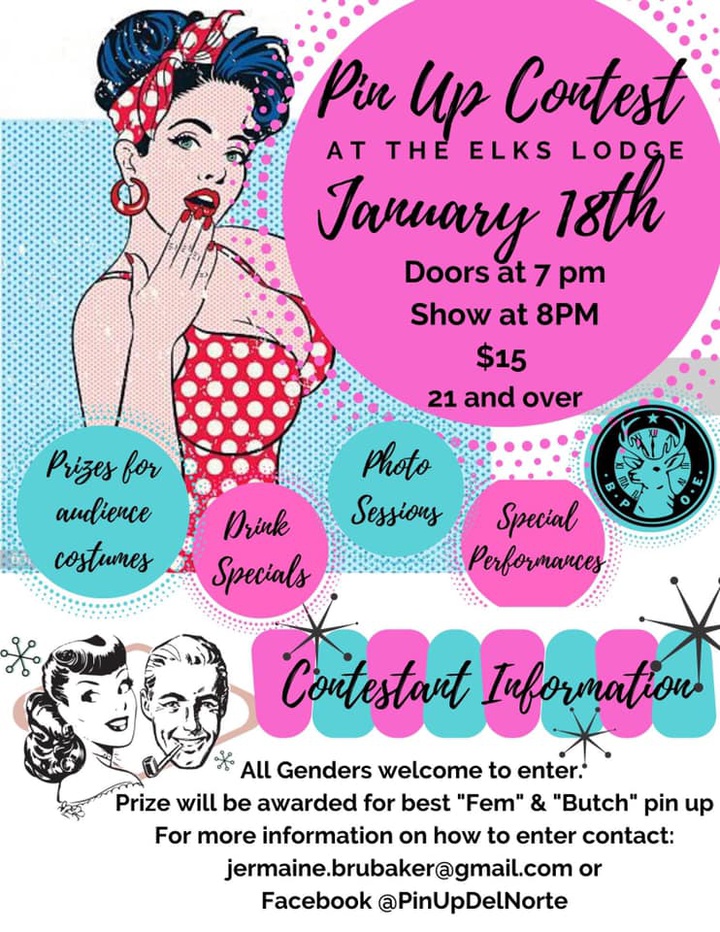 Those hankering for the era of victory rolls and Zoot suits will soon find solace without having to leave Del Norte County.
In fact, locals will be able to channel their inner Bettie Page or James Dean in a competition next weekend featuring judges who are familiar with the pinup aesthetic. Pin Up Del Norte, a 21 and older event, is also a way for the Crescent City Elks Lodge #1689 to connect with new members, said Jermaine Brubaker, a lodge member who is spearheading the contest.
Brubaker will be one of three judges at Pin Up Del Norte. She said she was inspired by Sea Cruise, Crescent City's annual car show, and wanted to urge people to get dressed up and venture outside their comfort zone.
"I called people I knew who would rock this," she said. "I thought who would win this contest, 'cause I need them as judges."
Harkening back to the World War II era, pin up has experienced a resurgence. The modern day rockabilly look has evolved to over exaggerate both the masculine and feminine quality of pin up, Brubaker said.
With women that look may include the wiggle dress, maybe a pair of Daisy Dukes or red lipstick. Rosie the Riveter could be used for inspiration, Brubaker said. Men may wear a Zoot suit or the leather jacket and Pompadour hair style worn by greasers. But, Brubaker said, she wanted to make sure the contest was gender inclusive.
"I want all genders to feel welcome to be part of it," she said. "We hope to bring some fun and culture, and something a little different to Del Norte County."
Prizes will be awarded for best Fem and Butch pin ups. Winners will receive a mini photo session with local photographer Kyoko Apperson, who owns Khrysalis Photography. According to Brubaker, Apperson has been offering pin-up and boudoir photography since 2013.
Apperson will offer a vintage themed photo booth during the event, Brubaker said. There will be prizes for audience costumes too, she said.
In addition to Brubaker, judges for Pin Up Del Norte will include Bre Ellis, a local hairstylist and makeup artist who has been a performer since high school. Brubaker said she met Ellis through a burlesque troupe.
"She really loves the weirdos," Brubaker said of Ellis. "She wants people to play with their style. She wants to see monster pin ups."
Local emergency medical technician Dawn Anderson O'Hagan will round out the judge's roster, Brubaker told the Outpost. Anderson O'Hagan rocks the pin-up look that combines tattoos and blonde hair.
"She really emphasizes the DIY aspect," Brubaker said. "She wants to see creativity and DIY style."
As for what she's looking for, Brubaker said, she's really hoping to see some confidence.
In addition to the contest, two drag performers will travel to Del Norte to offer entertainment for the evening.
Drag queen Fuscia Rae will be the contest's emcee, Brubaker said. Fuscia Rae has been a drag queen in Humboldt County for more than five years volunteering at local queer organizations such as Humboldt State University's Queer Student Union and local Pride events.
Davinya will also perform during the contest, according to Brubaker. Hailing from Southern Oregon where she has been a drag performer for six years, Davinya performs with a troupe that has raised more than $15,000 for local charities.
In addition to getting people to venture outside of their comfort zone a bit, Brubaker, who has been an Elks Lodge member for three years, said she wanted to use the contest as a way of urging people to join.
"They do a lot in the local community (offering) kids scholarships and veterans support," she said. "It's not a high pressure club."
Participating as a contestant in Pin Up Del Norte only costs the $15 to get into the event, Brubaker said. People are asked to fill out a form that describes their outfits and a few things about themselves. They will also walk a runway, she said.
Pin Up Del Norte will be held at 7 p.m. Jan. 18 with the show starting at 8 p.m. at the Crescent City Elks Lodge, 359 H Street in Crescent City.
---
SHARE →