---
Jessica Cejnar / Monday, Dec. 28, 2020 @ 4:04 p.m. / Ocean
Five Days Into Commercial Dungeness Season, Seafood Buyers, Fishermen Haggle Over Price
---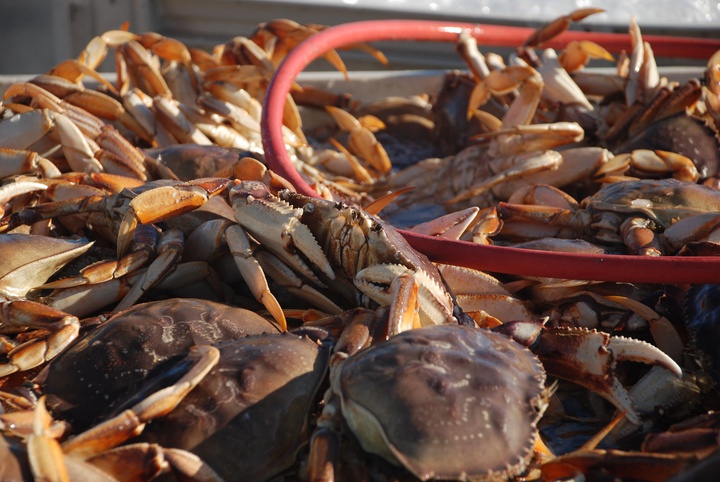 Previous:
• Commercial Dungeness Crab Season Starts Dec. 23; Fishermen May Be In For A Low Abundance Year
###
Though California's commercial Dungeness season opened five days ago, Crescent City's commercial fleet has yet to drop pots as fishermen and buyers haggle over price.
Fishermen are asking for $3.25 per pound while Pacific Choice Seafoods, of Eureka, is offering $2.50 per pound, Rick Shepherd, Crescent City Commercial Fisherman's Association president and Crescent City Harbor District commissioner, told the Wild Rivers Outpost at about 11:30 a.m. Monday.
Shepherd said he would know more after a 1 p.m. meeting Monday. After the meeting, at about 3 p.m., he told the Outpost that nothing had changed.
"Pacific Choice has stayed on $2.50 and the boats in Oregon and California have not accepted that offer," Shepherd said, adding that fishermen continue to negotiate with buyers. "They're going to wait for a better one I guess."
The California Department of Fish and Wildlife opened the state's commercial Dungeness crab season last Wednesday. Typically starting Dec. 1 in Crescent City, the season had been delayed in the northern management area due to poor quality crab. In Central California, the season was delayed due to the potential risk of whales becoming entangled in crab gear.
Starting the season Dec. 23 was done partially at the request of fishermen, who indicated they wanted a unified opener, CDFW environmental scientist Ryan Bartling told the Outpost on Dec. 14.
When the season began, buyers were offering $2.25 per pound to fishermen for their catch, Shepherd told the Outpost. Pacific Choice is the processor local fishermen typically negotiate with, he said, though they're also talking with Oregon processors Bornstein Seafoods and Hallmark Fisheries.
Though five days in the 2020-2021 season have come and gone, Shepherd said he's not too worry about the additional delay. It won't change the amount of crab he and his colleagues will deliver by much, he said.
"There's only so many crab out there and they're not going anywhere," he said, adding that fishermen typically harvest all the crab they're legally allowed to. "If anything they're just getting bigger and fatter."
---
SHARE →