---
Jessica Cejnar / Monday, Dec. 28, 2020 @ 12:26 p.m.
COVID-19 Update: Twenty-five New Cases Reported To Public Health Over Holiday Weekend
---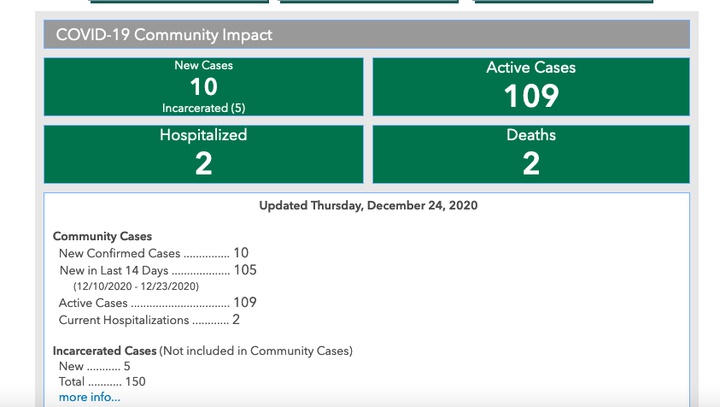 A total of 25 new COVID-19 cases were reported to the Del Norte Public Health Branch over the holiday weekend.
Ten new cases were reported to Public Health on Thursday. Another 10 were identified on Friday. One new case was reported to Public Health on Saturday and four more were identified on Sunday, according to Public Health.
As of Thursday, there were 109 active cases in Del Norte County, according to the COVID-19 Information Hub. Two people are currently hospitalized. Since the start of the pandemic, there have been two deaths related to the novel coronavirus in Del Norte County.
Though its offices are closed on weekends and holidays, Public Health staff are still contact tracing. Updating the county's COVID-19 Information Hub on weekends and holidays is a new development, however.
From a Sunday news release:
During weekends and holidays when our offices are closed, Public Health staff continue to work on contact tracing, but with limited support. We are unable to fully update our dashboards during those times, however we have decided to provide updates on new cases. These updates will be posted to our site and distributed through our email group, then merged into our dashboard totals on the next business day.

12/25/2020 New Community Cases 10 | New Incarcerated Cases 11

12/26/2020 New Community Cases 1 | New Incarcerated Cases 2

12/27/2020 New Community Cases 4 | New Incarcerated Cases 0

https://www.covid19.dnco.org/

Community Cases are confirmed COVID-19 cases of individuals who reside in Del Norte County, and are not incarcerated.

Incarcerated Cases are confirmed COVID-19 cases typically at Pelican Bay State Prison, but could be in our local jail. We are not including these numbers in our Community Case count because the State does not consider them when determining what tier we are in. Additionally, these cases are not included in our Active Case count.
---
SHARE →