---
Jessica Cejnar / Thursday, Oct. 31, 2019 @ 3:03 p.m. / Community, Our Culture
Visit The Thayers "On Golden Pond"; BHCT Production Of Thompson's Play Features Del Norte, Brookings Cast
---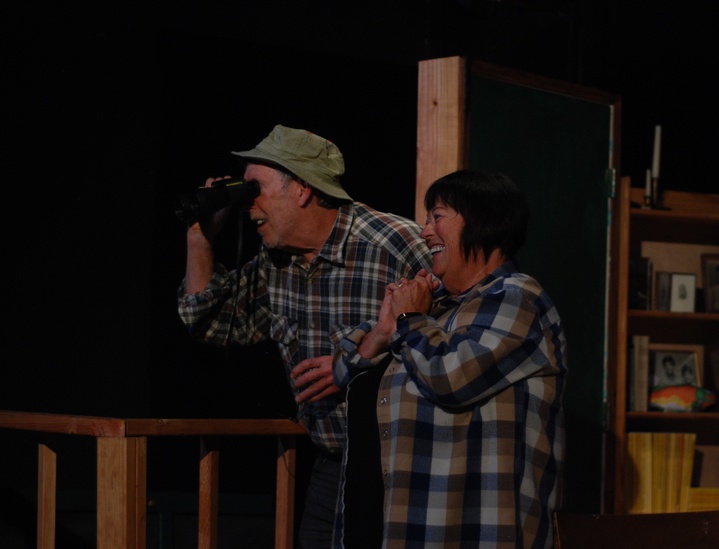 Walking into the dress rehearsal for Brookings Harbor Community Theater's latest production on Thursday was like being at grandma and grandpa's house.
Every item that makes up the set of "On Golden Pond" — the snapshots on the wall, the rug on the floor, the bookshelves with old copies of National Geographic magazine — had a story. Only the mosquitos, flies and yeasty aroma of fresh-baked biscuits were left to the imagination.
"I grew up going to a cabin on a lake," director Tiffany Van Maren told the Wild Rivers Outpost on Thursday. "I read the first two pages of the script and I said, 'Yes!'"
Though Van Maren's interpretation of Ernest Thompson's 1979 play opens on Friday in Brookings, much of the cast is from Del Norte County. This includes Susan Daugherty and Howard Patterson who play Ethel and Norman Thayer; Ruthe Rhodes as their daughter Chelsea Thayer Wayne; Alex Gastineau as Charlie Martin the mailman; and Karen Dillon as the operator. Mike Gaynes, who portrays Chelsea's boyfriend Bill Ray, and Charlie Willis-Blunt, who plays Bill Ray's teenage son Billy, are from Brookings.
Van Maren said she's also based in Brookings.
The story revolves around Ethel and Norm, an aging couple who spend every summer at their cabin on a lake called Golden Pond in Maine. As Norm struggles with memory problems, their daughter Chelsea visits with her new boyfriend and his son, who they leave behind with the older couple as they take a trip to Europe.
The best-known adaptation of Thompson's play is the 1981 movie starring Katherine Hepburn, Henry Fonda and Jane Fonda. Patterson and Daugherty have encouraged BHCT for years to do a performance of "On Golden Pond," Van Maren said.
Unlike the film, the action of the play takes place entirely within the cabin, Van Maren said. Comparing it to courtroom drama "Twelve Angry Men," Van Maren said the focus is on how the relationship with the characters and how they interact with each other. In the case of "On Golden Pond," it's an older married couple moving into the later stages of life, she said.
"There's understanding and healing that, hopefully, people will come to in their lifetime," Van Maren said.
Van Maren said she and Rhodes had a conversation about the current need to love each other and not to wait to make peace.
"Ruthe said if I had directed the play 10 years ago, it might have been a different story," she said. "One can't help but watch this and be moved."
While the audience will be focused on Ethel and Norm's relationship, Norm's relationship with his daughter and the couple's budding friendship with Billy, many of the items that grace the play's set does have sentimental value.
The snapshots on the wall are of Van Maren's family, including a rare picture of her father with a beard. The bookshelves came from Van Maren's friends. The Thayer's living room rug once belonged to James Elmo Williams, Van Maren said.
Williams was a film and television editor, producer, director and executive. His work on the 1952 Gary Cooper film "High Noon" received the Academy Award for Best Film Editing. Williams died at 102 after moving to Brookings in 1983.
"On Golden Pond" will open at 7 p.m. Friday and will play for three weekends through Nov. 17. Friday and Saturday performances will be held at 7 p.m. Sunday performances will be at 2 p.m. at the theater, 15542 Highway 101 South in Brookings.
Tickets are $15 for general admission and $13 for seniors and students and are available at Wright's Custom Framing and Art, New Wave Video and at brownpapertickets.com.
---
SHARE →