---
Jessica Cejnar / Wednesday, Oct. 30, 2019 @ 5:15 p.m. / Infrastructure, Local Government, Roads
Huffman, McGuire, Wood Meeting To Coincide With State Transportation Commission Visit Next Week
---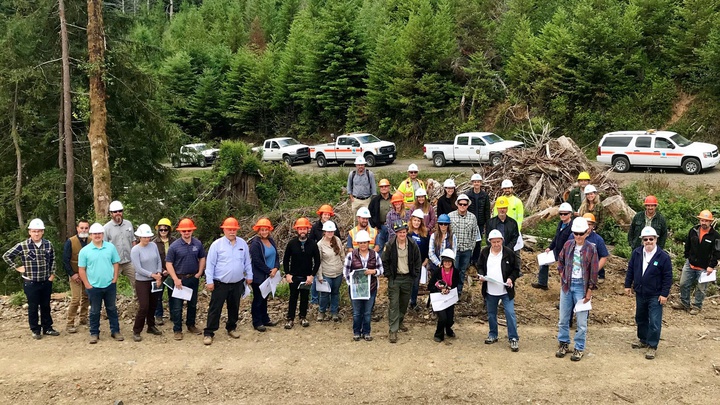 Local elected officials plan to show California Transportation Commissioners the most important infrastructure issue facing Del Norte County when it visits the area next week.
State transportation commissioners will tour Last Chance Grade as well as host a town hall meeting in Crescent City on Wednesday, according to Crescent City Mayor Blake Inscore.
At the CTC's town hall meeting, commissioners will hear from U.S. Congressman Jared Huffman, city and county staff and the Yurok Tribe. Caltrans will give a 30 minute presentation on Last Chance Grade, the U.S. 199/197 safety project and the Dr. Fine Bridge replacement project, according to the commission's agenda.
The Humboldt County Association of Governments, Del Norte County Regional Airport, the Del Norte Office of Emergency Services and the Redwood Coast Transit Authority are among other agencies that will be allowed 10 minutes to speak. Members of the public will also be able to speak to commissioners at Wednesday's town hall, according to the agenda.
Following the California Transportation Commission's meeting, its executive director Susan Brown will be among the speakers at a second meeting hosted by Huffman, State Sen. Mike McGuire and Assemblyman Jim Wood at the Del Norte County Fairgrounds.
That meeting will focus on Caltrans' efforts to re-route U.S. 101 around the Last Chance Grade slide roughly 10 miles south of Crescent City, according to a news release from McGuire's staff.
The meeting will include an update on a stakeholder's group Huffman created focusing on the project. There will be an overview of the environmental review and engineering work completed over the last two years as well as the current status of the permitting process for the project, according to the news release.
An estimated timeline for the completion of the environmental studies along with the groundbreaking of the preferred alternative route around the slide will also be discussed at McGuire's meeting.
Other speakers will include Del Norte County supervisors Lori Cowan and Chris Howard, Inscore, Caltrans District 1 Deputy Director Richard Mullen, and Last Chance Grade Project Manager Jaime Matteoli.
Having Del Norte's two representatives as well as its congressman hear from residents on how important it is to come up with a "viable strategy" to pay for re-routing the highway around Last Chance Grade is crucial, Inscore said. Inscore noted that the California Transportation Commission has allocated a significant amount of money for geotechnical and pre-environmental studies involving the Last Chance Grade project.
"Obviously this commission's responsible for all the transportation issues around the State of California," Inscore said. "It's a big state with lots of people in big suburban and metropolitan areas. We're about as remote as you can get. To have them come see, 'This is what you've allocated $10 million to,' that's the value right there."
The California Transportation Commission allocated $45 million for the environmental phase of the project, Huffman announced in March. This is in addition to two $5 million allocations — the $10 million Inscore spoke of — the Transportation Commission approved in 2018 and 2017.
Caltrans began soliciting bids in August for a contractor to see Last Chance Grade through its environmental phase. Officials expect to have the $31 million contract executed in late December. The contract will include the preliminary engineering, geotechnical studies, structure design and environmental studies, Jaime Matteoli told the Wild Rivers Outpost in August.
The full environmental document is expected to be finished by 2026 while construction on the project is expected to be completed by 2039, according to Matteoli.
Caltrans is considering six possible routes to divert U.S. 101 around the slide at Last Chance Grade. A seventh proposal will leave the current highway alignment as is.
The possible alternatives vary in length from 1.5 miles to 3.5 miles and range in cost from $300 million to $2 billion. Four potential alternatives include bridges. Three include tunnels. One possible alternative route consists of a full tunnel running parallel to the existing alignment and costs an estimated $1.1 billion to $2 billion in 2019 dollars.
The California Transportation Commission's meeting will be held at 2 p.m. Nov. 6 at the Flynn Administrative Center, 981 H Street in Crescent City. For an agenda, click here.
McGuire's town hall meeting will be held at 6 p.m. Nov. 6 at the Del Norte County Fairgrounds, 421 U.S. 101 in Crescent City.
---
SHARE →