---
Jessica Cejnar / Tuesday, Nov. 26, 2019 @ 12:03 p.m.
"Bomb Cyclone" Brings Rain, Snow and Intense Wind; Our Daily Bread Opens Emergency Shelter
---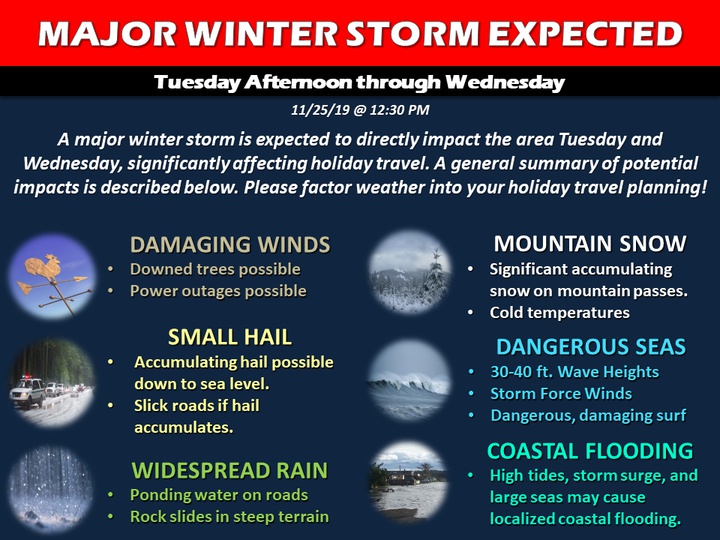 Though she was initially skeptical of the term, Kathleen Zontos allowed that Humboldt, Del Norte and other parts of Northern California are in for a bomb cyclone.
Defined as a 24-millibar drop in barometric pressure within 24 hours, the "bomb cyclone," is expected to bring intense winds, snow and rain to Southern Oregon and Northwestern California, the National Weather Service meteorologist told the Wild Rivers Outpost on Tuesday.
Forecasters are predicting sustained winds of 20-40 mph and gusts of up to 50 to 70 mph, Zontos told the Outpost. Winds will be strong on ridges and coastal headlands and will also impact low-level coastal areas, she said.
Meanwhile, forecasters are calling for snow accumulations of six to 13 inches above 2,500 feet and lighter accumulations between 1,500 and 2,000 feet, Zontos said. One-to-three inches of rain is expected, though forecasters don't anticipate flooding issues, she said.
"The two biggest concerns will be potential power outages from damaging winds — the winds can knock down tree limbs and knock down power lines through (Wednesday) morning," Zontos told the Outpost. "We're also concerned about travel conditions since Thanksgiving is coming up and people are thinking about leaving today or tomorrow. It's really bad weather to drive in today."
The National Weather Service has issued high wind and winter storm warnings for the region that will be in effect through Wednesday morning and afternoon respectively.
Blowing in from the north, the storm is expected to bring snow to regions as far flung as the Sierras, Zontos said. She said people should also keep an eye on the weather forecast through the holiday weekend as another storm is expected to impact travel toward the latter end.
In Del Norte County, the high winds, ocean swells and a king tide have already brought water close to Pebble Beach Drive, Emergency Services Manager Kymmie Scott told the Outpost. But, she said, she was especially concerned with how cold it's going to be over the next few days, especially if the power goes out.
"It's really important for folks to have an idea of where to go for backup and for people who have generators or have wood burning fireplaces to be neighborly and to reach out to those that don't and invite them to come over for a cup of coffee," Scott said. "We have to work together as a community to take care of each other."
Scott said her office hosted a weather briefing call on Monday with city and county officials as well as law enforcement agencies, the fire department, Del Norte Ambulance and the Del Norte County Public Health Branch. She said she also received a briefing from Pacific Power and the National Weather Service, though there are no plans to open Emergency Operations Center or a shelter.
"The only other thing we're really doing here right now is we did distribute some blankets to our officers because of the dropping temperatures," Scott said. "If they're coming across folks that are out in the weather, at least they've got blankets to distribute."
Our Daily Bread Ministries opened its emergency shelter on Monday and will be open tonight as well, founder Mike Justice told the Outpost. Dinner will be served at 7 p.m. for anyone who needs it, he said.
"Any time it's raining, anytime it's freezing temperature, we're automatically open," Justice said, "and with every shelter night, a dinner and a breakfast meal is served."
In addition to its emergency shelter, Our Daily Bread
Our Daily Bread Ministries also offers dinner at 6 p.m. Monday, Wednesday and Friday and breakfast at 8 a.m. Tuesday and Thursday. Justice said those who are hungry can knock on their door at any time to receive food.
Pacific Power crews will be staged at various locations, particularly in the Rogue River and Illinois River valleys, to be deployed where they're needed, utility spokesman Tom Gaunt told the Wild Rivers Outpost.
"We still don't know exactly where the storm's going to hit or what it's going to do," he said. "We are making sure we have everything we need and we're getting ready for whatever the storm throws at us."
---
SHARE →
---