---
Jessica Cejnar / Monday, Nov. 25, 2019 @ 5:17 p.m. / Community, Environment, Tribes
Locals Take Part In LNG Pipeline Sit-in At Oregon Capital
---
Chrystal Helton, Jermaine Brubaker and Onna Joseph were a handful of local residents taking part in a Salem, Oregon sit-in protesting the Jordan Cove liquefied natural gas pipeline last week.
But, more Del Norte County and Klamath River residents should be concerned, they say, since the proposed pipeline crosses the river and terminates at Coos Bay, about 130 miles north.
"It affects our environment," Brubaker told the Wild Rivers Outpost on Monday. "It affects the Klamath River and our local ocean, and there could be a big fire fueled by natural gas."
Helton, Brubaker and Joseph and more than 500 others demonstrated against the proposed pipeline in front of the Oregon state capital on Thursday. The group included landowners, people who have taken part in restoration projects and environmentalists. According to Brubaker, at one point 70 people entered the governor's office and 21 people got arrested for trespassing on Thursday. Though the police weren't aggressive, Brubaker said, there were 29 cars and two "giant paddy wagons" in front of the capital building.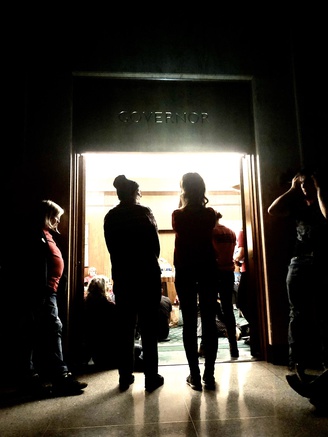 "We were there to get a commitment from (Oregon governor) Kate Brown that she does not support the LNG pipeline, and she will not come out against the LNG pipeline," Brubaker said. "She has written letters (opposing) the federal government taking away state rights preventing theese processes, but she will not come out against the pipeline itself."
The Jordan Cove LNG pipeline is 36 inches in diameter and will transport natural gas roughly 229 miles from the Ruby Pipeline and Gas Transmission Northwest Pipeline near Malin, Oregon, to an LNG Terminal at the Port of Coos Bay.
Spearheaded by Canada-based Pembina Pipeline, Jordan Cove LNG Pipeline's website states the project will create more than 6,000 construction jobs and about 8,500 "spin-off jobs." The pipeline is expected to travel through property belonging to 225 private landowners, according to the Jordan Cove LNG website.
From the proposed terminal in Coos Bay, the gas would be exported to Asia, the Associated Press reported last week. The proposed pipeline is expected to cross the Klamath River between Klamath Falls and Midland, according to Jordan Cove.
On Thursday, Brown shared the letter she sent to the U.S. Environmental Protection Agency on Oct. 21 with protesters opposing the EPA's attempts to remove the state's role in the permitting process, the AP reported.
Helton, who, along with Brubaker, leads the Del Norte Climate Alliance, said she began protesting the LNG pipeline in 2016. At the time, people were protesting the Dakota Access Pipeline, she said, and locals began paying more attention to the pipeline being proposed closer to home.
The reason protesters targeted Brown, Helton said, is she can use her position to help halt the project. Previous demonstrations have drawn representatives from the Yurok Tribe, the Hoopa Valley Tribe and indigenous communities upriver, she noted. This time, however, there were only about 12 local people, she said.
"I'm really disappointed in our state in not getting involved more considering how many California communities are impacted," Helton said. "You're talking about everybody else who gets their water from the Klamath. You're talking about diversions."
Helton and her husband Richard Nelson brought their sons Pete and Eddie to Salem last week. Helton said her husband took Pete and Eddie into the capital building and to the governor's office. Though Brown wasn't in, Helton said her husband and children signed the governor's guestbook, saying they're from Klamath and asking, "Why the pipeline?"
"My kids got to feel the power," Helton said. "And my youngest, Pete, he's going to be 5 in two weeks, he has been part of this since he was about 2 years old. He has been to quite a few, not just rallies or actions, but he's also been to workshops. The LNG Pipeline, it's part of his story now to fight this project."
In June, the Yurok Tribal Council publicly stated its opposition to the Jordan Cove LNG project with Chairman Joseph L. James saying it poses a serious threat to the Klamath River and other salmon-bearing watersheds and communities.
Joseph, a Yurok Tribal Member, said she is a land owner from Orleans, along the upper part of the river.
"I have been protesting for years," Joseph said. "Everything eventually goes down river."


---
SHARE →
---