---
Jessica Cejnar / Wednesday, Aug. 14, 2019 @ 4:35 p.m. / Infrastructure
Caltrans Soliciting Bids On $31 Million Contract For Last Chance Grade Environmental Phase
---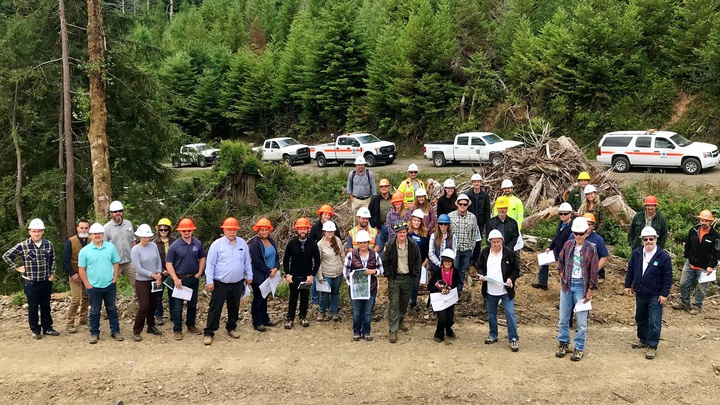 Caltrans has entered phase two in its preliminary geotechnical studies of Last Chance Grade and is currently seeking a contractor to see the project through its environmental phase.
The agency began collecting data this week on how much movement is occurring at the slide-prone area south of Crescent City, said project manager Jaime Matteoli. The information is necessary to refine alternatives proposed for a bypass of U.S. 101 around the slide. he said.
Meanwhile, the agency is "reaching out to the world experts in delivering mega projects," Matteoli said. Officials expect to have the $31 million contract executed in late December. Included in the contract is the preliminary engineering, geotechnical studies, structure design and environmental studies, he said.
The full environmental document is expected to be finished by 2026, Matteoli said. Construction on the project is expected to be finished by 2039, he said.
"This is a project-specific contract," Matteoli said, adding that it includes functions of the project that would normally require separate contracts. "We're really reaching out to the world experts in delivering mega projects."
The request for qualifications and the new geotechnical work at Last Chance Grade comes after the agency took 38 people, including Del Norte County supervisors, on a tour of the proposed alternatives to the current highway alignment on Aug. 8. According to Matteoli, this included driving down logging roads on Green Diamond property to the north and east side of the slide.
Caltrans wanted project stakeholders to see the terrain and get a sense of where the proposed alternatives would be and what building a bypass around the landslide would entail, he said.
"(This includes) what sort of earthwork would happen whether it's cutting or filling," Matteoli said. "We had maps of the alternatives and we had the cross section that we're looking at. (They were) standing on an area here where 140 feet below us will be the new road."
Caltrans is considering six possible routes to bypass U.S. 101 around the slide at Last Chance Grade. A seventh proposal would leave the current highway alignment the way it is.
The six possible routes vary in length from 1.5 miles to 3.5 miles and range in cost from $300 million to $2 billion. Four potential alternatives include bridges. Three include tunnels. One possible alternative route consists of a full tunnel running parallel to the existing alignment and costs an estimated $1.1 billion to $2 billion in 2019 dollars.
According to Matteoli, Caltrans has currently $50 million in state and federal dollars allocated for the Last Chance Grade bypass project's environmental phase. So far, the agency has spent about $3.5 million, he said.
Earlier this year, the California Transportation Commission allocated $45 million for the environmental phase of the project, Congressman Jared Huffman announced in March. This was in addition to two $5 million allocations the Transportation Commission approved in 2018 and 2017.
Those advocating for the project include State Sen. Mike McGuire, Assemblyman Jim Wood and a stakeholder group spearheaded by Huffman. Another group, a Last Chance Grade Advisory Group, has also advocated for a bypass.
On Tuesday, District 4 Supervisor Gerry Hemmingsen, who went on the Last Chance Grade field trip, said it was interesting to visualize where a possible alternative would go.
"The difference in the grade change was amazing," he said. "When you're talking about 120-foot cuts or 140-foot fills that are going to be going in and you could be in one area where you know you're going to be 120 or 140 feet higher or lower, it's pretty interesting."
Hemmingsen said the area he and other stakeholders toured did include old growth redwoods. But those are better viewed between Crescent City and the start of Last Chance Grade, he said.
Hemmingsen's colleague, District 2 Supervisor Lori Cowan said she also went on the Last Chance Grade field trip.

"For me it was really nice to look at three different potential roads," she said. "We've been discussing (this) on paper for the last couple years, now to be able to walk it…. To me, I walked away going, 'this is happening.'"
---
SHARE →