---
Jessica Cejnar / Thursday, Aug. 15, 2019 @ 3:58 p.m. / Community, Education
Family Resource Center Holds Backpack Giveaway On Saturday
---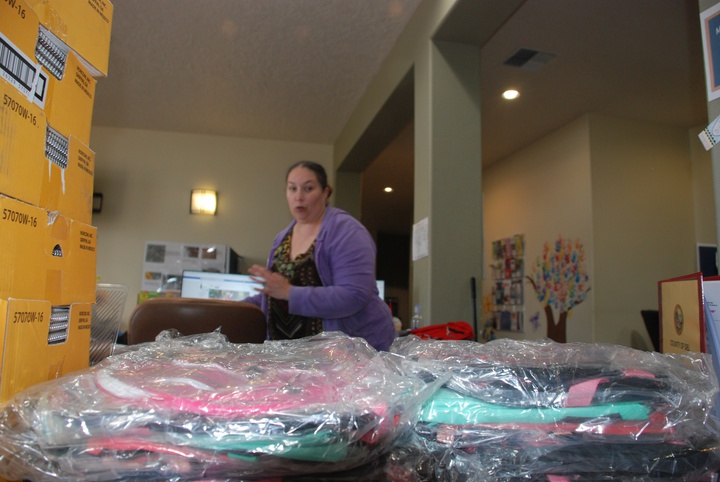 Parents needing school supplies for their kids may find what they're looking for at the Family Resource Center of the Redwoods on Saturday.
The FRC currently has more than 600 backpacks to give away, Executive Director Amira Long said. Most are filled with notebooks, pens, pencils and other school supplies. Parents need to bring their children with them to receive a backpack, Long said.
The backpacks will be given out on a first-come first-served basis, Long said. They come in a range of colors and are suitable for kids through high school, she said.
"I don't want all the kids to have the same bag," she said, adding that they're purchased through a wholesaler. "Then people would know you got it for free as a donation."
Preschoolers and kindergartners can receive a backpack that's suitable for their size, Long said. She said she has a box of School Readiness backpacks from Building Healthy Communities for preschoolers and kindergartners.
The Kindergarten Readiness project is part of the 3Read23 initiative that seeks to have children reading at grade level by 2023.
According to Long, the Family Resource Center of the Redwoods backpack giveaway program has been funded with a $2,000 donation from the Lithia 4Kids program, which supports nonprofit organizations working with children in the Rogue Valley area.
This year, so far, the FRC has spent about $500 on school supplies and $2,500 on backpacks, she said.
"It's a lot of money that we're trying to save parents," she said. "This time of year is so expensive anyway with school clothes. We want to take a little tiny bit of the burden off of them."
Backpacks are also available for foster youth who can come and get them throughout the year, Long said. Backpacks are also delivered to Klamath, Gasquet and Smith River, she said.
For those in the community who want to help, the FRC accepts new backpacks and school supplies year-round, Long said. She asks that the backpacks be new.
"We want to get kids ready for school without any stigma," she said.
School starts Aug. 26.
The backpack giveaway will be held from 11 a.m.-1 p.m. Saturday at the Family Resource Center of the Redwoods, 494 Pacific Avenue in Crescent City. For more information, call or email Amira Long at (707) 465-0955 extension 2102.
---
SHARE →