---
Jessica Cejnar / Wednesday, Aug. 14, 2019 @ 3:05 p.m. / Community, Infrastructure, Local Government
Supervisors Respond to Wonder Stump Road Conflict
---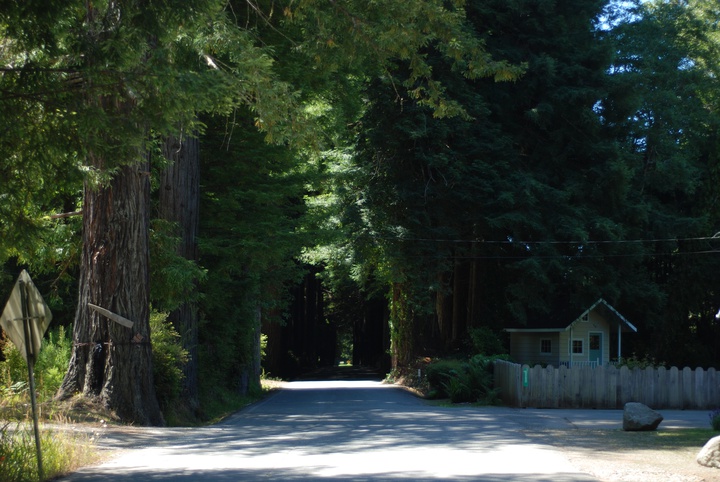 County supervisors sought to quash rumors Tuesday that "chainsaws were at the ready and trees were going to be cut down" to widen Wonder Stump Road.
All five representatives on the Del Norte County Board of Supervisors said they fielded calls from people concerned that potential repairs to the residential street would harm a beloved tunnel of redwoods. Each said the county Roads Division was gathering public input and hasn't made any decisions about what those potential improvements would be.
"We've all been contacted regarding the so-called project, which I can tell you there is no project," said Supervisor Gerry Hemmingsen, whose district includes Wonder Stump Road. "Nothing has come before this board that has to do with anything at Wonder Stump Road."
Hemmingsen called the mistrust between residents and county staff that the Community Development Department has already decided to cut trees "and that's how we're going to balance the budget" ridiculous. He said he was also disappointed because county personnel have been attacked personally because of the mistrust.
"They have the responsibility to provide supervisors with information and data in order for the board to make policy decisions," Hemmingsen said. "None of them should be accused of conspiracy or self-serving actions."
Current and former county residents have voiced their opposition to any potential change to Wonder Stump Road after the Community Development Department that it was preparing a "planning level document" on potential improvements to the street.
In a July 22 letter to the community, Community Development Director Heidi Kunstal said the document concerns potential improvements to Wonder Stump from Yonkers Bridge to U.S. 101. Calling the road a "major collector," Kunstal's letter says county staff can't continue to use mechanized equipment to maintain the existing ditches due to tree and root growth.
"Traffic, including emergency services and school buses, continues to be subjected to an oversize one-lane road serving two-way traffic," Kunstal writes. "Trees along the paved surface and on the shoulders have scars from being hit."
Staff expect to develop conceptual alternatives by September or October, according to Kunstal's letter. There will also be community and stakeholder meetings in December and again next year before a summary of engagement outlining public comments will go before the Del Norte County Board of Supervisors, according to Kunstal's letter.
On Tuesday, Wonder Stump Road resident Jim Coop told supervisors that a petition to leave the street the way it is has 6,000 signatures while a Facebook page, "Save Wonderstump," currently has more than 1,000 members.
Though he said supervisors' statements were "good to hear," Coop read a prepared statement during public comment, saying he was speaking on behalf of concerned residents and citizens. Citing county plans to develop "conceptual alternatives" on potential Wonder Stump Road improvements by the autumn, Coop urged supervisors to attend stakeholder meetings the Community Development Department will hold as it determines what the potential repairs will look like.
"We have had conversations on site with Jeff Daniels and he enlightened us both the concerns and some of the possibilities his department may consider," Coop said, referring to a conversation with the county roads superintendent. "One of those possibilities do in fact include, and he publicly has stated, the removal of one or more redwood trees. That statement can be interpreted as the possibility of the removal of up to as many trees as deemed necessary."
When Coop's three-minute time to speak publicly was up, Smith River resident Joni Forsht finished his prepared statement. Forsht noted that as the former right-of-way for the Hobbs Wall Railroad, Wonder Stump is a unique piece of history about Del Norte's economy.
"'It is our wish to leave Wonder Stump like it is,'" she said, reading Coop's statement. "'But if it is later determined that some form of improvement is absolutely needed, we profoundly suggest that any movement made be without removal of our trees, and that can be done.'"
Before Coop spoke, District 3 Supervisor Chris Howard said the board's well aware of the concern regarding the future of Wonder Stump Road. His colleague, District 5 Supervisor Bob Berkowitz noted that rumors that trees were going to be cutdown so the road could be widened were unfounded.
"Nothing could be further from the truth," Berkowitz said about the rumors regarding Wonder Stump Road's tree tunnel. "Yet (residents) had a difficult time accepting this was the case. Sometimes it's easier for people to believe the rumors than the facts."
Charlene Storr, who is Tolowa, said her family has lived along Wonder Stump Road for 119 years.
"People love our rural country and want to come here, want to live here," she said. "Our community is no different than Los Angeles and San Francisco. We all have the same issues with homelessness, all have the same issues with roads, there's never enough money to keep it up to our personal standards." This is our land and we need to take care of it. That's a simple thing, we need to take care of it."
---
SHARE →