---
Jessica Cejnar / Thursday, Aug. 1, 2019 @ 5:45 p.m. / Local Government
City Manager May Seek Engineer, Architect This Month For City Hall Project
---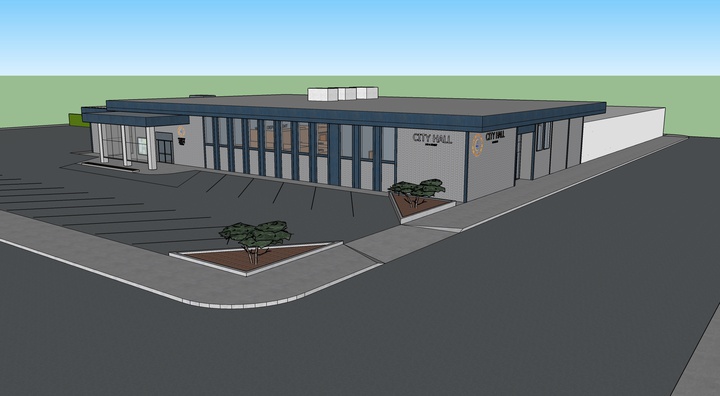 Eric Wier says he may ask the Crescent City Council this month for permission to obtain an engineer and architect as the city seeks to make the old Bank of America building its new home.
An architect and an engineer will be able to finish plans and specifications for the project hopefully within the next six months, Wier said.
"It'll go out to bid once we have financing in place," he said, "and we'll be able to see a move-in ready city hall hopefully within about a year after the plans and specs are done."
The city purchased the old Bank of America building at 240 H Street in November 2017 for approximately $180,000. Staff and elected officials liked its location in the downtown area, and its open layout meant "an open slate for us," Wier said.
Converting the old bank into city hall was included on a strategic plan that went before the City Council in February 2019. This plan included a construction cost estimate of $75,000 for the engineering phase and about $1.35 million for the building phase, according to Wier.
The city's 2019-2020 budget included $75,000 to develop the plans and specifications for the project, according to Wier.
"These costs are only preliminary budget estimates," he said in an email. "The actual amount could vary on many things. Once we get closer to construction, staff will be evaluating all costs of the project and looking for ways to value engineer the cost and scope as we can."
According to the current plan, residents will walk into a joint lobby area where they can pay a water or sewer bill, Wier said. They could also meet with the Community Development Department or the Building Department if they have any plans that need to be approved.
"The central focus is on customer service and efficiencies," Wier said.
The new city hall will also feature a centrally-located conference room, suitable for potential project developers, Wier said.
Wier said they're hoping to turn the building into a civic anchor that will enhance Crescent City's downtown.
"It's a really great spot," he said. "Being a bank, it didn't have a lot of pre-set offices, so we can really design it to function exactly how it needs to function, and the price was right."
---
SHARE →
---